Lucky Break Gold Mine Location
Gold exploration company QX Resources Limited (ASX:QXR) has concluded the June quarter of 2021 with a flurry of initiatives. The Australian company is dedicated to gold exploration as well as development at its tenements in Central Queensland goldfields.
During the quarter, QXR boosted its stake in Zamia Resources from 50% to 70% after achieving the expense-related milestone of investing AU$500,000 in exploration and project development activities during the earn-in period.
Zamia Resources is 100% owned by Zamia Metals Limited, which owns four exploration licences in the Central Queensland goldfields. The licence area within the Drummond Basin covers ~115km2 and houses the Belyando and Lucky Break open pit historical gold mines along with multiple unexplored targets.
QXR may further increase its interest to 90% by spending another AU$1 million towards exploration and project development activities within the next 12 months.
Related Read: QX Resources (ASX: QXR) ups stake in Zamia Resources to 70%
Maiden RC drilling completed at Lucky Break
During the quarter, QXR commenced an initial reverse circulation (RC) drilling program at its Lucky Break project to test the Lucky Break Mine anomaly and its structural trend. The campaign also focused on high-priority infill, depth extension and twin studies.
During 1987-1988, Lucky Break produced 90Kt ores with a head grade of 2.4g/t Au in oxide only. The operations excavated ores from just 283m out of 560m interpreted strike length.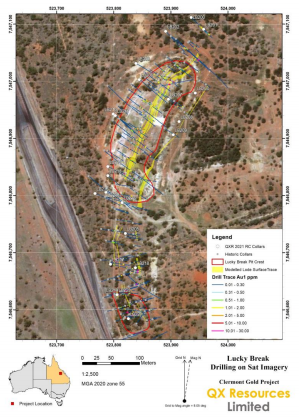 Satellite imagery of the Lucky Break project (Source: QXR quarterly report)
The stage 1 drilling targeted on the basis of QXR's wireframe modelling of gold mineralised lodes to assess the strike, and the extent of mineralisation at depth, and mineralisation in areas with incomplete assaying during previous drilling programs, as well as evaluating for infill on mineralisation to support modelling.
Also Read: QX Resources' (ASX:QXR) $2M capital raising to fire up gold exploration in Queensland
Subsequent to the quarter in July 2021, the Company reported assay results for the program, including 22 holes totalling 1,512m.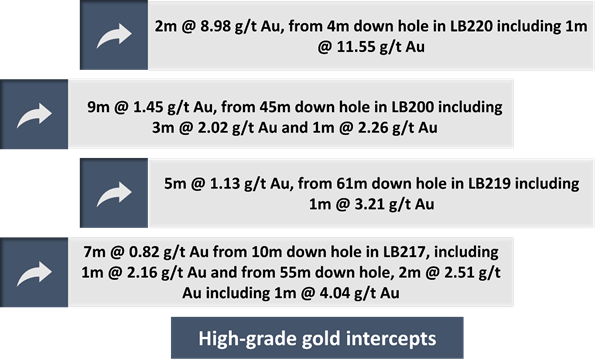 The campaign delivered significant extensions of mineralisation, 70m northeast of the existing pit crest. Promising drill results, including high-grade intercepts warrant, follow up the drilling to thoroughly assess the extensions of the mineralisation encountered along strike from the historical pit.
Furthermore, the Company already owns the permits to proceed with drilling and is likely to secure a rig shortly.
Anthony Molybdenum project: Another ace in the making
In July, QXR decided to accelerate its advanced-stage Anthony Molybdenum project in Central Queensland.
In 2012, Hellman & Schofield Pty Ltd had estimated the Mineral Resource Estimate (MRE) for the deposit in accordance with the JORC 2004. The inferred resource of 112 million lb. of contained molybdenum was estimated for the primary (sulphide) zone at a cut-off grade of 600 ppm Mo.
March 2012 Inferred Resource for the Anthony Molybdenum deposit (Source: QXR quarterly report)
Extensive work program at Anthony includes –
Processing of all historical drill results and other information.
Updating the current MRE as per the 2012 JORC code.
Additional metallurgical review and test work.
QXR sufficiently funded for planned activities
During the June quarter, the Company raised approximately AU$2 million (before costs) through a placement and a share purchase plan. Funds are planned to be used for expanding and accelerating exploration and development programs in the Drummond Basin, Queensland.
QXR held a cash balance of ~AU$1.7 million as on 30 June 2021. The Company is well funded to meet its expenditure commitments for planned exploration activities in Central Queensland.
Important Read: QX Resources' (ASX:QXR) First Half High on Action at Queensland Gold Projects