Summary

QXR now owns a 70% stake in Zamia Resources and its premium gold projects in the Drummond Basin.
QXR can upgrade its ownership to 90% upon the completion of exploration and development spending milestone.
The assay results for the first pass drill program at Lucky Break are pending and will be released shortly.
QXR plans maiden drilling programs and other activities at the Red Dog, Ibis and historical Belyando open pit and extensions.
In an upbeat announcement, QX Resources Limited (ASX: QXR) has increased its ownership in Zamia Resources Pty Ltd to 70%. QXR, which earlier owned a mere 50% stake in Zamia Resources, gained an additional 20% stake, in accordance with the earn-in agreement that was announced on 16 October 2020.
Additionally, QXR also advised that the assay results from the first pass drill program at Lucky Break and its surroundings are awaited and are anticipated shortly once received from ALS Townsville.
As per the earn-in agreement, QXR was required to invest AU$500,000 on exploration and development activities by 30 June 2021 to upgrade its stake to 70%, which it has achieved now. QXR also has an option to enhance its stake in Zamia Resources to 90% upon spending AU$1 million towards mineral exploration and development activities in the next 12 months.
Suggested Read: QX Resources (ASX:QXR) Boosts Foothold at Drummond Basin With New Tenement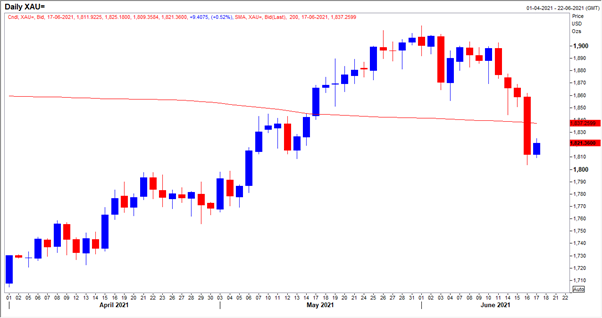 Gold price performance Source: Eikon Refinitiv
Despite some hiccups in the recent trading sessions, gold is trading at US$1,821.85 an ounce on 17 June 2021. Gold prices are anticipated to grow further on the back of rising inflationary pressure and delayed pandemic recovery. The strong gold environment further bolsters the confidence in the Clermont gold project.
Read Here: QX Resources (ASX:QXR) on track to unlock value with drill program in Central Queensland
Premium gold project at the trending exploration grounds
Zamia Resources owns four premium exploration permits in the Central Queensland goldfields, stretching over 115 square kilometres in the world-class Drummond Basin of Queensland. The project area hosts two historical open pit mines at the Lucky Break and Belyando along with other unexplored targets.
The gold project is located in the hottest exploration grounds at the Drummond Basin, which holds a long gold mining history with a gold endowment of more than 6.5 million ounces.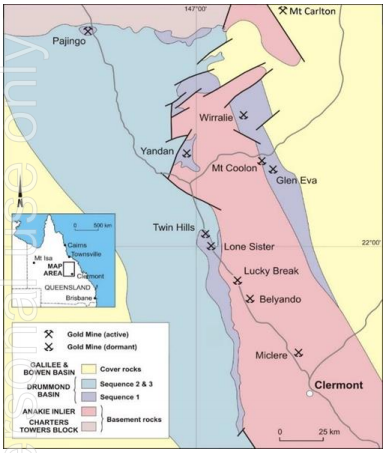 Clermont to Charters Towers gold corridor with numerous epithermal deposits Source: QXR Presentation 23 December 2020
On 21 April 2021, QXR commenced a 1,500m reverse circulation (RC) drill program at the Lucky Break gold mine. The drilling campaign was finally concluded on 6 May 2021 and targeted the mineralisation at previously mined pits at main Lucky Break Mine and the small Lucky Break South pit.
Also Read: QX Resources (ASX: QXR) to Get Drill Rods Spinning at Lucky Break
Next Steps at the Clermont gold project
QXR plans to conduct its maiden drilling programs and other activities at the Red Dog, Ibis and historical Belyando open pit and extensions. The company has already conducted a soil sampling and geophysical program at these prospects. The detailed infill soil sampling program at the Big Red area of the Disney tenement had delineated a large gold anomaly at the deposit. At Ibis, the infill soil sampling program had uncovered a massive 600m diameter gold anomaly.
QXR is well-funded in the eyes of its management to fast-track its exploration and development activities at the gold projects. The company recently raised over AU$2 million.
Must Read: QX Resources' (ASX:QXR) First Half High on Action at Queensland Gold Projects
QXR traded at AU$0.016 a share on 21 June 2021 at 02:34 PM AEST with a market capitalisation of AU$9.99 million.