Summary

Prescient Therapeutics announced three internal development programs related to unique OmniCAR capabilities.
Each of the OmniCAR development programs signifies a considerable market opportunity for the oncology company.
Prescient will continue to pursue collaborations with external parties for future prospects.
ASX-listed clinical-stage oncology player Prescient Therapeutics Limited (ASX:PTX) has revealed its three internal development programs for the next-generation CAR-T therapy platform, OmniCAR. The three programs represent significant market opportunities for the Company.
The three programs are related to the unique capabilities of OmniCAR for distinct advantages where current-generation CAR-T has confronted challenges.
The development programs are: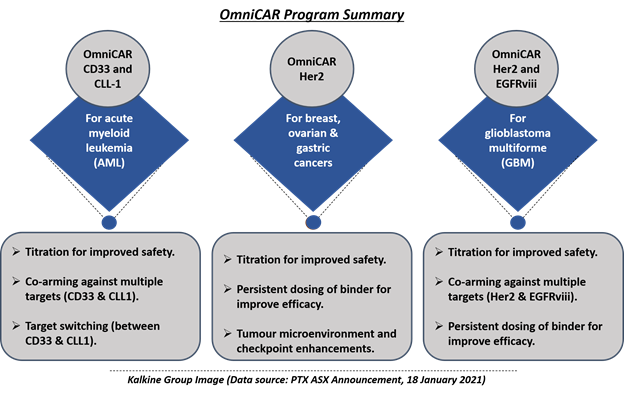 OmniCAR is a universal immune receptor technology platform, which offers several potential benefits over existing CAR-T therapies, including control, safety, flexibility, and efficacy.
DO READ: Get Acquainted with Prescient Therapeutics' Next Generation Immunotherapy Platform
The platform technology has a wide range of applications, and thus, it was imperative for Prescient to choose indications and applications strategically. The strategic decision was crucial in striking a balance between market opportunity, product differentiation, and technical complexity.
Highlights of the strategic review:
The strategic review for the program was led by Prescient Therapeutics and its Scientific Advisory Board (SAB).
The review considered all the known CAR-T programs in development across the world.
It had input from leaders from several disciplines, including clinicians, inventors, researchers, venture capitalists, and healthcare investors, leading non-profit cancer organisations, and antibody specialists.
Moreover, the Company is planning to conduct OmniCAR development by combining commercial providers and institutional collaborators. The overall development objectives of PTX for OmniCAR development are: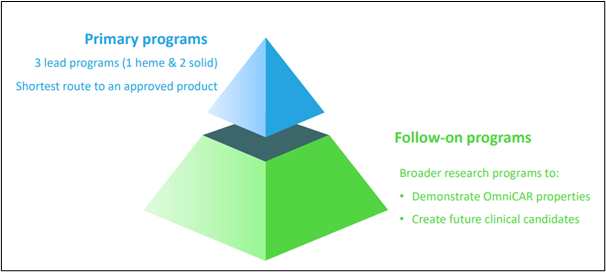 Source: PTX ASX Announcement (18 January 2021)
Advantages of OmniCAR Technology over Conventional CAR-T
Prescient indicated that OmniCAR technology application in AML, solid tumours, and GBM is likely to have several advantages over conventional CAR-T therapy. Some of the benefits are:
Titration for improved safety.
Ability to switch antigen targeting.
Co-arming CAR-T against multiple antigens simultaneously.
Persistent dosing and tumour microenvironment enhancements to improve efficacy.
The robust development program will move OmniCAR towards clinical programs while demonstrating the distinctive features of the technology in treating patients, which will add enormous significance to the OmniCAR platform.
OmniCAR has numerous enabling capabilities to address industry requirements. Therefore, Prescient is confident that demonstrating each OmniCAR feature will create inherent value in the underlying platform, especially to external parties.
Outlook for OmniCAR
Prescient anticipates achieving significant milestones related to its OmniCAR developments by 2023. The Company's macro work plan for development is: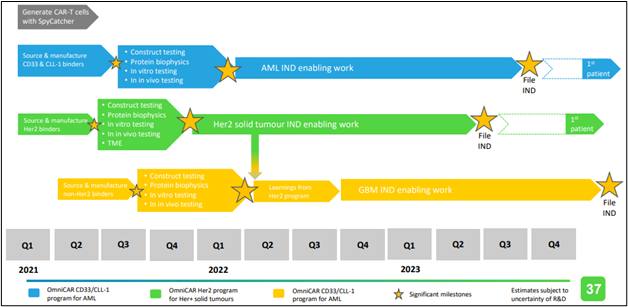 Source: PTX ASX Announcement (18 January 2021)
Managing Director and CEO of Prescient Therapeutics, Mr Steven Yatomi-Clarke, commented:
With its robust work plan towards OmniCAR clinical programs, Prescient is continually seeking collaborations with third parties for additional opportunities.
On 18 January 2021, PTX shares closed at A$0.079. The Company has a market capitalisation of A$51.24 million.
To know more about Prescient Therapeutics Limited, click here.
To stay updated with PTX company activities and announcements, please update your details on their investor centre.