Source: CI Photos, Shutterstock
Summary

Prescient Therapeutics' OmniCAR programs offer a comprehensive range of potential applications.
The oncology player has strategically selected three next-generation CAR-T products, representing considerable market opportunities.
The Company is confident that OmniCAR platform is uniquely placed to address the challenges associated with CAR-T therapies.
Clinical-stage oncology player Prescient Therapeutics Limited (ASX:PTX) has garnered significant attention on the back of its OmniCAR development programs. In January 2021, the Company announced the initiation of three OmniCAR programs to treat Acute Myeloid Leukemia (AML), solid tumours and glioblastoma multiforme (GBM).
With a platform that has a comprehensive range of key applications, it was important for the Company to strategically choose disease areas and applications for internal development, which hit the right balance between market prospects, product differentiation and technical complexity.
CAR-T has changed the treatment paradigm in the oncology space with global players, including Novartis AG (NTSE:NVS), Gilead Sciences (NASDAQ:GILD), and Bristol-Myers Squibb (NYSE:BMY) actively involved in CAR-T therapy development for different hematologic malignancies. In Australia, Prescient Therapeutics and Chimeric Therapeutics (ASX:CHM) are engaged in CAR-T technology development.
DO READ: Prescient Therapeutics (ASX:PTX) initiates Three Internal OmniCAR Programs
Steven Yatomi-Clarke, the Managing Director and CEO of Prescient Therapeutics, commented:
The application of OmniCAR technology in AML, GBM, and solid tumours is anticipated to have considerable benefits over the conventional CAR-T therapy.
OmniCAR's unique features enable the therapy to address the below-mentioned challenges for CAR-T in AML, solid tumours, and GBM:
ALSO READ: Get Acquainted with Prescient Therapeutics' Next Generation Immunotherapy Platform
OmniCAR for AML
Prescient Therapeutics' OmniCAR CD33 and CLL-1 for AML utilise the unique capabilities of OmniCAR to overcome challenges the current generation CAR-T confronts in AML. For the treatment of AML, OmniCAR-T cells armed against CD33 and CLL-1, which are important and validated targets for AML.
It is noteworthy to mention that OmniCAR is uniquely placed to address the challenges related to safety, rapid mutations, and rapid disease progression for CAR-T in AML.
There are total of three programs under investigation, targeting both CD33 and CLL1. Notably, among these three, OmniCAR is the only next-generation program targeting both CD33 and CLL1.
PTX is already conducting an AML study with its targeted therapy PTX-200, the Company disclosed that OmniCAR is not competitive with PTX-200 trial, which is targeting high p-Akt patients.
AML market opportunity
AML has an incidence of ~120K cases every year globally, according to GlobalData's report (June 2020). The disease progression is fast, and the 5-year survival rate is only 24%.
Interestingly, the global AML market is anticipated to hit US$5.1 billion in 2029 from US$1.4 billion in 2019. The growth assumptions are primarily based on new targeted therapies. Any CAR-T innovation in AML would potentially expand the market further.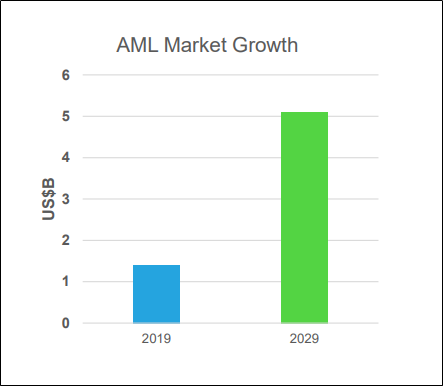 Source: PTX Presentation (18 January 2021)
OmniCAR for Solid Tumours
PTX's OmniCAR Her2 program is for Her2+ solid tumours including breast, gastric, and ovarian cancers.
Encouraging research already undertaken by the University of Pennsylvania with Her2 makes OmniCAR Her2 the most advanced next-generation Her2 CAR-T program.
OmniCAR builds upon the promising work already carried out by the University of Pennsylvania with Her2, making the program the most developed next-generation Her2 CAR-T program.
OmniCAR's features enable to address the challenges related to CAR-T in solid tumours, including limited targets, safety, trafficking, and tumour microenvironment (TME).
Significant prospects in Her2+ cancers
The Company stated that it would follow a basket study approach for Her2+ cancers, similar to PTX-100 development path.
The incidence for certain forms of cancer (including ovarian, breast, and gastric cancer) is high with a substantial proportion of Her2+ cases. Moreover, Her2+ status is correlated with poorer clinical effects, including low survival rate. The two factors combined have created a significant opportunity for OmniCAR.
Source: PTX Presentation (18 January 2021)
OmniCAR for GBM
Prescient's OmniCAR Her2 and EGFRviii program focuses on the treatment of GBM, the most common type of brain carcinoma.
The problem with traditional drugs is related to blood brain barrier (BBB) penetration.
Active T-cells can penetrate BBB, thus making CAR-T a promising approach. However, the early promise shown by CAR-T in GBM was impacted by relapse concerns because of the single antigen targeting.
OmniCAR program in GBM will arm CAR-T cells equipped against Her2 and EGFRviii, leveraging experience generated in OmniCAR Her2 program and investigating new GBM targets.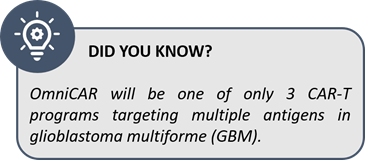 Single antigen targeting has been inadequate for the treatment of GBM, and therefore, arming against two targets is a better approach. In contrast, the combination of Her2 and other antigen targeting demonstrates early promise in overcoming relapse. Prescient also plans to explore other targets for GBM.
Multiple antigen targeting, aiming Her2 and EGFRviii, will prevent antigen escape as well as relapse.
Market opportunities
Only three therapies (including OmniCAR) are targeting multiple antigens, and all are in the discovery stage at present. Out of the three programs, OmniCAR is the only next-generation CAR-T program.
Source: PTX Presentation (18 January 2021)
Prescient stated that its next-generation platform, OmniCAR, has capabilities to address unmet industry needs. The Company is confident that demonstrating each OmniCAR feature will create intrinsic value in the underlying platform, specifically to external parties.
On 16 April 2021, PTX shares were trading at AU$0.105 (at AEST 3:40 PM).
To know more about Prescient Therapeutics Limited, click here.
To stay updated with PTX company activities and announcements, please update your details on their investor centre.