Summary

Prescient Therapeutics has announced that PTX-100 exhibited an excellent safety profile in Phase 1b basket trial with no related serious adverse events.
PTX-100 was well tolerated, up to and including its highest dose of 2,000mg/m2.
The drug also exhibited clinical benefit in two patients with T cell lymphoma (TCL) with aggressive disease that had failed 3-5 prior therapies.
Prescient will now initiate an expansion cohort study for PTX-100 focusing on TCL with potential for an ensuing registration study.
In an update that endorses the potential benefits of Prescient Therapeutic's (ASX:PTX) anti-cancer drug PTX-100, the Company stated that the first-in-class compound demonstrated an excellent safety profile in Phase 1b clinical trial in solid and hematological cancers.
Prescient also highlighted that the targeted therapy demonstrated biological activity in two highly pre-treated T cell lymphoma (TCL) patients with aggressive disease. TCL is a type of cancer that forms in T lymphocytes (or T cells).
MUST READ: Positive results from immunogenicity testing send Prescient's shares higher
PTX highlighted that PTX-100 demonstrated an excellent safety profile for two reasons: firstly, the drug may have efficiency in fragile patients who cannot tolerate treatments with high toxicities, and secondly, because of the low toxicity profile of PTX-100.
Prescient now intends to advance PTX-100 to an expansion cohort study that will focus on TCL, an area of significant unmet medical need.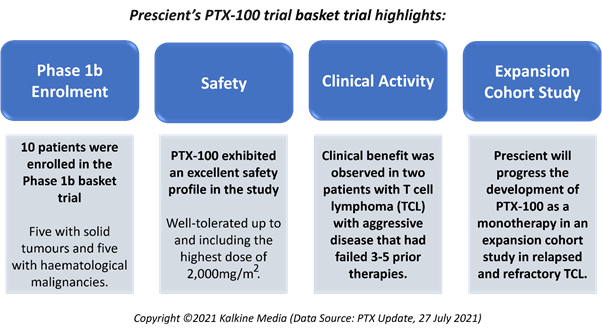 Patients' enrolment for Phase 1b trial
A total of ten patients were enrolled for the Phase 1b basket trial-
Five with solid tumours, including pancreatic and colorectal cancers.
Five with haematological malignancies, including multiple myeloma and T cell lymphomas.
In this trial, patients received a median of three prior lines of treatment and up to five prior lines of treatment. PTX-100 was administered to the patients at doses ranging from 500 mg/m2 to 2,000 mg/m2.
PTX-100's impressive safety profile
In the Phase 1b basket trial, PTX-100 showed an outstanding safety profile and was well tolerated up to and including the highest dose of 2,000mg/m2.
PTX also notified that several Grade 3 or 4 adverse events were observed in the study, including a reduction in platelets (observed in three patients) as well as a reduction in neutrophils or neutropenia (observed in two patients). However, none of these were deemed serious and were not related to PTX-100.
Serious adverse events included nose bleeds (one patient); osteomyelitis (bone infection; one patient); hip fracture (one patient), and subarachnoid haemorrhage (one patient). However, none of these adverse events were found to be related to PTX-100.
PTX-100 demonstrates clinical benefit in Phase 1 trial
Although the primary goal of the basket trial was to evaluate safety, clinical benefit was observed in two TCL patients with aggressive disease who had failed 3-5 prior therapies.
One patient with peripheral T cell lymphoma (PTCL) had an aggressive form of the disease and had failed five prior treatments. These treatments weren't able to control the disease for more than a couple of months. However, when treated with PTX-100, the patient experienced a partial response (reduction in cancer burden) without disease progression for 17 months and still counting. The patient has undergone 24 cycles of therapy and continues to receive PTX-100.
Another patient with cutaneous T cell lymphoma (CTCL) with K-Ras mutation also had aggressive cancer and had failed three prior therapies. This patient had a partial response to the study, with reduced cancerous lesions and symptomatic relief. The patient was on therapy for 12 months, receiving 19 cycles of therapy.
In cases where refractory TCL patients are treated with standard of care therapies, disease progression is generally expected within four months. This highlights the reassuring nature of responses when treated with PTX-100.
DO READ: Prescient Therapeutics inks new deal with Peter Mac to rev up its OmniCAR programs
PTX to conduct expansion cohort study for PTX-100
Following the encouraging results, Prescient will progress the development of PTX-100 as a monotherapy in an expansion cohort study in relapsed and refractory TCL, with a particular focus on peripheral T cell lymphoma (PTCL).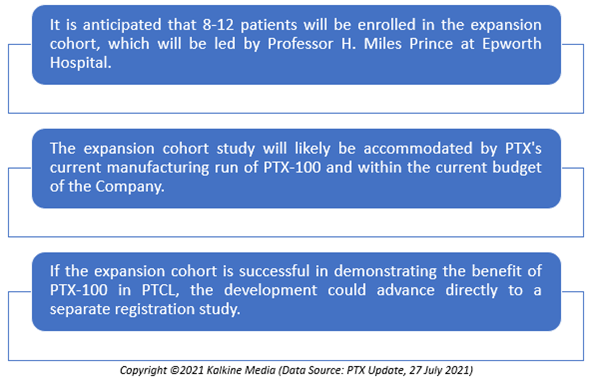 WATCH NOW: Expert Talks With Mr Steven Yatomi Clarke, CEO and Managing Director of Prescient Therapeutics
Relatively small clinical trials may be adequate for registration compared to typical Phase 3 clinical trials, as indicated by previous drug approvals. PTCL is an indication with substantial unmet medical need. The survival rate following relapse is low and has not significantly improved in the last two decades.
While PTCL is not a common malignancy, the nature of this form of cancer and the absence of efficient therapy options for refractory patients generates a potentially shorter regulatory path for PTX-100. Notably, this will be the fastest route to market in a high-value area of unmet medical need.
Prescient will provide additional details on the expansion cohort study in the upcoming quarter.
ALSO READ: Prescient Therapeutics' major strides in anti-cancer programs set the stage for a sturdy 2021
The trial's principal investigator, Professor H. Miles Prince, commented-

Steven Yatomi-Clarke, Prescient's CEO and Managing Director, stated-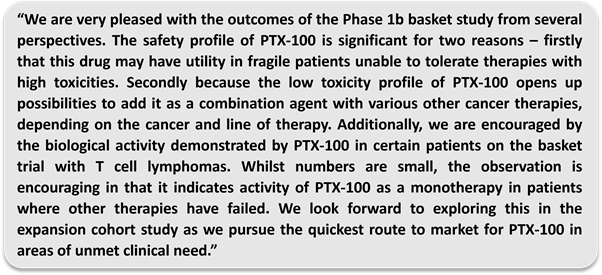 On 28 July 2021, PTX shares were trading at AU$0.190 at 2:56 PM AEST.
READ MORE: Prescient Therapeutics reaches a major CAR-T manufacturing milestone
To know more about Prescient Therapeutics Limited, click here.
To stay updated with PTX company activities and announcements, please update your details on their investor centre.