Summary

Krakatoa Resources has discovered encouraging rare earth elements during reconnaissance mapping at its Mt Clere Project.
The Company has been granted five new exploration licences expanding the area for exploration to over 1,780km2.
KTA has planned major exploration programs to be undertaken at the project immediately.
Aggressive explorer Krakatoa Resources Limited (ASX:KTA) has been reporting encouraging results from the continuing exploration work across several projects. On 14 July 2021, the Company declared highly encouraging rock chip sample results for its highly prospective Mt Clere Project.
The sample results are from the low impact exploration and reconnaissance mapping survey undertaken in April/May 2021 on tenements E09/2357, E52/3730 and E52/3731 of the Mt Clere Project. This survey marked the beginning of a systematic tenement-wide exploration program at Mt Clere.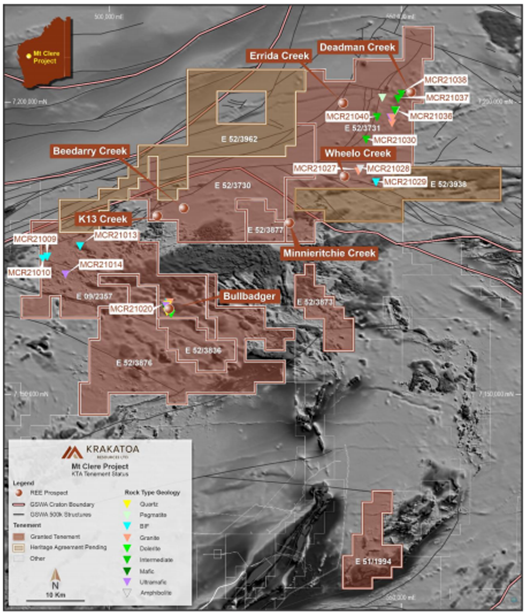 KTA's exploration licences and applications at Mt Clere Project (Source: KTA Announcement 14/07/21)
DID YOU READ: Krakatoa Resources Limited (ASX:KTA) winds up field exploration program at Sugarloaf
The low impact exploration program included the compilation of 266 stream sediment geochemical samples and more than 40 rock and regolith samples. The exploration program was divided into two phases. The initial phase was undertaken on tenement E09/2537, and the later phase was undertaken over tenements E52/3730 and E52/3731.
Source: KTA Announcement 14/07/2021
The laboratory results from stream sediment programs over E52/3730 and E52/3731 are awaited.
LATEST NEWS: Latest results reinforce Krakatoa Resources' (ASX:KTA) Rand Project potential
E52/3731 rock chip samples (Source: KTA Announcement 14/07/21)
Notably, KTA's Mt Clere project hosts substantial Rare Earth Element (REE) geochemical anomalies, which were originally defined by many previous explorers.
Granted tenure at Mt Clere project
KTA controls an area of around 2,425km2 of highly prospective geology along the Yilgan craton boundary within the Yarlarweelor Gneiss Complex and Narryer Terrane.
KTA was granted five applications recently, widening the land available for exploration to 1,780km2. Besides this, around 645km2 of land was recently applied for and is still under the application.
Source: KTA Announcement 14/07/21
DID YOU READ: Krakatoa Resources (ASX:KTA) kicks off AC drilling at Sugarloaf
Upcoming work at the project
At present, preparations are underway for an intense six-month exploration program at the Mt Clere project. The Company looks forward to immediately commencing the program which will comprise the following:
Field mapping and intensive soil and rock survey over identified geochemical areas of interest
Stream sediment sampling and reconnaissance mapping on newly granted licences
Airborne EM surveys
Electron paramagnetic resonance surveys
Mineral petrology
Ionic geochemical sampling over prospective areas
Target generation and selection for drill testing
The program will be reviewed and will include the E52/3730 and E52/3731 licence area, upon receiving and interpreting all stream and rock samples from the initial phase of exploration.
IMPORTANT UPDATE: Krakatoa Resources cranks up exploration at Rand and Mt Clere in May
KTA believes that the occurrence of highly anomalous REE within the licence area offers extremely good news for shareholders.
A confirmation regarding the prospectivity for clay-hosted-ion-adsorption-type REE deposits is yet to come from KTA.
"The results are considered highly encouraging as an initial pass. The volume of samples is negligible when you consider the size of the areas under exploration. Once we have all our stream sediment geochemistry data, we can focus our exploration efforts. We have established suitable host environments for Ni-Cu-PGE's, iron ore and are closer to understanding the nature and the potential for clay-hosted REE. The next six months will be an exciting time for the company, and its shareholders, as we progress exploration at Mt Clere."
- Mark Major, Krakatoa's CEO
READ HERE: Krakatoa Resources (ASX:KTA) kicks off AC drilling at Sugarloaf
To sum it all up, the results are highly encouraging for KTA, and the Company looks forward to focusing on its exploration efforts at the Mt Clere Project. KTA is optimistic about the upcoming work on the project and the developments that would unfold as exploration progresses.
Shares of KTA were noted at AU$ 0.054, up by 3.846% at 3:00 PM AEST.