Summary

Prescient has announced excellent findings from in silico immunogenicity testing of OmniCAR's key binding components - SpyTag and SpyCatcher.
The Company highlighted that the in silico test demonstrates a non-immunogenic profile of these components.
Prescient specifies that the positive findings from in silico testing significantly de-risks the entire OmniCAR platform.
Following the announcement, Prescient shares moved north and were trading ~14% higher at 02:48 PM AEST.
In an upbeat development, Prescient Therapeutics Limited (ASX:PTX) has announced outstanding findings from in silico immunogenicity testing of OmniCAR's key binding components - SpyTag and SpyCatcher.
SpyTag/SpyCatcher system is a technology used to combine proteins; SpyTag is a 13-amino acid peptide which reacts with SpyCatcher to form a bond.
Following the significant update, shares of the ASX-listed clinical-stage oncology firm jumped 14.130% and were trading at AU$0.260 (at 02:48 PM AEST).
PTX highlighted that the in silico tests confirm the non-immunogenic profile of SpyTag and SpyCatcher. These findings substantially de-risk the OmniCAR platform and are crucial for progressing Prescient's OmniCAR in-house programs and external partnership/collaborations.
Immunogenicity testing assesses the immune response against a new treatment, which can negatively affect efficacy and safety. In CAR-T cell therapies, elevated levels of immunogenicity can negatively impact the expansion and persistence of CAR-T cells, affecting the treatment's overall safety and clinical response.
WATCH NOW: Expert Talks With Mr Steven Yatomi Clarke, CEO and Managing Director of Prescient Therapeutics
In silico test demonstrates low immunogenicity of SpyTag and SpyCatcher
Prescient highlighted that the immunogenicity of OmniCAR's binding system components – SpyTag and SpyCatcher – were analysed in silico by an independent US research provider. The study was performed to determine if these components could generate unfavourable immune responses which could have a negative impact on the therapy.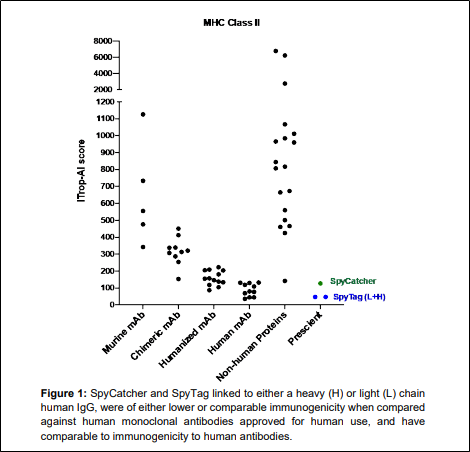 Source: PTX Update, 5 July 2021
The findings revealed that both SpyTag and SpyCatcher had extremely low immunogenicity. Notably, their immunogenicity was found to be lower than a panel of humanised therapeutic antibodies already approved for human use.
ALSO READ: Prescient Therapeutics' major strides in anti-cancer programs set the stage for a sturdy 2021
It is interesting to note that in silico immunogenicity testing is widely considered to be over-predictive as contemporary algorithms cannot account for cellular antigen processing.
Steven Yatomi-Clarke, the CEO and Managing Director of Prescient, commented-
The crucial development follows the completion of the manufacturing and delivery of the OmniCAR platform's critical components, including cell binders for numerous cancer targets and lentiviral vectors utilised to manufacture CAR-T cells.
READ MORE: Prescient Therapeutics reaches a major CAR-T manufacturing milestone
Prescient's OmniCAR programs are being developed for:
Acute myeloid leukemia (AML).
Her2+ solid tumours (breast, gastric and ovarian cancers).
Glioblastoma multiforme or GBM (the most common form of brain cancer).
PTX has developed OmniCAR as a platform, allowing collaborations and partnerships under licence with third parties wanting to integrate OmniCAR for enhancing their respective cell therapies.
The platform is based on technologies developed at the University of Pennsylvania and the University of Oxford. Interestingly, Prescient owns a global licence for the commercialisation of the technologies.
DO READ: Prescient Therapeutics inks new deal with Peter Mac to rev up its OmniCAR programs
Prescient highlights that the positive findings from the in silico immunogenicity test show that if these therapies are given to patients, their immune systems will not impair the therapy itself. Furthermore, the Company is thrilled to progress its in-house next-generation cell therapies for cancer treatments.
To know more about Prescient Therapeutics Limited, click here.
To stay updated with PTX company activities and announcements, please update your details on their investor centre.