Summary

Platina Resources plans to quickly move to a follow-up soil sampling at the fully owned Challa Gold Project.
The November soil sampling has been extremely successful, highlighting numerous highly prospective zones.
Australian company Platina Resources Limited (ASX: PGM) is focused on unlocking the extensive potential of its wholly owned Challa Gold Project, which sits in a prolific gold producing district. In a significant market update on 11 January 2021, the Company announced its plan to undertake a follow-up soil sampling program at the project.
Post the market update, the stock traded more than 4 per cent higher to AUD 0.051 at AEDT: 12:24 PM.
Follow-Up on Initial Soil Sampling
An initial soil sampling program was concluded in November 2020, confirming a number of highly prospective zones.
It had highlighted that future exploration may be potentially less costly than first budgeted. The outcome suggested that soil sampling could be a success, proving to be a cost-effective procedure for finding gold anomalism.
For detailed discussion, read here: Platina Resources (ASX:PGM) Wraps Up Soil Sampling at Challa Gold Project
The assaying of 696 soil samples has found a strong link to the previously identified mineralised outcropping veins during the reconnaissance program in October 2020. The program had returned gold grades of 1.62g/t and 5.89 g/t in rock chip samples.
Given the transported sands and silts which cover a large part of the project area, Challa Gold Project has not been previously systematically explored.
Platina Managing Director Corey Nolan highlighted that the innovative soil sampling had successfully discriminated anomalous bedrock through the transported cover.
He added that the soil sampling had led to the identification of several gold areas that would be followed up in the upcoming, more comprehensive soil program, to pinpoint targets for the drilling phase.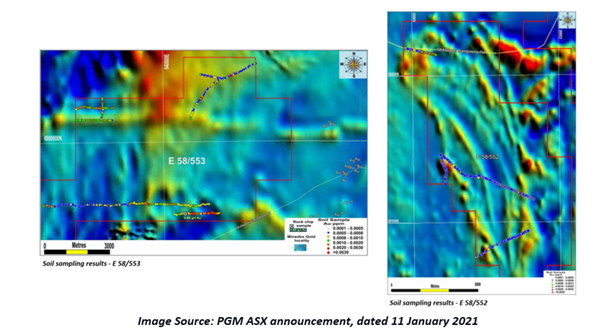 Also Read: Platina Resources (ASX:PGM) gallops ahead with 'Going for Gold' strategy and a flurry of projects
Challa Gold Project in WA
Platina Resources acquired Challa Gold Project in June 2020 in line with its renewed focus on the Australian gold projects, in the backdrop of the yellow metal's glittering performance in 2020.
Owing to several favourable factors, the Company expects strong outcomes from the project. It sits in an area that has experienced minimal modern and systematic exploration in the past, due to transported sands and silts covering a major part.
The project tenements E58/552 and E58/553, covering an area of 293km2, are located about 500km north-east of Perth. They are situated in the area that lies between Mt Magnet and Sandstone.
The province also generates strong corporate interest due to development options with four processing mills nearby. It is undergoing an exploration boom, thanks to new discoveries and corporate deals.
The Shining History of the Province in Gold Yielding: Mt Magnet, which was discovered in 1891, has already produced more than six million ounces of gold till now. The Sandstone area has produced more than 1.3 million ounces of gold from several underground and open-pit mining operations in the past.
Moreover, the Youanmi Gold Mine, which is close to Challa Gold Project, is currently the main focus of new resource drilling of high-grade gold lodes.
Must read: Platina Resources (ASX:PGM) In Fine Fettle To Unlock WA Gold Potential