Highlights

Platina Resources is advancing well on its New South Wales project, aiming to tap global market opportunities for scandium.
Aluminium-scandium master alloy, a value-added, higher-margin, and readily saleable product, enjoys strong market potential.
Platina's new development strategy to progress its scandium project covers the development of an intellectual property for master alloy production together with a two-phase market entry.
Platina Resources Limited (ASX:PGM) has turned attention towards advancing its Platina Scandium Project (PSP) in New South Wales. The Company is implementing a number of initiatives to tap growing market opportunities in the scandium market.
The recent entry of companies with significant aluminium business units into the scandium market has renewed global focus on the potential application of aluminium-scandium alloys across a diverse range of sectors.
RELATED ARTICLE: Platina Resources (ASX:PGM) charts a path forward for NSW scandium project
The Company believes that aluminium-scandium master alloy, a value-added, higher-margin, and readily saleable product, would remain at the forefront of the market demand for scandium.
However, expanding production capacity remains a significant hurdle to seize the growing opportunities as scandium production comes as a by-product of other metal production capacity.
In such a scenario, new pure play scandium projects like PSP held by Platina Resources offer stable sources of non-by-product supply and therefore could support as well as stimulate further demand growth.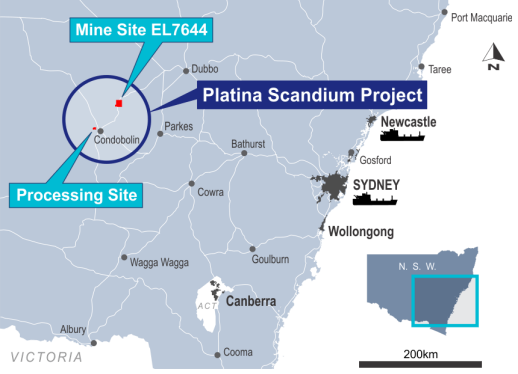 Image source: PGM update, 6 September 2021
RELATED READ: Platina Resources' shares soar 16% on a study talking up scandium market
With this backdrop, let us look at the growing global opportunities and how Platina is advancing its initiatives on its wholly owned scandium project.
Lens through the scandium market potential
Aluminium-scandium alloys have properties such as high strength, excellent weldability, lower density, and improved corrosion resistance. These properties together make them well suited for various industries requiring lightweight structural materials.
These alloys also provide opportunities for reducing the carbon footprint through improved fuel efficiencies and weight reductions.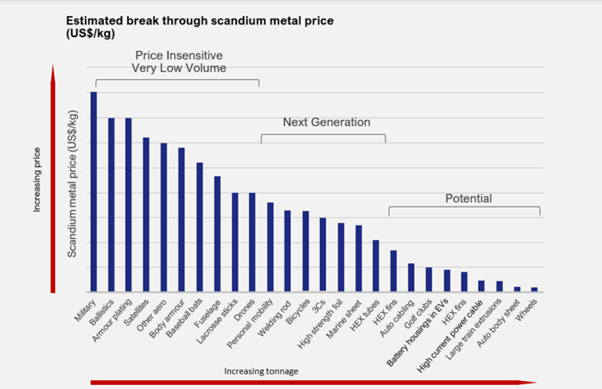 Image Source: PGM Update, dated 6 September 2021 (Data Source CM Group)
Recent years have seen the solid oxide fuel cell industry as a dominant consumer of scandium. Moreover, the most significant opportunity for the metal remains as an aluminium alloy targeting diverse industries such as aerospace, marine, military and automotive.
RELATED ARTICLE: Platina Resources' June quarter sees major progress across multiple projects
Platina advancing well to tap the growing opportunities
The Company's strategy is geared towards progressing the project further as it aims to become a stable supply source for the western world at competitive global prices, which stimulate demand.
The new development strategy of Platina considers developing master alloy production intellectual property (IP) as well as a two-phase market entry strategy.
Its market entry strategy would be underpinned by developing a commercial-scale master alloy production facility. Third-party scandium oxide feedstock would be initially used by the facility followed by the PSP development, warranted by the market size or security of oxide supply.
RELATED ARTICLE: Platina Resources (ASX:PGM) revels in glittering potential of high-grade WA gold projects
Source: PGM Update, dated 6 September 2021
The Platina Scandium Project's key strengths include high-grade scandium, long life, low capital and operating costs, robust ore reserve and mineral resource positions, and access to excellent infrastructure. Together with new initiatives, the project's strengths position the Company well to cash in on the untapped value compared to other scandium and scandium-nickel-cobalt peers.
PGM stock was trading at AU$0.065 in the early hours of 21 September 2021.