Summary

A significant gold producer, Australia sits on substantial untapped minerals.
With record gold prices, value of gold-related projects has increased immensely.
Platina Resources gauged the market situation at the right time and decided to give undivided attention to gold projects in Australia.
2020 was the year of yellow metal. Shining brighter during the gloomy pandemic period, gold continues to attract investors' attention and demonstrate why it is called a safe-haven asset.
The value of gold-related projects increased by 35 per cent over the 12 months from the start of November 2019 to the end of October 2020, as per the Resources and Energy Major Projects Report, December 2020. Around AUD 3.9 billion worth of gold projects were at the committed stage last year, the report highlighted.
Australia is a major gold producer in the world, with multiple gold mines operating in the country currently. Western Australia remains the hub of gold projects and accounts for nearly 70 per cent of the total Australian gold production. The gold exploration and mining companies operating in the state are significantly adding to the growth and development of WA.
Platina Resources - Gold Explorer with Key Projects in WA
Platina Resources Limited (ASX: PGM) achieved significant landmarks in 2020, directing its strategic focus towards Australian gold. The company acquired new gold projects in Western Australia, as part of its strategy to build gold portfolio amid record gold prices. The company has also been evaluating various gold M&A opportunities.
Mostly Untapped Gold Treasure - Challa Gold Project in WA
Platina Resources wholly owns the extremely promising Challa gold project, sitting in the prolific location of Western Australia. It is located 500km north-east of Perth and between the bountiful gold districts of Mt Magnet and Sandstone.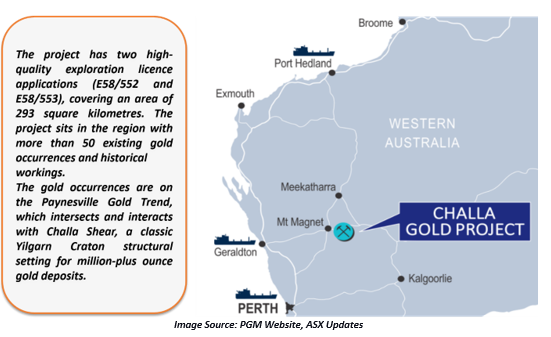 Since it was found in 1891, Mt Magnet has delivered more than 6 million ounces of gold. The Sandstone area has produced more than 1.3 million ounces of gold from various open pit and underground mining operations. The Youanmi Gold Mine, nearby the project area, is currently at the core of new resource drilling of top-quality gold lodes. This mine has produced 670,000 ounces of gold till now.
The Challa Gold Project area has undergone minimal modern exploration and holds prospects for an enormous amount of yellow metal. The project is further segmented into Challa East and Challa West.
Challa East comprises outcropping gold mineralisation and Paynesville gold-bearing with various gold operations and occurrences. On the other hand, Challa West includes favourable greenstone host rocks and a central structure with 1Moz Au deposits. It also has hydrothermal alteration adjacent to zones of significant structural displacement.
The Company has completed a major soil sampling program at the project. The campaign has indicated that for upcoming exploration activities, there remains a possibility to incur less costs than earlier budgeted.
Mt Narryer Project – Another Golden Gem
Mt Narryer Project is another exciting gold project held by Platina Resources. Located in the prolific western Yilgarn Craton region, it includes a tenement application (E09/242) covering 165 square kilometres.
The region has not gone through many exploration activities due to the lack of outcropping greenstones. The targets are similar to the Julimar nickel-copper-PGE discovery 160 kilometres to the south.
The Company plans to commence a soil sampling program after securing the tenement.
On 5 January 2021 (AEDT 03:21 PM), PGM traded at AUD 0.051.