Summary

Platina Resources is geared towards widening its gold footprint in Western Australia by acquiring new projects and undertaking exploration activities.
Situated in the Ashburton province, the Xanadu Gold Project is a recent addition to the Company's WA gold project portfolio.
Soil sampling at the 100% owned Challa gold project has identified many prospective targets where the Company intends to conduct drilling.
With a strategic focus on its Western Australian (WA) gold projects, Platina Resources Limited (ASX:PGM) is firmly committed to boosting its portfolio of precious, speciality and base metal projects.
As part of the current focus, the Company is advancing in full swing to build its portfolio in the prolific WA gold province. Notably, WA is known as a world-class geological destination with robust support infrastructure and is counted amongst the world's best permitting and development approval regimes.
ALSO READ: Platina Resources sitting on a goldmine of opportunities in Western Australia
In the backdrop of an impeccable gold rally, the Company recently undertook a flurry of yellow metal exploration endeavours alongside the recent acquisition of a new gold project, driving value across the portfolio.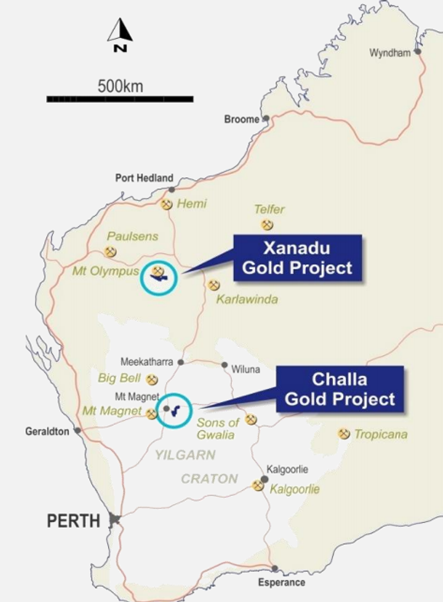 Source: PGM Presentation, dated 28 May 2021
ALSO READ: How Platina Resources (ASX:PGM) is poised to reap rewards of gold tailwinds
Platina Resources expands gold presence in WA
The Company recently signed a conditional term sheet to acquire the Xanadu Gold Project, situated in the Ashburton province, thereby expanding its gold footprints in WA. The project's target model is an extensive oxide gold system with deeper mineralisation within an alteration system.
The Xanadu Gold Project lies near the multi-million-ounce Mt Olympus gold deposit held by Kalamazoo Resources Limited (ASX: KZR). In addition to the Mt Olympus gold project, the region also hosts other gold projects such as the Karlawinda project (2.1 million ozs) and the already-depleted Paulsens.
ALSO READ: New project acquisition to add lustre to Platina Resources' (ASX:PGM) gold portfolio
The Xanadu gold project exploration ground covers 493 square kilometres and is located 38 kilometres from Paraburdoo. The project boasts a significant number of high-grade gold intercepts along with a regional-scale structural setting.
Platina Resources intends to undertake geophysics and geochemistry at Xanadu, followed by resource definition drilling, to target the unexplored 25km strike extension.
To know more, read Platina Resources' (ASX:PGM) Xanadu Gold Project set to enter exploration phase
Challa project boosting potential to increase gold resource inventory
Platina Resources' recent exploration activities have been geared towards its 100% owned Challa Gold Project in Western Australia. The project consists of two exploration licences covering 293 square kilometres, with the Company targeting significant gold deposits undercover.
The project sits within a prolific gold producing region including Sandstone (1.3 million ozs), Mt Magnet (6 million ozs) and Youanmi (670,000 ozs). Furthermore, the project has witnessed limited recent or modern exploration activities due to shallow outcrop (transported sands and silts) covering the project tenements.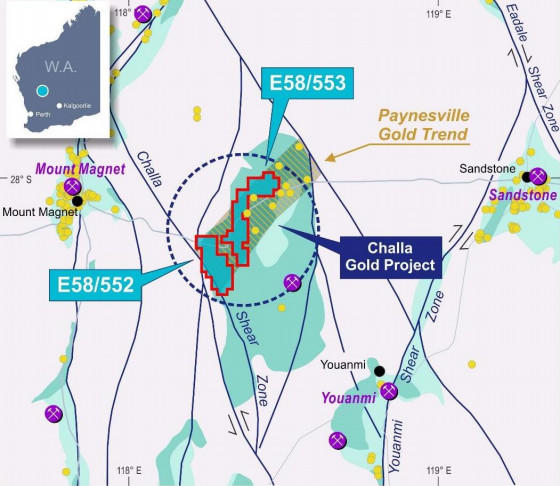 Source: PGM Presentation, dated 28 May 2021
ALSO READ: Platina Resources (ASX:PGM) on course to pursue its golden dreams at Challa project
Challa enjoys a wide array of development options due to four nearby processing mills and strong corporate interest in the area. The Company recently conducted a soil sampling program at the project, which has identified several prospective targets where drilling is planned.
Besides the current developments, Platina Resources has identified several assets that would complement its existing project portfolio, with negotiations progressing positively with the relevant partners.
PGM traded at AU$0.069 on 15 June 2021.
ALSO READ: Platina Resources' march quarter marked by golden strides at WA assets