Summary

Engaged in providing organic skin care products, Skin Elements' range of products include organic sunscreens, alcohol-free sanitisers, pawpaw skin therapeutic range and natural cosmetic range.
The Company's PapayaActivs therapeutics products range comprises 60% of McArthur Pawpaw Extract®.
All the active ingredients in PapayaActivs therapeutic creams are 100% natural.
Award-winning natural skin care player Skin Elements Limited (ASX:SKN) has established a rich portfolio of all-natural and organic products including Invisi-Shield organics, PapayaActivs therapeutics skincare, Soléo Organics sunscreen, and the Elizabeth Jane Natural Cosmetics brand. All the products of SKN are free of synthetic chemicals including parabens, propylene glycol or sodium lauryl sulphate.
What adds to the charm is that Skin Elements uses environment-friendly products for its contents as well as for packaging. The packaging material, as well as container vessels, are produced from completely (100%) recyclable material.
DO READ: Going natural: A look at Skin Elements' (ASX:SKN) exciting array of products
The Company develops and commercialises its products under four main brands: SKNProtect, SKNActivs, SKNShield, and SKNCosmetics.
SKNProtect division comprises Soléo Organics which is developed for protection from UV-A and UV-B solar radiation.
SKNActivs division includes PapayaActivs therapeutic range to treat several skin conditions.
SKNShield division comprises natural, alcohol-free, and plant-based sanitiser, Invisi Shield.
SKNCosmetics division offers all-natural and organic cosmetics which are an effective alternative to synthetic chemical-based products.
Skin Elements' entire product range is formulated according to the principles of naturopathy by using only organic and natural ingredients. The natural skin care products of SKN have low skin irritation factor and are safe to use for babies, children, pregnant women, and all those who have sensitive skin.
SKN's PapayaActivs therapeutic range
Skin Elements has developed various products for cleansing, revitalising, hydrating and general skin care, including a therapeutic range for specific skin conditions. These products are manufactured based on McArthur Pawpaw Extract® Formula to treat some skin indications.
Skin Elements' PapayaActivs therapeutic creams comprise high concentrations of other active natural ingredients traditionally used in herbal medicine, including aloe vera, arnica, chamomile, and chickweed. PapayaActivs is listed on the Australian Register of Therapeutic Goods (ARTG).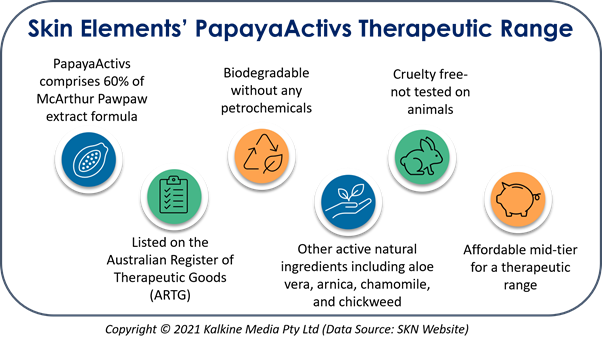 DO READ: Skin Elements (ASX:SKN) gears up for launch of 'game-changing' sanitiser, Invisi Shield®
Skin Elements has developed PapayaActivs cream using a potent papaya extract base. The extract base is complemented by ingredients that have proved efficacious in treating multiple skin conditions.
PapayaActivs is the only pawpaw cream with a high-level concentration (600mg/g or 60%) of natural McArthur pawpaw extract. Notably, this is the maximum concentration of pawpaw extract available in the market.
According to SKN, other brands' products comprise only between 3-8% of pawpaw extract, making SKN's products up to 20 times more concentrated than other competitor brands.
The Company offers its PapayaActivs therapeutic range through online stores, distributors & wholesalers, retail outlets, a chain of health stores, and direct mail across Australia, Japan, Europe, Malaysia, China, the US, and the UK.
GOOD READ: A Glance Through Skin Elements' (ASX:SKN) All-natural Soléo Organics Sunscreen
Ingredients used in PapayaActivs
Skin Elements manufactures its PapayaActivs cream for arthritis, eczema, psoriasis dermatitis & rashes, and wounds & burns. All the active ingredients in PapayaActivs therapeutic creams are 100% natural. None of our products contains any parabens, petrochemicals, or sodium lauryl sulphate.
All PapayaActivs creams comprise 600mg of Carica Papaya fruit juice fresh (McArthur Pawpaw Extract). The ingredients used are represented below-
On 21 April 2021, SKN shares were trading at AU$0.100 (AEST 10:39 AM).