Summary

Ora Banda Mining has delivered back-to-back success across the deposits at its Davyhurst project.
OBM has received significant assay results for the Golden Eagle deposit, while assay results for 17 diamond drill holes are still pending.
The Company is continuing further exploration work at highly prospective deposits like the Golden Eagle.
One of the latest gold producers in Australia, Ora Banda Mining Limited (ASX:OBM), has been delivering back to back success across the deposits located at its flagship Davyhurst Gold Project.
The Company is continuing exploration at these prospective deposits with significant activities already concluded and many planned for the coming times.
PREVIOUS UPDATE: Ora Banda (ASX:OBM) expedites work across multiple prospective deposits despite challenges
New assay results from Golden Eagle underground diamond drilling
Lately, the Golden Eagle deposit has returned additional significant assay results from the underground diamond drilling, including the following:
19.0m @ 5.4 g/t Au (Including 11.1m @ 8.9 g/t Au)
5.8m @ 15.0 g/t Au (Including 5.5m @ 16.0 g/t Au)
14.6m @ 4.8 g/t Au (Including 14.2m @ 4.9 g/t Au)
7.3m @ 9.4 g/t Au
13.8m @ 4.1 g/t Au (Including 4.6m @ 9.5 g/t Au)
4.3m @ 5.5 g/t Au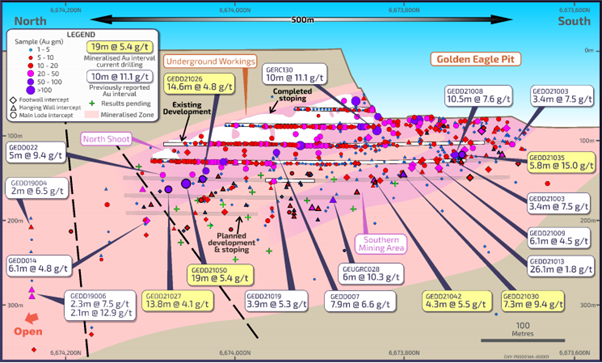 Golden Eagle long section looking east (Source: OBM Announcement 28/05/2021)
Located 3.2 km from the Davyhurst processing plant, the Golden Eagle is one of five priority mining targets at the Davyhurst Project and is an essential part of the Project.
Golden Eagle had undergone open-pit mining, which Western Mining Corporation initiated (WMC) in 1986 and delivered 864kt @2.6g/t Au for 73,000 ounces. Further, Croesus Mining is believed to have produced an additional 39,000 ounces between November 2000 and December 2003.
GROUND REPORT: Ora Banda Mining (ASX:OBM) concludes capital work program; prepares for further work
Significance of Golden Eagle deposit
The underground diamond drilling at the integral deposit was intended to infill and extend the declared mineral resource of 393kt @ 3.9g/t Au for 49,000 ounces. This program kicked off in February 2021 and was concluded in April 2021 after 61 holes were drilled in totality for 8,370 metres.

Opportunistically, the drilling offers continuous support for pre-mining anticipations for the North Shoot and offers significant geological information into the remodelling of the Southern Mining Area.
MARCH QUARTER PROGRESS: Ora Banda Mining (ASX:OBM) progresses across projects in full swing throughout March quarter
Work to date warrants further exploration
OBM's mining efforts to date over the North Shoot have resulted in meeting the anticipations of the DFS. Moreover, mining in the Southern Mining Area has met folded ore lode, which warrants further work to enhance the understanding of the controls on gold mineralisation.
This indicates a favourable result, but OBM believes that there is a need better to understand the gold distribution within the folded sequence.
Now, in order to enhance the understanding of the gold distribution within the folded lodes, the Company is progressing with drilling, mapping, and further mine development activities.
OBM remains highly optimistic about the high-quality potential of the folded lodes with numerous drill holes intersecting an area that seems to be a high-grade primary area.
DID YOU READ: Ora Banda Mining (ASX:OBM) crosses milestones to become a gold producer
Due to its orientation to the principal drilling direction, a relatively limited drill target is indicated through this folded sequence.
Overall, the present results received to date offer significant encouragement for OBM, and the Company looks forward to seeking assay results for 17 holes that are still pending.
The OBM stock traded up by 2.564% at AUD 0.20 on 28 May 2021.