Summary

Ora Banda Mining has reported its progress concerning The Recommencement of Production at its Davyhurst Project.
OBM has made considerable progress during the quarter, Including Crucial Restart Workstream Activities Being Undertaken.
The Company concluded the installation and pre-commissioning of the LNG Power Station and Phase 3 of resource definition drilling at Riverina South had also commenced.
OBM reported a strong balance sheet with $32.6 million cash and no debt as on 31 December 2020.
Distinctively placed gold explorer Ora Banda Mining Limited (ASX:OBM) has been on track towards restarting production at the Davyhurst project, as scheduled, in the first quarter of CY 2021. For this purpose, OBM has undertaken a range of workstreams during the December quarter 2020 and moved ahead with its structured regional exploration program.
Recommissioning of the Processing Plant
During the September quarter, engineering, procurement, and construction contract were given to GR Engineering Services (GRES). During the December quarter, GRES had moved ahead with restoration, optimisation and recommissioning of the Davyhurst Gold Processing Plant, bore fields as well as related infrastructure.
Progressing Remedial Works At Processing Plant (Source: ASX Announcement 18 January 2021)
Interesting Read: How close is Ora Banda (ASX:OBM) for production at Davyhurst?
Some of the numerous key developments made during the December quarter include the following: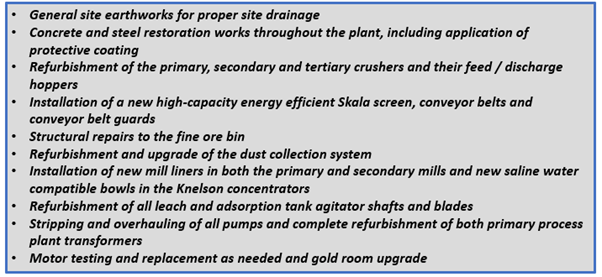 Data Source: ASX Announcement 18 January 2021

Left- Progress Process Plant Remedial Works; Right- New product screen installed in December and dry commissioned (Source: ASX Announcement 18 January 2021)
Interesting Read: ASX:OBM Going Tongs and Hammer for Production at Davyhurst
Commencement of Mining Operations
Ahead of the remedial work associated with the processing plant, OBM had begun mining operations during the quarter to develop stocks in advance of the scheduled process plant opening in January 2021.
During the quarter, OBM's open-pit mining was completely focused on Riverina, wherein the Company completed a total of 26,937 metres of reverse circulation. Interestingly, a positive reconciliation has been offered through the results returned in terms of total ore tonnes as well as total ounces.
Related: Ora Banda Reports Significant Increase in Mineral Resources at Riverina Project, A Walk-Through Yearly Developments
The next phase of this drilling was targeted to start in the middle of the current month.
Predominantly free dig was the material mined during the quarter, and OBM witnessed continuous growth in productivity with the establishment of wider benches. The Company mined a total of 418,166 bcm through the initial blast fired on 15 December 2020, and by the quarter-end, 432.5mRL bench was reached through mining in the southern end of the pit.
During the quarter, OBM also initiated work related to diversion of a public road, the proximity of which to the planned mine workings, would have influenced upcoming mining operations and barred the expansion of the open pit in the coming year.
Interesting Update: Ora Banda Mining (ASX:OBM) Nearing Production at Davyhurst, Reports Significant Preparations At Ground Zero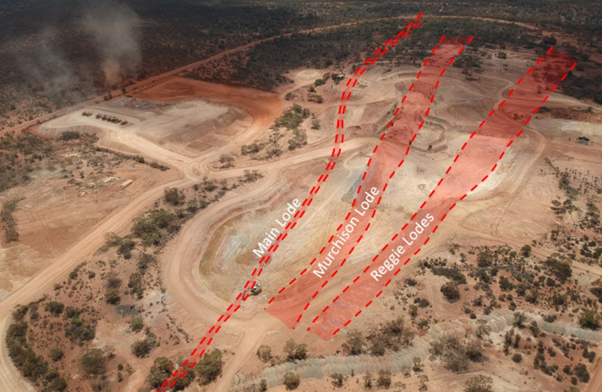 Riverina Open Pit as at 31 December 2020 looking NNW (Source: ASX Announcement 18 January 2021)
Underground Mining at Golden Eagle
OBM commence the dewatering of the Golden Eagle underground mine, wherein a borehole was used to conduct an initial dewatering program. Pit N Portal, the underground mining contractor, had re-established access to the mine after moving to the site in December.
Furthermore, the reinstallation of power supply and ventilation went smoothly and helped accelerate the dewatering and rehabilitation of the mine workings.
Related: Ora Banda Reports 46% Increase In The Underground Mineral Resource At Riverina Project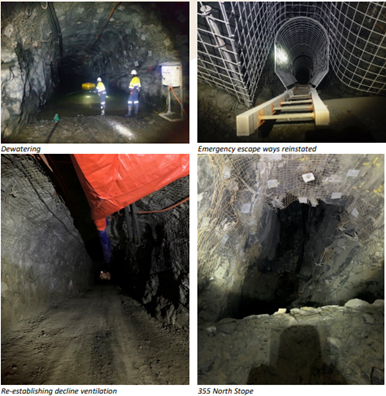 Source: ASX Announcement 18 January 2021
Notably, OBM was able to access small quantities of ore in underground stockpiles, while the initially planned stope panel of ore is being drilled out.
Establishment of Power Station
During the quarter, OBM completed the installation of
New liquified natural gas (LNG) storage and distribution facilities
5 x 1,500 kW high-efficiency Jenbacher J420E LNG generators
2 x 1,000 kW Cummins KTA50 diesel generators
In December 2020, the new power station was pre-commissioned in preparation for dry commissioning of the Davyhurst processing plant. This is followed by the wet commissioning and the resumption of processing operations in January 2021.
Did you read: Ora Banda Mining Announces underground Mineral Resource at Callion, Updates Total Mineral Resource to 2.13M ounces
New Power Station with LNG facility in background pre-commissioned (Source: ASX Announcement 18 January 2021)
OBM anticipates growth in power demand with the ramping up of operations at Davyhurst to full elected capacity during the March quarter.
Bore fields and Village Infrastructure
To ensure the availability of sufficient water supply for meeting the operations and residential needs, OBM undertook a water drilling exploration program during the quarter.
OBM's water search drilling for further potable water feed supply followed three additional bores' discovery and expansion. This translated to doubling the historical reserve osmosis feed water supply to 4 l/s.
Throughout the quarter, Davyhurst Village remained fully operational and is now at near full capacity. Late January 2021 shall witness mobilisation of the first group of OBM personnel to the Riverina camp.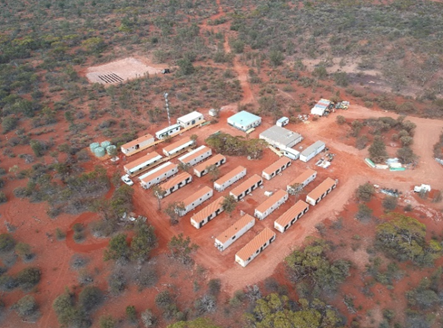 Riverina Camp Nearing Completion At Quarter End (Source: ASX Announcement 18 January 2021)
Moreover, the Company began preparation for the commencement of road haulage in late December 2020 while on 2 January 2021 OBM commenced haulage of commissioning feed for the Davyhurst process plant.
Interesting Read: Ora Banda Mining Ready to Get the Boots on the Ground; Highlights Key Validations from DFS at Davyhurst Project
Two road trains are currently operational, and a third road train has been added to the road haulage fleet later.
Exploration Progress
During the quarter, OBM declared maiden Mineral Resource, totalling 650,000 tonnes @ 2.1g/t for 43,000 ounces, for the Riverina South Project, including both an open pit component as well as an underground component.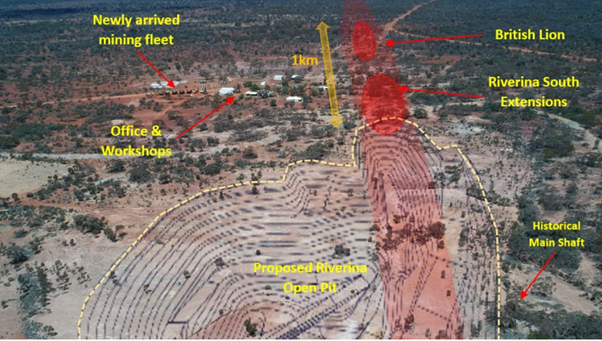 Oblique View Looking South, Showing Riverina South And British Lion (Source: ASX Announcement 18 January 2021)
Presently, OBM's Mineral Resource statement stands at 24.3Mt @ 2.3g/t for 2,170k ounces of contained gold.
The results are currently pending for Phase 3 of resource definition drilling at Riverina South that commenced in December. Out of the planned 10,162-metre program, OBM has completed 1,572. Further, the program aims to expand the resource's confidence to indicated and measured categories while producing an ore reserve in a timely fashion.
Interesting Read: Ora Banda Mining Ready to Get the Boots on the Ground; Highlights Key Validations from DFS at Davyhurst Project
In conclusion, OBM states that it has a strong, well-capitalised and debt-free balance sheet with cash of around $32.6 million on 31 December 2020. During the quarter, an expenditure of around $1.090 million was made on activities related to exploration and evaluation at the Davyhurst Project, including drilling, assaying of samples and data evaluation.
OBM share price was noted at $0.325 with a market capitalisation of $273.72 million on 18 January 2021.