Source: SARIN KUNTHONG, Shutterstock
Summary

Ora Banda Mining has been engaged in achieving significant milestones in its journey towards emerging into a gold producer.
OBM had received its first gold pour from the processing plant and secured funding from Commonwealth Bank to meet hedging and working capital objectives.
OBM had further initiated an infill drilling program at Riverina that returned significant assays while mineralisation remains open at depth.
Ora Banda Mining Limited (ASX:OBM), a distinctively placed gold explorer with one of the largest ground positions in the Eastern Goldfields and an experienced team of leaders, has been seeking to recommence production at its flagship Davyhurst project.
Davyhurst is in a region that is a host to gold deposits and includes tenements that have a high potential for Nickel and Copper.
PREVIOUS UPDATE: Ora Banda ASX:OBM Reports A Busy Quarter With Major Progress at Davyhurst
Maiden Gold Pour Achieved
The Company successfully recommissioned its gold processing plant at Davyhurst and received its maiden gold pour in early February 2021. By this time, all supporting infrastructure that was necessary to sustain continuing processing works was in place and had been commissioned.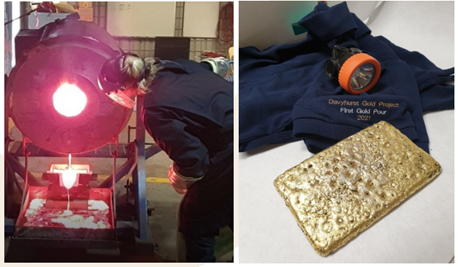 First gold bar being poured and first gold bar (Source: ASX Announcement 08 February 2021)
This gold pour marked a notable milestone in the Company's journey to emerge into a producer from a developer amid challenging circumstances of the past year and ongoing year. The Company now looks to focus on the progressing ramp-up of activity as the Company moves towards a steady position.
INTERESTING READ: How close is Ora Banda (ASX:OBM) for production at Davyhurst?
Infill Drilling Returns Assay Results
In December 2020, OBM had recommenced an infill drilling program at the Riverina South deposit located within the Davyhurst Project. The program was targeted at closing the present drill spacing to a 20m x 25m pattern from 40m x 25m pattern and returned assay results.
OBM believes that the mining shall allow the Company to upgrade the inferred resource to indicated mineral resource. Moreover, OBM views Riverina as the project that is on track to generate mine extensions with continuing deeper drilling.
Proximity of Riverina to the Main Mining Area (Source: ASX Announcement 10 February 2021)
INTERESTING READ: ASX:OBM Going Tongs and Hammer for Production at Davyhurst
OBM is keen to assess this upgraded mineral resource's contribution to the ore stream pouring from core Riverina open pit mining activities. The mining is gradually gaining speed, and the Company believes that the time is just around the corner to integrate Riverina South into this bigger operation.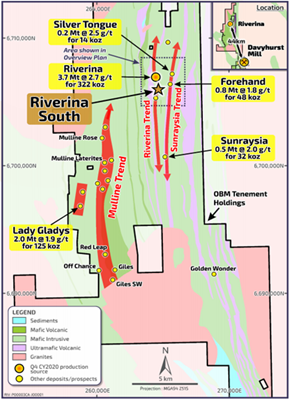 Riverina Area Location Plan (Source: ASX Announcement 10 February 2021)
More Funding For Supporting Ramp Up of Activities
OBM has inked a credit approved offer on the funding front with the Commonwealth Bank Of Australia (ASX:CBA) worth $15 million regarding hedging and working capital objectives. This funding encompasses the below-mentioned components:
$5 million for buying put options.
$10 million for development expenditure and overall working capital.
OBM stated that the funding facilities should assist the Company in prudently managing risk and capital throughout the ramp-up phase.
These funding facilities are another major step in OBM's transition with substantial exploration upside.
INTERESTING READ: Ora Banda Mining Ready to Get the Boots on the Ground; Highlights Key Validations from DFS at Davyhurst Project
OBM Appoints New CEO
Lately, the Company has also made changes to its leadership team with a view to fortify its expertise. OBM has hired Mr Peter Nicholson for the role of Chief Executive Officer (CEO), effective from 2 April 2021. The present Managing Director (MD) and CEO of OBM, Mr David Quinlivan, shall retain the role of MD after the appointment of Mr Peter Nicholson.
Mr Nicholas has around 2.5 decades of operational and mine management experience and a depth of experience in private equity across global mining and mining services.
OBM views this as a significant appointment for the Company and looks forward to benefitting from Mr Nicholson's diversified expertise towards the growth and success of OBM.
Overall, OBM has been taking substantial steps to ensure continuity in production at Davyhurst and enhance its positioning as a unique gold producer.
Related: Ora Banda Reports Significant Increase in Mineral Resources at Riverina Project, A Walk-Through Yearly Developments
OBM share price closed at $0.245, with a market capitalisation of $214.76 million on 5 March 2021.