Summary

Ora Banda has received results from the first batch of a regional first-pass exploration AC drilling program of grass roots targets.
OBM has intersected highly significant gold mineralisation from three of the four targets for which results have been returned.
OBM has significant ongoing works, and further activities are planned to be undertaken across deposits.
Aggressive gold producer Ora Banda Mining Limited (ASX:OBM) has reported exploration success from the initial batch of a regional first-pass exploration air-core (AC) drilling program of priority grass roots targets spread across the tenement package of the Company.
Through the program, OBM aimed at testing gold targets with no prior drilling or effective exploration and completed total of 16,112m drilling to blade refusal, with 6,027 metres presently awaiting assay return.
DID YOU READ: Ora Banda (ASX:OBM) enhances gold reserves despite rising costs and cut-off grades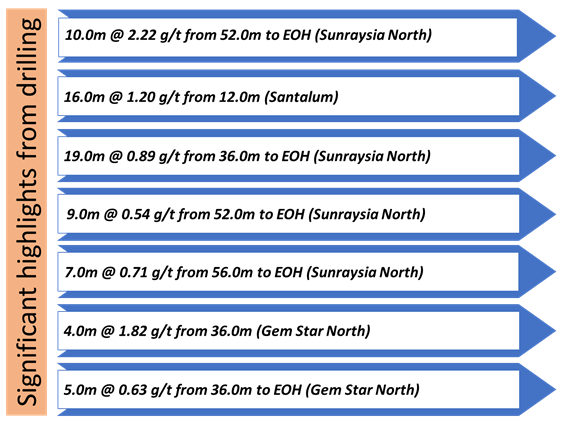 Source: OBM Announcement 30/07/2021
Gold mineralisation intersected at three targets
Four targets Sunraysia North, Gem Star North, Santalum and Queen of Hearts, have returned assay results from drilling while results remain pending for other targets. Out of these four targets, three have returned intersected gold mineralisation, indicating very significant results for first-pass drilling.
The rest results were returned from the drilling at Sunraysia North and Santalum prospects. The significant end of hole (EOH) mineralisation intersected along the Riverina trend in three consecutive drill lines spaced 400m apart indicated that the results are highly encouraging.
JUNE QUARTER UPDATE: Ora Banda (ASX:OBM) reports rocking June quarter results
At the Santalum drilling, OBM intersected significant gold mineralisation in one hole on the extremely northern line while mineralisation remains open to the north.
OBM is planning for additional AC and RC drilling planned to follow up on these promising results.
Further work required at Sunraysia North and Gem Star North
The drilling program at Sunraysia North was aimed at testing the Riverina mineralised trend south of the British Lion deposit in an area that has not witnessed drilling earlier. The program helped in intersecting gold mineralisation on three consecutive drill lines, which is highly significant.
RELATED: Ora Banda (ASX:OBM) closes capital raising program to expedite activities at Davyhurst Gold Project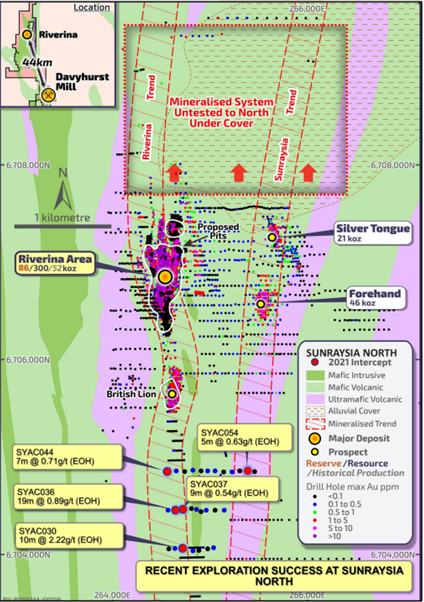 Sunraysia North AC drill results plan (Source: OBM Announcement 30/07/2021)
The Gem Star North drilling program was aimed to infill and test extensions to earlier drill defined mineralisation. This helped in intersecting anomalous gold 280m north and 300m south of current mineralisation, covering the overall strike of anomalous gold to 1,200m.
OBM believes that there is a need for additional work to determine the potential of these prospects. The Company is currently planning for more targeted AC and RC drilling, which shall help in determine these prospects.
DID YOU READ: Ora Banda Mining (ASX:OBM) leadership change bolsters its stance for growth
Broad bedrock mineralisation intersected at Santalum
The drilling at Santalum aimed at investigating the regolith profile and map bedrock geology. This was intended to help in refining the areas that are a possible source for the gold anomalism identified in the auger program completed in 2018.
Currently, the Company is engaged in designing the second phase of more detailed drilling to target the newly identified gold mineralisation.
The broad bedrock mineralisation being intersected on the northern line in hole SAAC121 indicates that the results of this initial drilling have been extremely encouraging.
IMPORTANT READ: Ora Banda's (ASX:OBM) development plans on track for Iguana after Infill drilling results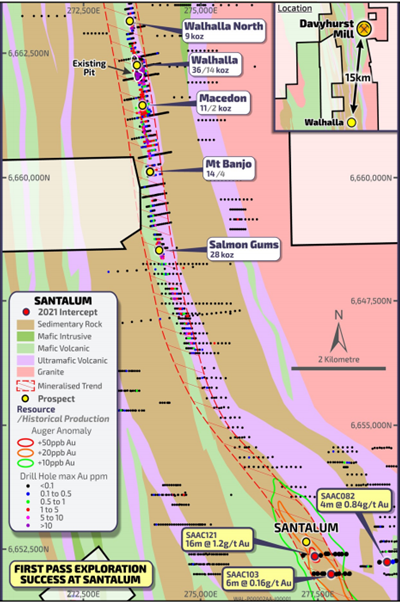 Round Dam mineraled trend and drill results at Santalum prospect
(Source: OBM Announcement 30/07/2021)
Moreover, weakly anomalous gold mineralisation intersected at hole SAAC103 (6m @ 0.19g/t Au) 400m south of SAAC121 suggests the possibility for continuation of the mineralised structure to the south.
A second weaker mineralised zone was also intersected in a drill line to the east of the main auger anomaly with SAAC082 returning 4m @ 0.84 g/t Au.
ALSO READ: 3 things underpinning Ora Banda's (ASX:OBM) long-term future and development
Significant potential at Queen of Hearts
The drilling at Queen of Hearts intersected a series of highly weathered metasediments, mafic and ultramafics with extremely leached regolith profile down to 50-70m depth. Moreover, weak anomalism across an 830m strike length was intersected through numerous holes, and the best results include the following:
9m @ 0.15g/t (QHAC014)
5m @ 0.24g/t (QHAC019)
1m @ 0.28g/t (QHAC021)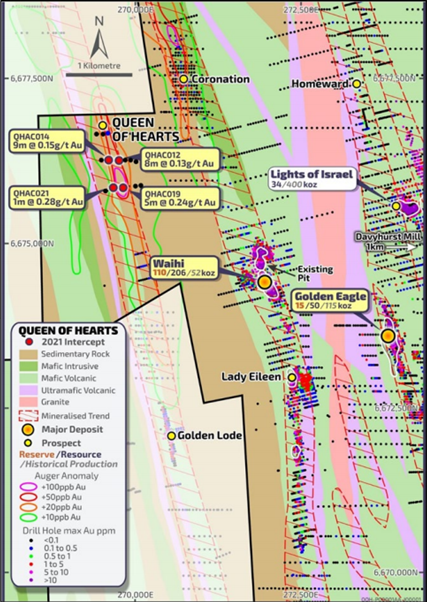 Queen of Hearts AC drill results plan (Source: OBM Announcement 30/07/2021 )
The occurrence of "End of Hole" intercepts in nearby holes at a relatively wide spacing of 80m are very much significant as they potentially indicate a proximal primary bedrock gold source.
Based on the wide-spaced AC drilling, OBM believes that there are substantial data gaps between anomalous holes which will be infilled as part of the phase 2 program.
RELATED: Ora Banda Mining (ASX:OBM) concludes capital work program; prepares for further work
All in all, OBM believes that the results are highly significant and is now planning to undertake further activities at these prospects. In the coming times, the results for other target areas shall be interesting to see.
The OBM stock was noted at AU$0.135 on 30 July 2021.