Highlights

Altech's R&D team made a major breakthrough in November 2021 when it succeeded in improving lithium-ion battery energy storage capacity by 30%.
The upcoming battery material plant in Germany received its green credentials and is currently progressing with its DFS.
Altech signed two MOUs with European based silicon and graphite suppliers for feedstock supply to its upcoming plant.
The discovery of the presence of halloysite at the Kerrigan kaolin deposit adds more value to the overall project.
In December 2021, Altech successfully raised AU$10.3M to advance its production plant in Germany and undertake other developmental works.
2021 witnessed Altech Chemicals Limited (ASX:ATC | FRA:A3Y) achieve a series of milestones that has it well placed to capitalise in the new year. Altech is well funded, has no debt, and will look to maximise the potential of its game changing electric vehicle battery material strategy.
In December 2021, Altech announced the signing of two memorandums of understanding (MOUs) with European based graphite and silicon suppliers. The MOUs are in line with the Company's policy to minimise carbon emissions from its battery material manufacturing plant.
Related read: Altech Chemicals (ASX:ATC) signs MOUs with European feedstock suppliers
The two MOUs aim at ensuring the supply of feedstock materials (graphite and silicon) for manufacturing battery materials. The Company has signed one MOU with SGL Carbon GmbH (SGL) for the supply of graphite and the other with Ferroglobe Innovative S.L (Ferroglobe) for the supply of silicon.
Altech's battery material plant accredited 'Medium Green' rating
Norway based independent green rating agency Centre of International Climate and Environment Research (CICERO) has accredited the 'Medium Green' rating to the battery material coating plant in Germany. The rating from CICERO will assist Altech in securing funds through green bond financing in the future.
Related read: Altech's (ASX:ATC) German battery plant project bags green status
Fundraise of AU$10.3 million
The Company, in December 2021, raised AU$10.3 million in two tranches. AU$8.1 million was raised through a share placement, while AU$2.1 million was raised through a Share Purchase Plan. The funds enable Altech to advance the battery materials project on all fronts.
The fund raised will applied to the construction of a battery material pilot plant in Germanyas well as the purchase of land in the Schwarze Pumpe Industrial Park in Saxony, Germany, and the completion of PFS and DFS for the 10,000tpa battery material plant in Germany.
Recent update: Altech Chemicals Ltd (ASX: ATC) announces SPP, seeks to raise up to AU$4 million
Breaking the Silicon Barrier
In a major milestone, the Company's R&D team, based in Perth, Australia, achieved an increase in the energy capacity of lithium-ion batteries by 30% using its proprietary coating technology. The R&D team successfully introduced high-purity alumina (HPA) coated silica into the graphite anode, leading to the improved efficiency and performance of lithium-ion batteries.
Image source: Company update, 6 December 2021
Recent update: 'Silicon Code' decoded: Altech Chemicals' breakthrough to improve battery performance by 30%
Discovery of halloysite at Kerrigan kaolin deposit
Altech has discovered the presence of halloysite at its 100% owned kaolin (aluminised clay) deposit in Kerrigan, Australia. Halloysite has several industrial applications, and researchers are working on the potential usage of halloysite as a substitute for carbon fibres. Halloysite will offer a low-cost solution for industrial applications like hydrogen storage and carbon capture.
Related read: Altech Chemicals (ASX:ATC) adds new horizon to its WA kaolin deposit, discovers halloysite
HPA plant in Malaysia
The HPA plant in Johor, Malaysia, remains under care and maintenance with Stage 1 and Stage 2 construction having been completed on time and on budget. Altech is actively looking for project finance to finalise the construction of the plant. Feedstock for the plant will be sourced from the Company's 100% owned kaolin deposit .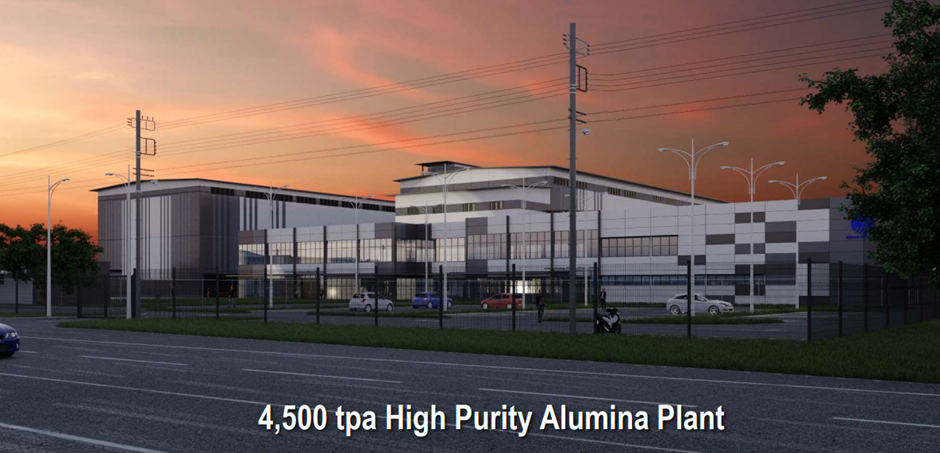 Proposed plant in Johor Image source: Company update, 14 May 2021
Altech plans to ship raw material from its kaolin deposit in Australia to its 4,500tpa HPA plant in Johor. The plant will process and produce 99.99% or 4N high purity alumina (HPA) for the industry. HPA finds application in the manufacturing of synthetic sapphire for semiconductor wafers, LED lights, scratch-resistant glasses and many others.
It is envisaged by the industry that the use of HPA as the coating for battery materials is going to revolutionise the EV sector. Altech continues its research work to further increase the efficiency of the battery. This will help in lowering the operational cost of an EV as it can go at least 30% more distance.
Related read: Altech Chemicals (ASX: ATC) – set to disrupt the Lithium-ion battery market with its HPA coating technology
Altech is advancing its R&D work in the field of coating technology. The funds raised recently will aid in constructing and establishing a pilot plant in Germany, as well as proceeding with the PFS and DFS of the battery material coating plant. Also, the halloysite will open up a new horizon for the Company's revenue. The construction of the HPA plant in Johor will be finalised once the Company achieves the required project finance.