Summary

NOVONIX Limited (ASX:NVX) announced a partnership with Emera Technologies.
The parties have agreed to develop and manufacture energy storage systems, targeting significant market opportunities across North America.
The first demo units' field test is due in 2021 and would help in forming final decisions around system specifics and design.
NOVONIX Limited (ASX:NVX) and Emera Technologies have recently entered into a new partnership agreement. NOVONIX will be partaking in the deal via its wholly owned subsidiary, NOVONIX Battery Technology Solutions.
"Partnerships like NOVONIX and Emera Technologies help take battery technology advancements to the real world, in this case powering individual residential homes," says Dr Jeff Dahn, who will soon take over as the Chief Scientific Advisor of NOVONIX.
READ ABOUT ANOTHER RECENT AGREEMENT: NOVONIX (ASX:NVX) renews Dalhousie University relationship with new research agreement
After the significant partnership announcement on 19 February 2021, NVX soared by 14.9 per cent on the ASX. The stock is currently quoted $3.31 with a market capitalisation of $1.01 billion.
Copyright © 2021 Kalkine Media Pty Ltd
Emera Technologies partnership
The parties have agreed to develop and manufacture energy storage systems. The primary target market would be throughout North America with the focus on opportunities and customers in Canada as well.
BlockEnergy is Emera Technologies's microgrid power and battery business, which will leverage from the agreement.
Both companies are working together to develop battery pack systems to support microgrids, which will provide solar power directly to homes.
Specifically, they have been working to develop a battery pack comprising innovative designs, control systems, and custom manufacturing, to support BlockEnergy's microgrid needs.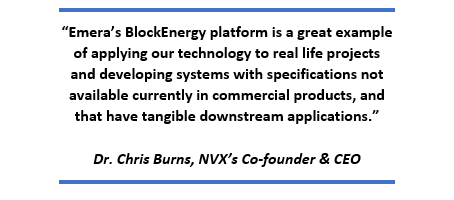 ALSO READ: Why Jeff Dahn's significant appointment set NOVONIX (ASX:NVX) stock soaring?
Way forward
Emera Technologies and NOVONIX intend to field test the first demo units in 2021. This is likely to help apprise the final decisions around system specifics and design.
Rob Bennett, the President and CEO of Emera Technologies, says that both companies are developing something that currently does not exist. The battery pack systems will help provide people with cleaner, more reliable energy.
Emera Technologies & BlockEnergy - An overview
Emera Technologies is a business unit of Canada-listed Emera Inc, a multinational energy holding company, based in Nova Scotia with over CAD32 billion in assets in 2019.
It launched BlockEnergy in 2020 as the first utility-owned community microgrid platform. Subsequently, Emera Technologies partnered with Lennar homebuilders to implement the technology in a Florida-based new residential community.
Notably, NOVONIX has gained worldwide recognition, offering battery testing equipment and services to customers in over 14 countries. The Company, established in 2013 in Halifax, Nova Scotia, has continually expanded. Its mission is to support the global deployment of lithium-ion battery technologies for a cleaner energy future.
DON'T MISS: NOVONIX's (ASX:NVX) action-packed December quarterly activities report is out!