Summary

NOVONIX Limited (ASX:NVX, OTCQX:NVNXF) has been added to the OTCQX International Index (OTCQXINT).
The Company's shares are currently trading on the OTCQX, ASX as well as FRA (Frankfurt exchange).
NOVONIX aims to assist the international deployment of lithium-ion battery (LIB) technologies towards a better energy future.
Specialist in advanced materials development and battery testing , NOVONIX Limited (ASX:NVX) has been added to the OTCQX International Index (OTCQXINT). The OTCQXINT is deemed to be a benchmark for international OTCQX companies.
The announcement comes around three months after the Company got listed on the OTCQX® Best Market in North America. On the OTCQX®, NVX is trading under the symbol "NVNXF".
NVX shares traded up by ~8 per cent at $ 1.97 on 20 January 2021 (2:41 PM AEDT on the ASX).
RELATED READ: NOVONIX to Commence Trade on the OTCQX® Best Market; Enriches Leadership Amid Battery Revolution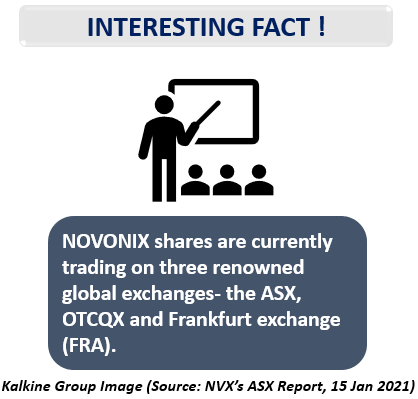 Recent Corporate Developments
In its recent corporate update, NOVONIX notified that it is in the process of increasing its production capacity for battery-grade synthetic graphite material.
The PUREgraphite anode material plant located in Chattanooga is accelerating the capacity of synthetic graphite to as much as 2,000 tons each year. This is inclusive of the planned supply of preliminary 500 tons to Samsung SDI, one of the world's largest LIB makers for EVs. NOVONIX also has a non-binding agreement with Sanyo (subsidiary of Panasonic) that will assess production materials from the Chattanooga plant.
NOVONIX and Samsung SDI, who have a supply contract, have approved that the full production qualification program be centered across material produced in the planned 2,000-ton (per year) expansion. The collaboration will also expand to include next gen technologies. The US-sourced supply of these materials remain a major priority for Samsung SDI.
NOVONIX also recently signed a strategic alliance to develop specialized furnace technology with Harper International.
READ MORE HERE: NOVONIX (ASX:NVX) announces agreement with Harper International; expands Samsung SDI collaboration
OTC Markets Quarterly Index Performance & Rebalancing
On 14 January 2021, the OTC Markets Group Inc. announced the Q420 performance and quarterly rebalancing of the OTCQB® as well as the OTCQX® indexes. This included the OTCQX Canada Index and the OTCQX Dividend Index as well.
Let us walk through the significant highlights from the announcement-
The OTCQX Composite Index (.OTCQX), which is a benchmark for the total OTCQX Best Market, was up by 21.8 per cent in the fourth quarter of 2020.
58 new companies were added to the index, including NOVONIX Limited (OTCQX:NVNXF).
40 companies were eliminated from the index.
GOOD READ: Ground-breaking Battery Technology Company NOVONIX Limited (ASX:NVX) Unveiled September Quarter Results