Summary

Snow Lake is a lithium explorer with high-grade assets in Manitoba Province of Canada.
Nova Minerals owns 74% interest in Snow Lake Resources, which operates the Thompson Brothers Lithium Project.
Snow Lake is advancing on its plan to raise up to US$23 million through IPO in the US market at a market cap to be priced
The Company had filed for the IPO in March 2021, to which it has made Amendment No. 2 to Form F-1 and filed it on 30 July 2021.
Snow Lake has current resources of 11.05 Mt of 1% Li2O at a cut-off grade of 0.3%.
Snow Lake Resources, an investee company of gold explorer Nova Minerals Limited (ASX:NVA, OTC:NVAAF, FSE:QM3), has filed its Amendment No 2 to Form F-1 with the Securities & Exchange Commission (SEC). Snow Lake has filed for an IPO to raise up to US$23 million as indicated in March this year.
Latest update: June quarter sees Nova Minerals (ASX:NVA) make serious strides at Estelle gold project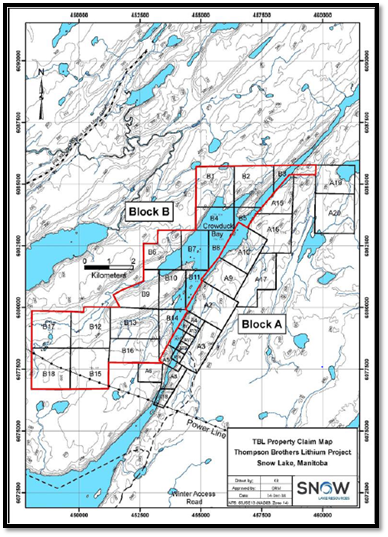 Map showing mineral claim area (Image source: Company update, 3 June 2021)
Snow Lake has appointed ThinkEquity as the sole bookrunner for the offering. A registration statement has been filed with the SEC related to these securities. ThinkEquity is a part of Fordham Financial Management Inc. The registration statement has not become effective, due to which buy and sell offers cannot be entertained till it becomes effective.
Snow Lake is engaged in the exploration and development of the Thomson Brothers Lithium Project located in Manitoba province of Canada. As per the update on 3 June, the project has an estimated Indicated Mineral Resource of 9.08 Mt @ 1 % Li2O using a 0.3% Li2O cut-off grade. Another 1.97 Mt @ 0.98% Li2O using a 0.3% Li2O cut-off grade is in Inferred Resource category. The current Mineral Resource is from 5% of the tenement area only. Nova Minerals owns 74% interest in Snow Lake.
Read here: Nova Minerals eyeing mineral resource outside the Korbel Main 4.7Moz at the RPM prospect with drilling kick-started
Snow Lake to be the first lithium producer to achieve Certified B Corporation
Snow Lake aspires to set the standard for responsible lithium battery manufacturers. The Company plans to operate the mine 100% on renewable energy. The mine is committed to be the world's first fully renewable energy-powered electric mine, which can deliver completely traceable, conflict-free and zero-emission battery-grade lithium for the Electric Vehicle (EV) consumer market.
Image source: Koszivu|Megapixl.com
Additionally, Snow Lake is aiming to be the first lithium producer in the world to achieve Certified B Corporation status. Certified B Corporations are a new kind of businesses that focus more on sustainability. Snow Lake intends to participate in accelerating the global culture shift to redefine success in business and help to build a more inclusive and sustainable economy.
Steps taken to make the project greener
A memorandum of understanding (MOU) has been signed with Meglab Electronics Inc to deliver the first all-electric lithium mine in the world.
Snow Lake has also signed an MOU with CentrePort Canada Inc to build a hydroxide plant in CentrPort.
The Company has signed a non-binding MOU with IMG Investitions - und Marketinggesellschaft Sachsen-Anhalt mbH, the economic development agency for the state of Saxony-Anhalt, to invest in a lithium hydroxide plant in the region. However, the Company cannot guarantee if the above non-binding MOUs will lead to definitive agreements.
The power to operate the mine and plant is expected to be supplied from Manitoba Hydro on a 97% renewable basis.
The Arctic Gateway Group's Hudson Bay Railway will provide the connectivity between the lithium mining operations to the North American auto industry with minimum carbon footprint.
Read: Eye on maiden MRE, Nova Minerals scores robust early drilling results at Estelle
Next steps
Snow Lake has commenced Preliminary Economic Assessment (PEA) in the current quarter. The assessment will include resource definition, engineering assessments and ore sorting optimisation.
A drilling campaign is planned in the third or the fourth quarter to expand the existing mineral resources.
A magnetic drone survey is also planned and will be partially funded by the grant from the Manitoba Government.
The PFS will be undertaken in 2022 with an additional drilling program on the TBL property.
Environmental studies to begin by the end of this year.
Permitting for the mining operations will commence in 2022.
The shares of NVA are trading at AU$0.105 with a market cap of AU$184.90 million at 12:30 PM (AEST) as of 2 August 2021.
Good read: Nova Minerals (ASX:NVA) eyes massive resource update at Estelle Gold Project