Highlights

Nova Minerals has reported high-grade gold intercept results from drilling operations on the RPM North prospect.
The results include 3m @ 97.8g/t Au from 169m (RPM-005) and an overall average grade of 3.5g/t Au over 400m.
The drilling program at RPM North is over for now, and planning is in progress for the next round of drilling to expand and prove up RPM North.
Nova has mobilised the drilling rigs from RPM North to Korbel Main to accelerate the ongoing infill and extensional drilling operation.
Continuing its stellar run at its flagship Estelle Gold Project, Nova Minerals' (ASX:NVA, OTCQB:NVAAF, FSE:QM3) drilling campaign on RPM has delivered high-grade gold intersections. Confirming Nova's geological interpretation of the deposit, the mineralisation on RPM is turning out to be a very high-grade IRGS style gold system and remains wide open.
Related read: Nova Minerals' positive run at Estelle continues, drilling results in line with Company's upcoming MRE update
Buoyed by the excellent drilling results, Nova saw its shares soar 72% today. NVA shares closed the day's trade at AU$0.190.
Bonanza-grade gold at RPM North
The drilling campaign at RPM had already confirmed the potential of high-grade gold mineralisation on RPM North. Today's results depict the presence of a broad zone of high-grade gold with spectacular results, including 3m @97.8g/t Au from RPM-005 hole.
An overall average grade of 3.5g/t Au over 400m, instils more confidence in the prospect and paves way for the next round of drilling to expand and prove up RPM North. Nova is planning to test the gold zone with a much larger footprint at RPM South as early as possible in 2022.
Cross section of RPM-005 (Image source: Company update, 11 October 2021)
Related read: Nova Minerals (ASX:NVA) discovers high-grade gold zones at flagship project, shares close in green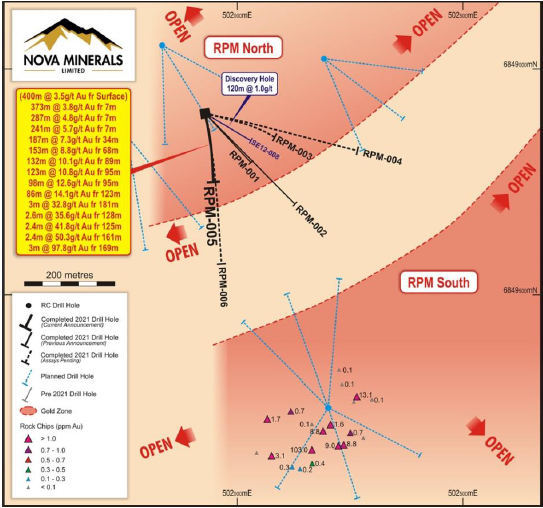 Plan view RPM (Image source: Company update, 11 October 2021)
Mr Christopher Gerteisen, CEO of Nova Minerals, informed that the results from three holes at RPM North are still under process and the same will be released in the coming weeks. Once all the intercept results are received, the data from the entire RPM North drilling campaign will be sent to an independent consultant to prepare the maiden Inferred Resource.
"This marks a major milestone for Nova Minerals. RPM is now confirmed to be the second significant project development area at Estelle and will be a key component of our ongoing resource development work on our path towards production at the Estelle Gold Project. This is what unlocking a district looks like, and we will continue to do so with Korbel and RPM representing only 2 of 15 known prospects with the wider Estelle Gold Project claims. In addition to these, there are numerous unnamed colour anomalies across our 324km2 claim block", Mr Gerteisen commented.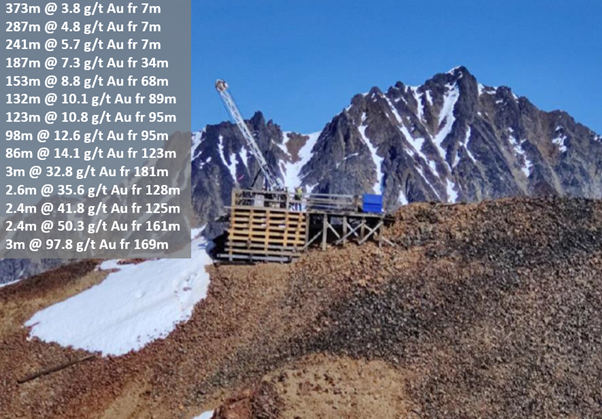 Assay result (Image source: Company update, 16 June 2021; Data source: Company update, 11 October 2021)
Related read: Nova Minerals (ASX:NVA) discovers another major mineralised zone within its flagship project
Nova will mobilise at least two drilling rigs at RPM in the next round of drilling. One rig will be allocated towards the drilling operations on RPM South, which Nova believes will converge with RPM North at depth.
Nova has another successful field season in 2021
Nova's reconnaissance exploration teams have had a wonderful exploration season in 2021. Two more significant discoveries were made during the season- Stoney prospect and Train-Shoeshine area. The Stoney prospect has exhibited an extensive polymetallic Au-Ag-Cu Stacked Vein System, which brings diversity to the resource base of the project. On the other hand, the Train-Shoeshine area has shown the potential for an intrusive related gold system.
Nova will continue to systematically explore these prospects and advance with its recon operation to further delineate gold discoveries.
Related read: Nova Minerals confirms major discovery at RPM prospect, validates NVA's strategy to unlock Greater Estelle Gold District
What's next?
Nova is set to commence the second round of drilling on the RPM prospect with at least two drilling rigs on-site as early in 2022.
Drilling will continue on Korbel Main, targeting resource upgrade by the end of 2021.
Field teams would continue recon exploration program to uncover more gold discoveries on the Estelle Project.
Assay results from three holes on RPM will be released to support the maiden Mineral Resource for the deposit.
Bottom line
The Estelle Project has a proven mineral resource of 4.7 Moz – that too entirely from the Korbel Main deposit. Nova's endeavor to upgrade Korbel Main resource and maiden resource from RPM will boost the resource potential of the entire project. The recent discoveries, including Stoney and Train-Shoeshine, are likely to add more lustre to the project's gold potential.
Related read: Nova Minerals (ASX:NVA) soars 9% as the Company declares excellent drilling result