Highlights

Nova Minerals made major strides at the Estelle Project, with the Train and Shoeshine prospects confirming high-grade gold zone discovery.
The rock samples from Train and Shoeshine have returned encouraging gold values of 30.4g/t, 24.5g/t, 21.6g/t, 7.5g/t, 5.7g/t, 5.4g/t.
Nova plans to launch follow-up geophysics and drilling campaign on the Train prospect and surrounding area in 2022.
Korbel Main expects to see resource upgrade in Q4 of 2021, followed by a scoping study on the deposit.
The Estelle Project will undergo massive resource upgrade with work on the RPM prospect going as planned targeting maiden resource by the end of 2021.
Nova Minerals Limited (ASX:NVA| OTCQB:NVAAF| FSE:QM3) continues to unlock value at its flagship Estelle Gold Project. The second rock chip sampling program has returned high-grade gold values, confirming another large Intrusive Related Gold System (IRGS).
Related read: Nova Minerals (ASX:NVA) discovers another major mineralised zone within its flagship project
Estelle Project Gold rush continues
The Estelle Gold Project is in the prolific Tintian Gold Belt in Alaska. The project currently boasts a Mineral Resource Estimate (MRE) of 4.7Moz. The project has several identified prospects of which Korbel Main is the most advanced one, holding the entire Mineral Resource of the project. Nova has embarked on a drilling campaign on Korbel Main to upgrade the MRE and proceed further for a maiden scoping study.
Nova expects to see a major upside for the Estelle Project resource potential by the end of 2021. Along with Korbel Main, another promising prospect, RPM is undergoing extensive drilling operation and is expecting a maiden resource update by late 2021.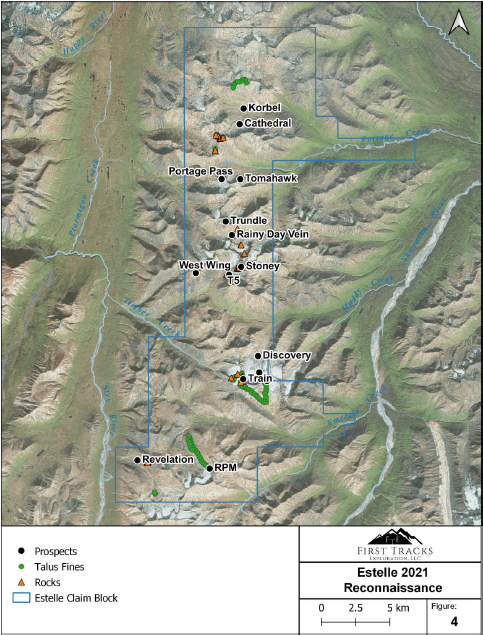 2021 Estelle exploration sampling (Image source: Company update, 23 September 2021)
Related read: Nova Minerals confirms major discovery at RPM prospect, validates NVA's strategy to unlock Greater Estelle Gold District
Mr Christopher Gerteisen, CEO of Nova Minerals, is pleased with today's results and is highly optimistic about upgrading the global resource inventory of the project going forward. This is second such significant discovery from the reconnaissance sampling program in a week. On 20 September 2021, Nova announced the discovery of an outcropping Polymetallic Au-Ag-Cu mineralised vein system at the Stoney Prospect.
Two discrete high-grade gold mineralised zones have been identified from the combination of historic and recently completed sampling on the Train Prospect area. The mineralisation is interpreted as part of the same IRGS mineralised system.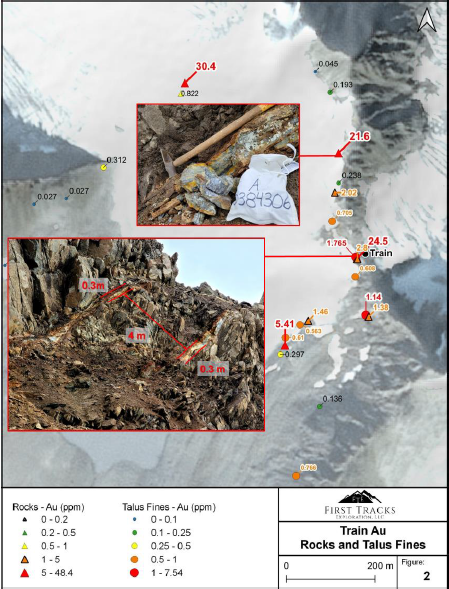 Train prospect sample result (Image source: Company update, 23 September 2021)
Related read: Nova Minerals (ASX:NVA) soars 9% as the Company declares excellent drilling result
Two areas of high potential for large scale and high-grade mineralisation have been delineated, which is spread over several square kilometres of area.
"Field teams will be following up on this work with detailed geophysics and mapping in preparation for a future maiden drilling program, which will commence as soon as possible", said Mr Gerteisen.
The Estelle tenement package includes 15 identified prospects. Nova intends to continue its reconnaissance exploration program, which will lead to more discoveries on the lines of Stoney and Train. This will further support the goal of growing the global resource inventory steadily.
"We are excited by the high-grade gold, silver and copper discovered at Stoney and now also the Train prospect area, which adds significantly to the potential resource of the Estelle District. This all adds up to a large pipeline of projects we will continue to advance unabated with ongoing resource drilling in front of us. Our global resource inventory is set to increase significantly in Q4 this year as we continue our progress in unlocking the Estelle Gold district into one of the leading new gold camps in North America, and indeed the World," Mr Gerteisen concluded.
Related read: Nova Minerals (ASX:NVA) finds high grade 'blow out zone' at Korbel Main, shares up 13%
Sampling program
The geological team sampled the outcrop rock samples and talus fines samples throughout a 6km traverse extending from the Train to Shoeshine prospect. The team collected a total of 51 samples from the two prospects.
At Train, consistency in mineralisation is found in both outcrop and talus fines. The continuity of sheeted veins was also observed at Train. All these factors make a strong case for a drilling operation on the prospect.
Sample results
Bottom line
Nova has identified 15 prospects on the Estelle Project and drilling on the Korbel Main and RPM prospects has revealed high-grade gold mineralisation. The sampling program, under the regional exploration initiative to increase the overall resource inventory of the project, is going exceptionally well so far.
There is huge potential for resource upgrade of the Estelle Project as more prospects and area on the tenement are brought under exploration programs.
Related read: Gold market dynamics serve up a golden opportunity for Nova Minerals' Estelle project
Share price
NVA shares closed the day's trade at AU$0.147 with a gain of 1.724%. The Company's market cap stood at AU$243.73 million as of 23 September 2021.