Highlights

Reconnaissance rock-chip samples from the Stoney prospect delivers high-grade gold, silver and copper mineralisation.
The presence of polymetallic mineralised vein along a 4-km of strike has been identified on Stoney.
Nova to undertake a geophysical survey and follow-up drilling on the Stoney Prospect next year.
Korbel Main and RPM drilling operations remain on track and mineral resource upgrades are being targeted by the end of 2021.
ASX-listed mineral explorer and developer Nova Minerals Limited (ASX:NVA| OTCQB:NVAAF| FSE:QM3) has made another breakthrough at the flagship Estelle Gold Project. Nova's reconnaissance program on the Stoney prospect has revealed the presence of gold, silver and copper, increasing the resource potential of the project considerably.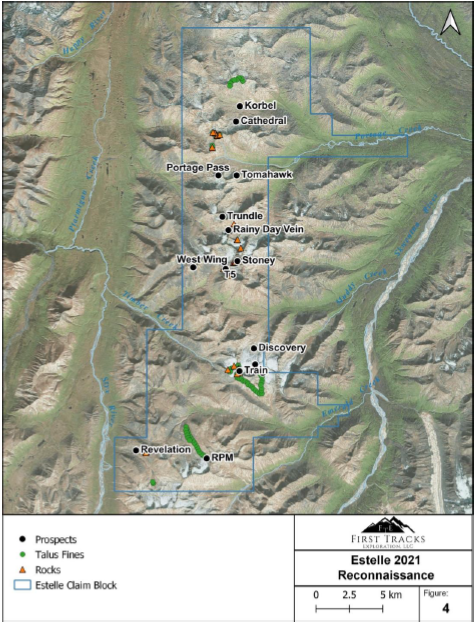 Exploration sampling program of 2021 on Estelle Project Image source: Company update, 20 September 2021)
Related read: Nova Minerals confirms major discovery at RPM prospect, validates NVA's strategy to unlock Greater Estelle Gold District
Nova operates the Estelle Gold Project in the Tintina Gold Province of Alaska. This project is endowed with several high-potential prospects which remain largely unexplored. The Company took upon the exploration activities back in 2017 and since then has added 4.7Moz of gold resources on the project.
Nova is undertaking infill and extensional drilling on Korbel Main to increase the mineral resource and carry out further development activities, including the scoping study.
To boost mineral resources and confidence further on the project, Nova brought RPM prospect under its exploration campaign and is currently progressing with the drilling operation. The Company is targeting a maiden resource update from RPM by the end of 2021.
To gain more traction on the project, Nova had also put into effect field reconnaissance operations to cover regional targets and line them up for further exploration and drilling campaigns.
The discovery of a polymetallic vein system on Stoney is the result of that regional reconnaissance program.
Related read: Nova Minerals (ASX:NVA) soars 9% as the Company declares excellent drilling result
According to Mr Christopher Gerteisen, CEO of Nova Minerals, the discovery of the polymetallic vein system opens up another dimension for the Estelle Project. He said that the vein system on Stoney was mapped along ~4km of mineralised strike, representing over 300m of vertical extent with 10-15m of width observed at places.
Rock-chip samples from the prospect returned values up to 48.4g/t Au, 2720g/t Ag and 2.4% Cu. The prospect lies between Korbel Main to the North and RPM deposit in the South.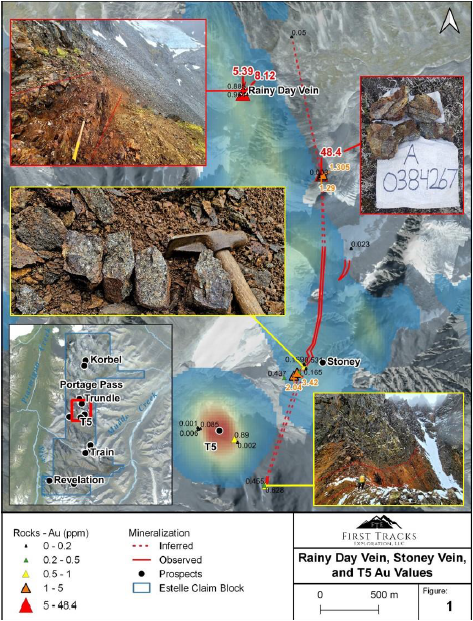 Stoney Prospect Area Rock Chip Gold Results (Image source: Company source, 20 September 2021)
Related read: Nova Minerals (ASX:NVA) finds highgrade 'blow out zone' at Korbel Main, shares up 13%
With Stoney prospect coming into the picture, Nova now has three priority prospects on the Estelle Project. Mr Gerteisen expects that as more results of reconnaissance operation get completed, multiple new shallow gold resources could be identified on the project.
"As this massive polymetallic discovery at the Stoney Prospect once again shows there is no shortage of targets at Estelle, which we are systematically working through, with further success expected on the horizon, as we continue to turn the district into one of North America's leading new gold camps," Mr Gerteisen concluded.
Rock sample result
The field team collected 26 samples altogether from Stoney, T5 and Rainy Day Vien. The significant results from rock samples are listed below:

Related read: Gold market dynamics serve up a golden opportunity for Nova Minerals' Estelle project
The T5 target is a magnetic anomaly that was believed to be associated with Stoney. However, the presence of small outcrops beneath a rock glacier indicated little to no mineralisation.
The geological team discovered another massive polymetallic vein to the northwest of the main Stoney occurrence- Rainy Day Vein. The vein is similar in nature to Stoney and is 2m-5m thick. It has nearly 100m of strike length exposed with 10m of vertical relief.
Samples- A0384311 and A0384312 in the above table are from Rainy Day Vein. The sample test results are significant, and further exploration is required.
Bottom line
After Korbel Main and RPM, Stoney will be the new target for extensive exploration and drilling operations on the project. Initial sample results are highly encouraging and raise the resources of the project significantly.
More sample results are under process from different areas of the tenement, and more results from the reconnaissance program are expected to be announced in the coming days.
Related read: Nova Minerals going strong on Alaskan gold, high growth North American Lithium and eVTOL investments
Share price
NVA closed the day's trade at AU$0.140 on 20 September 2021 with a market capitlisation of AU$252.14 million.