Source: Phawat, Shutterstock
Summary

Platina Resources is boosting its foothold in Western Australia with the acquisition of a new gold project.
Xanadu Gold Project is believed to hold potential for the discovery of a significant gold mineralising system.
Developments are on right track at Australia-based Platina Resources Limited (ASX: PGM), which is focused on building a gold portfolio in proven Australian provinces.
In line with its "Going for Gold" strategy, the Company is set to sign a conditional term sheet for the acquisition of Xanadu Gold Project, further expanding its gold presence in the tier 1 mining jurisdiction of Western Australia.
The project comprises five exploration licences and seven prospecting licences covering 498km2.
Project Location Map (Source: PGM Update, 13 April 2021)
Also Read: How Platina Resources (ASX:PGM) is poised to reap rewards of gold tailwinds
Proximity and Similarity to Proven Gold Discoveries
The project is 38km southeast of Paraburdoo and 95km south of Tom Price. The region offers excellent infrastructure and services to support exploration, mining, and project development.
The project sits within the Ashburton province, 7km west of the multi-million-ounce Mt Olympus gold deposit explored by Kalamazoo Resources Limited (ASX: KZR). The deposit has past production of 350,000 ounces of gold and resources of 1.65 million ounces (Moz), resulting in a total of 2Moz gold endowment.
Some of the other gold centres in the region are the Paulsens Project of Northern Star Limited (ASX: NST), located 190km to the north west and the 2.1Moz Au Karlawinda Project of Capricorn Metals Limited (ASX: CMM), located 230km to the south east.
Xanadu has a large alteration system hosted within carbonates prospective and sediments. These are prospective for intrusion-related gold mineralisation such as the Hemi discovery of De Grey Mining Limited (ASX: DEG) and the Telfer Gold Mine of Newcrest Mining Limited (ASX: NCM). The project has strong similarities with the Carlin gold deposits in Nevada, US.
What is in store for Xanadu?
The project has added critical mass to the company's gold portfolio at a low acquisition cost, according to Platina Managing Director Corey Nolan.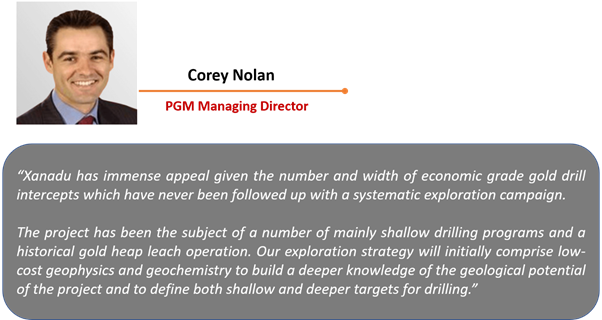 (Source: PGM Update, 13 April 2021)
Platina believes that there is huge potential to expand the known oxide mineralisation. However, the company considers the longer-term prize is in targeting primary mineralisation within the alteration core of the system, which has never been tested by drill programs in the past.
(Source: PGM Update, 13 April 2021)
Initially, the company plans to complete geophysical work such as detailed gravity, orientation IP, electromagnetics and magneto-telluric surveying, which have not been previously carried out. The data generated, along with historical information, is expected to enable a project-wide evaluation of the mineral systems gold potential, as well as identify priority targets for immediate assessment.
PGM was trading at AUD 0.054 on 13 April 2021 (AEST 12:17 AM).
To know about PGM's wholly owned Challa Gold Project, read Platina Resources (ASX:PGM) on course to pursue its golden dreams at Challa project.