Image Source: Company Website
Summary

RC drilling at the White Heat prospect has continually returned positive results in the recent past.
Diamond drilling of regolith gold anomalies is making headway on Lake Austin (within the Evolution JV).
The Phase 1 RC drilling at the White Heat target is complete and additional drilling is set to kickstart in two weeks.
Musgrave Minerals Limited (ASX: MGV) is going great guns with consistent exploration success. The Company reported high-grade results from reverse circulation (RC) drilling undertaken at the new White Heat prospect on its 100% Cue Gold project, located in Murchison district (WA).
It is a continuation of excellent results returned last month from White Heat prospect, 300m south of Break of Day. It is noteworthy to mention that the Break of Day saw its gold resource inventory impressively zooming in 2020, backed by strong results from Startlight discovery.
Following the significant announcement, MGV shares marked an uptick of over 4%, trading at AUD 0.365 on 19 March 2021 (at 2:36 PM AEDT).
ALSO READ: Musgrave Minerals' golden run continues at White Heat with latest results
Musgrave Managing Director Rob Waugh stated the high-grade results returned at shallow depths unveils the project's discovery potential.
Mr Waugh assured that exploration was advancing well to deliver robust results while also adding to shareholders value. Drilling will recommence at White Heat prospect in a few weeks, and the Company is engaged in defining the mineralisation limits and plunge. At a regional level, improved drilling is targeted towards defining the new gold corridor west of Lena (800m), continuing to produce quality gold outcomes in the areas previously undrilled. Mr Waugh indicated that the developments from activities would be reported over the coming months.
Latest Assays Returned White Heat Prospect (Formally Target 2)
Musgrave Minerals continues to strike high-grade and near-surface mineralisation of gold from RC drilling undertaken at White Heat. The prospect's mineralisation has now been intersected over up to 100m of strike extent, with drilling continuing at depth and along strike.
The Company has received assays for all the 25 drill holes completed during Phase 1. The drill holes are positioned at an interval of 40m along spaced traverse lines of 20m.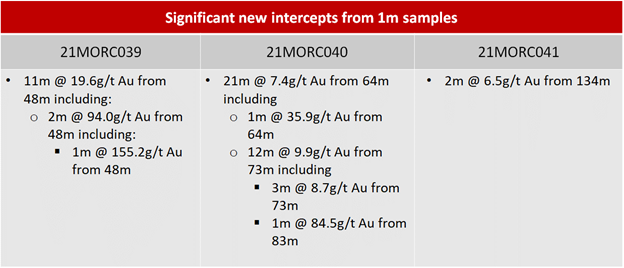 Source: Copyright © 2021 Kalkine Media Pty Ltd, Data Source: MGV ASX update, dated 19 March 2021
Resamples of 6-metre composite samples at an interval of 1m from RC drill holes at the prospect have returned results including:
20MORC009- 2 metres @ 5.6g/t Au from 36 metres
20MORC006- 2 metres @ 2.6g/t Au from 38 metres
20MORC038- 5 metres @ 1.0g/t Au from 77 metres

An additional RC drill rig has been sourced, and the Company intends to spur drilling in early-April to follow up on the recently released high-grade, near-surface results.
ALSO READ: How Musgrave Minerals went from strength to strength in H1 FY21
Ongoing Activities
Musgrave wholly Owned tenements
At the White Heat target, the Company has now completed Phase 1 RC drilling to ~125 metres vertical depth. Further drilling is expected to kick off in a fortnight.
Follow-up aircore drilling is being advanced for defining the strike extent of gold anomalism within the new gold corridor (west of Lena). Assays results are anticipated in mid-April.
Musgrave has sourced an additional RC drill rig to define the basement gold anomalism source at Targets 5, 14 and 20. It is planned to begin in early-April.
The pre-feasibility study works are ongoing at Break of Day and Lena, aimed at long lead-time items.
Evolution JV
On Lake Austin, the company has started diamond drilling to follow up on the significant regolith gold anomalies which were identified in the regional aircore (AC) drilling program.