Highlights

Musgrave Minerals' regional exploration program makes significant headway in FY21.
The Company is committed to exploration and resource growth at the Cue project
Advanced development studies ongoing at Break of Day and Lena.
Several prospects including Target 14, White Heat and Big Sky delivered significant exploration results, with further drilling planned.
Australia-focussed explorer Musgrave Minerals Limited (ASX:MGV) is advancing its gold exploration, with encouraging resulting achieved in the year ended 30 June 2021. Musgrave's Cue Project in the well-endowed, gold producing Murchison region of Western Australia continues to deliver new discoveries.
Building upon its proven track record of successful gold exploration, the Company implemented a regional exploration program. During the previous financial year, Musgrave spent AU$6.9 million on exploration activities, with the regional exploration producing significant gold intersections so far.
GOOD WATCH: Musgrave Minerals on consistent success in gold exploration and more!- Expert Talks Mr Robert Waugh
The Company remains focused on exploration and resource growth at the Cue project while advancing long lead-time items to take forward development studies ongoing at Break of Day and Lena.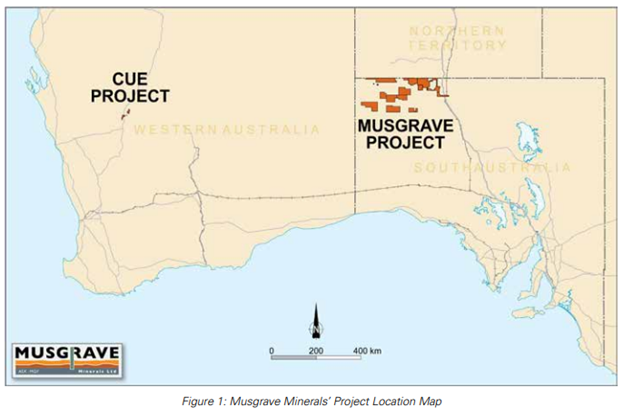 Source: MGV Update, 15 October 2021
With this backdrop, let us explore explore the key highlights of FY21.
ALSO READ: Musgrave Minerals enjoys golden run in June quarter; widens gold footprint at Cue
Mineral Resource update at Break of Day
The Starlight and White Light discoveries in 2020 have driven the Break of Day Mineral Resource to 797kt @ 10.2g/t Au for 262Koz contained gold. The recent update delivered a:
31 per cent rise in total contained ounces
58 per cent growth in Indicated Resources to 175,900 ounces of gold
42 per cent growth in gold grade to 10.2g/t Au.
Notably, the new Big Sky and White Heat gold discoveries are not included in this resource estimate. When combined with the Lena deposit, located only 130m to the west, the Inferred and Indicated Resources (5.1Mt @ 3.6g/t gold for approximately 587,000 ounces of contained gold) will form the foundation for development studies and the pathway to production.
Moreover, the Company has planned a significant infill resource definition program in FY22 at Lena and Break of Day. The program would convert Inferred resources to the higher confidence Indicated category to be in line with the development studies progress.
Regional Exploration identifies several prospects
During FY21 Musgrave completed 90,000m of resource and exploration drilling, including approximately 30,000m on the Evolution Joint venture. The exploration drilling program proved successful in identifying high-grade gold mineralisation at varying prospects including the White Heat, Target 14 and Big Sky.
Source: MGV Update, 15 October 2021
White Heat Prospect- White Heat, 300m south of Break of Day, has a strike extent of approximately 70m and is open down plunge. Drilling at White Heat is continuing with the aim of defining a maiden resource in Q2 2022.
Big Sky Prospect- Big sky located 2km south-west of Break of Day contains extensive regolith gold mineralisation over a continuous 2.6km long trend. Infill resource definition RC drilling has commenced, with drilling continuing with the aim of defining a maiden resource in Q2 2022.
ALSO READ: Musgrave Minerals (ASX:MGV) reports further thick shallow gold at Target 14 and Big Sky
Target 14 Prospect- Target 14, approximately 1km west of Lena is part of the new 7km -long gold corridor that includes Big Sky. Further drilling is planned at Target 14 in 2021.
Numbers Deposit- The Numbers prospect, approximately 3.5km south of Break of Day is currently seeing RC drill program, with a focus on upgrading the resource estimate to the higher confidence Indicated category. The Company has planned a preliminary metallurgical test before a resource update in Q2 2022.
Mainland- Having generated several new gold targets at the Mainland Prospect area, Musgrave is currently planning a follow-up drilling program, scheduled for early 2022.
ALSO READ: Musgrave Minerals (ASX: MGV) shares soar on Bonanza Gold grades at White Heat
Development Studies eyes increasing gold inventory
Musgrave has also kicked off prefeasibility level studies on many key elements for any potential future development at Break of Day and Lena. Together with studies, the Company also intends to accelerate drilling across high-priority gold targets at Cue, aiming to expand the current resources and make further high-grade gold discoveries. It would assist in enhancing a stand-alone operation.
RELATED ARTICLE: Musgrave Minerals' (ASX: MGV) significant exploration progress expediting near-term gold production
Evolution JV – Lake Austin makes headway
At Lake Austin as part of the exploration, a 26,000m aircore drilling program and a 2,720m diamond drilling program consisting of seven drill holes were completed. The program follows-up on extensive, high-tenor, regolith gold anomalies at the West Island and Lake Austin North prospects.
ALSO READ: Musgrave Mineral (ASX:MGV) buoyed on further high-grade results at West Island