Summary

A new high-grade basement gold zone of over 400-strike has been identified at the West Island target on Lake Austin.
All the initial four diamond drill holes at West Island have intersected significant gold mineralisation.
Following the encouraging outcomes from early diamond drilling, Evolution has committed a further AU$5 million towards exploration over the next 12 months.
Follow-up diamond drilling is planned to kick off in early July and further aircore drilling is scheduled for late July.
Musgrave Minerals Limited (ASX: MGV) has announced strong basement gold mineralisation at the West Island prospect, identified during the diamond drilling on the Cue Joint Venture. The Company holds a joint venture over Lake Austin with Evolution Mining Limited in the Murchison district of Western Australia.
The gold intersections stretch over a 400m strike length below a strong regolith gold anomaly under Lake Austin. The mineralisation is hosted within a differentiated dolerite unit, like that hosting the high-grade Great Fingall and Golden Crown (combined 4.4Mt @ 14.1g/t Au for 2.0M oz Gold) deposits, located 25 Km north of West Island at Cue.
ALSO READ: Robust resource inventory puts Musgrave Minerals (ASX:MGV) on fast growth track at Cue
Triggered by the upbeat announcement, MGV shares jumped around 5%, closing at A$0.370 on 30 June 2021.

Lake Austin Drilling Program
Two phases of regional aircore drilling have been completed under the Evolution Joint Venture, which commenced in October 2019. The drilling program consisted of 436 holes for 48,895m, with aircore drilling defining basement targets for a focused 2,720m.
The diamond drilling program that consisted of seven holes completed in May 2021 and tested regional gold targets, churning out very encouraging results at the West Island target.
ALSO READ: Musgrave Minerals (ASX: MGV) zooms ~9% on stellar gold assays
Snapshot of the Drilling Results
Four diamond holes were drilled at West Island over a strike length of 400m, with all returning significant gold intercepts including:
Source: Copyright © 2021 Kalkine Media Pty Ltd, Data Source: MGV ASX update, dated 30 June 2021
Multiple gold mineralisation zones have been intersected by all the four drill holes at Western Island, with mineralisation hosted within a differentiated dolerite unit having a strike length of multiple kilometres.
ALSO READ: Musgrave Minerals deepens gold footprint at Big Sky, shares climb
The intersections are associated with extensive regolith gold mineralisation extending for over 7km of the strike, as shown by aircore drilling. So far, the diamond drilling program at West Island has only tested an area of 400 square kilometres with early structural data interpretation highlighting several gold lodes striking parallel to each other. The mineralisation at West Island remains open along strike and at depth.
In other target areas, the regional program also returned anomalous gold from the current aircore drill holes, thereby highlighting the possible proximity to basement gold mineralisation as well as the requirement for further basement drill testing.
ALSO READ: Musgrave Minerals' (ASX: MGV) March Quarter report strewn with High Grade Gold Hits
Evolution Commits further AU$5 million for exploration
The positive outcomes from early-stage basement drilling have proven quite encouraging for the joint venture partners. Following the promising results, Evolution has committed an additional A$5 million in exploration work over the next 12 months, focusing on over 7000m of additional diamond drilling at West Island and other basement targets.
Moreover, knowledge developed from the work so far would be used for undertaking a further 25,000m of aircore drilling to define new targets. The results are being integrated with existing datasets for defining final targets for the new diamond drilling program, which is planned to kick off in early July. Further aircore drilling would be undertaking in late July.
ALSO READ: Musgrave Minerals (ASX:MGV) Continues Winning Streak At Target 14 With High-Grade Gold Results
Ongoing Exploration on the Cue Project
On Lake Austin, follow-up drilling is planned to restart in July. Meanwhile, another aircore drilling phase is expected to commence in late July for defining additional targets for basement diamond drill testing.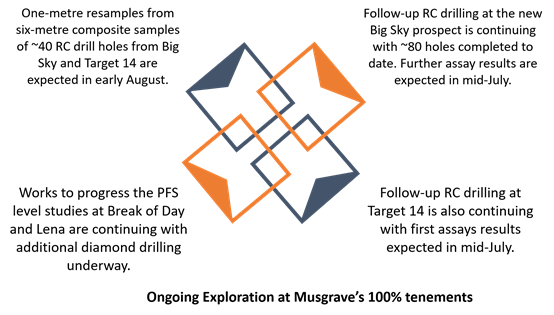 Source: Copyright © 2021 Kalkine Media Pty Ltd, Data Source: MGV ASX update, dated 30 June 2021