Summary

Musgrave Minerals reported assay results from additional 19 holes at Big Sky and Target 14 from the ongoing RC drilling.
The drilling continues to define robust gold mineralisation at Target 14 and Big Sky.
The Company has kicked off diamond drilling at the Lake Austin joint venture with Evolution Mining.
The ongoing Reverse Circulation (RC) drilling program undertaken by Musgrave Minerals Limited (ASX:MGV) at its flagship Cue Project in Murchison District, Western Australia, continues to unfold exciting gold results. In a significant progress, the drilling has further intercepted robust gold mineralisation at the Big Sky and Target 14 prospects. In addition, Musgrave has received assay results for further 19 holes.
ALSO READ: Musgrave Minerals deepens gold footprint at Big Sky, shares climb
Broad-spaced 1st pass RC drilling continues to define thick regolith gold mineralisation within the extensive 2.6-kilometer long aircore gold anomaly at Big Sky and within the Target 14 area.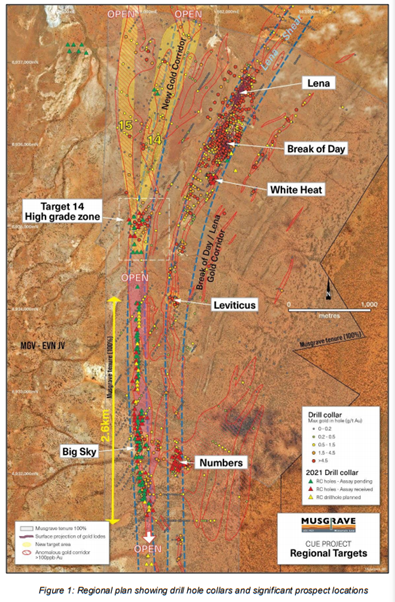 Source: MGV Update, dated 19 July 2021
DO NOT MISS: Robust resource inventory puts Musgrave Minerals (ASX:MGV) on fast growth track at Cue
Calling the recent set of assay results at Big Sky and Target 14 as positive, Musgrave Managing Director Rob Waugh stated that results continue to be very positive.
He added that currently, only broad-spaced drilling (100m to 200m spaced holes) had returned results, with assays received for generally only single RC drill holes on most traverses.
He also indicated that within higher-grade areas, drill traverse line spacing is also being filled with multiple drill holes on each traverse, either planned or drilled.
Mineralisation at the Big Sky Prospect
The Big Sky gold anomaly is defined over a 2.6 kilometer of continuous strike. Musgrave has received six-metre composite samples for additional 19 RC drill holes in the current program, including 12 holes at Big Sky and seven holes at Target 14. Significantly, initial holes are spaced on traverse lines of 100m to 200m.
RC drilling is currently underway at Big Sky. It is undertaken for testing the grade, continuity, and down-dip extent of the mineralization both in oxide as well as fresh basement rock. The continuous and extensive gold mineralisation backs the potential of the Big Sky Prospect to adding to Musgrave's existing resource base at Cue.
Anomalous gold results at the Target 14
Target 14, 800m north of Big Sky, has anomalous gold defined over a continuous strike of 300m where mineralisation is open to the south.
Furthermore, the Company has submitted one-metre samples from anomalous gold composites for individual analysis, with results expected in August-September.
ALSO READ: Musgrave Minerals (ASX:MGV) Continues Winning Streak At Target 14 With High-Grade Gold Results
Source: Copyright © 2021 Kalkine Media Pty Ltd, Data Source: MGV update, dated 19 July 2021
Numbers and White Heat Prospect
One-metre resamples of six-metre composites from 22 resource definition RC drill holes (previously reported) at the Numbers prospect have validated the previous results. The Numbers prospect has an Inferred Resource of 278kt @ 2.46g/t gold for 22koz gold.
READ MORE: Musgrave Minerals (ASX: MGV) zooms ~9% on stellar gold assays
At White Heat, the Company has completed three diamond drill holes to confirm the RC drill results, and one-metre resamples have also confirmed previously reported robust gold mineralisation. Assay results are pending.
Road Ahead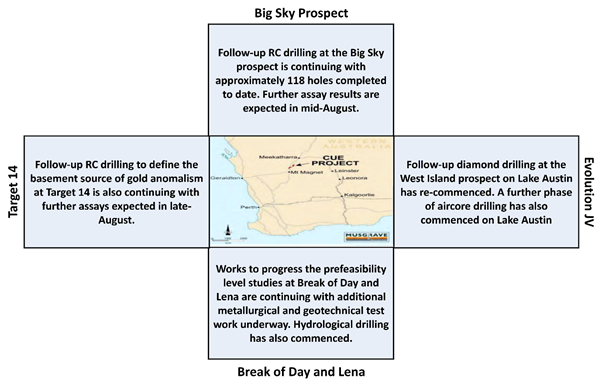 Source: Copyright © 2021 Kalkine Media Pty Ltd, Data Source: MGV update, dated 19 July 2021
ALSO READ: Musgrave Minerals (ASX: MGV) strikes a high-grade gold zone at West Island
In addition to ongoing drilling, anticipates one-metre resamples from six-metre composite samples of ~45 RC drill holes from Target 14 and Big Sky are anticipated in late August.
MGV shares traded at A$0.355 on 19 July 2021 (at 1:35 PM AEST).