Highlights

MRG Metals Limited (ASX:MRQ) has revealed its activities report for the September 2021 quarter at its Heavy Mineral Sands projects in southern Mozambique.
The Company has plans to progress its Corridor Sands Project from exploration into mine development.
Mineralogical work is underway to understand the potential for zones of elevated Valuable Heavy Mineral (VHM) within the boundaries of the upcoming Mineral Resource Estimations (MREs) at Koko Massava, Nhacutse and Poiombo.
On 29 October 2021, the stock of Heavy Mineral Sands (HMS) explorer MRG Metals Limited (ASX:MRQ) rose by nearly 10 per cent. MRQ traded at AUD 0.011 with a trading volume of over 3 million at a market capitalisation of AUD 15.4 million. The significant uptick seemed to have been catalysed by the Company's impressive September 2021 quarterly activity report. The stock was trading at the same price at market open on 1 November 2021.
MRG Project areas (Source: Investor Presentation, October 2021)
Developments across Corridor Projects
MRG Metal's Corridor Central and South Portfolio are two contiguous tenements containing 13 high priority targets. 1.4 Bt @ 5.2% Total Heavy Mineral (THM) JORC Resource (4% cut-off grade) was delivered at Koko Massava. Besides, infill drilling has identified very high grade (>6%) from surface.
Notably, the Company is targeting early mine life feed across multiple targets with MRE's upcoming within Koko Massava, at Nhacutse and Poiombo targets.
Across the reporting period, these were some significant developments-
In July, MRG Metals advised that assay results from a 17 hole Aircore Infill and extension drilling program at Nhacutse confirmed a 3.5 sq km mineralised footprint of very high grade HMS open at depth. Assay results also confirmed the Leapfrog modelling of assay and visually estimated (VIS EST) aircore data, which established potential at Nhacutse for approximately 140 million cubic metres (Mm³) at >5% THM, with higher internal grade potential.
In August, MRG announced excellent results from ongoing mineralogical studies within its Corridor South (6621L) exploration licence, as well as interpretive work done on the new and historic mineralogical information.

Two very different HMC mineral compositions were found, mirroring the lithological interpretation:

Type 1 % VHM (corresponding to the mineralised sand found in the Koko Massava, Nhacutse and Poiombo deposits) in the red / red-brown sand ranged from 43.59 to 52.13 (the lower value west and the higher value west)
Type 2 % VHM in the white / grey sand ranged from 64.40 to 66.57 % VHM. Higher Zircon content, as high as 3.66% was also found in the Type 2 samples

Three large target areas were identified with very high VHM %. These targets will now be further explored to identify areas where higher THM grades corresponds to the very high VHM%. Specifically, two areas towards the northeast of Corridor South, to the east of the Nhacutse and Poiombo deposits (Targets 1 and 2), and in the Zulene deposit area, are the best targets for additional exploration drilling.

In September, MRG applied for a new HMS exploration licence in Mozambique. The new 8,037.49ha Corridor North (10779L) ELA is situated north and abutting the Company's Corridor Central (6620L) licence and east of the Dingsheng Minerals Corridor 1 (7054C) Project.
Developments across Marao & Marruca Projects
During Quarter 2 (beginning Quarter 3) a third large mineralised area, the Maduaccua target, was discovered via reconnaissance grid auger drilling at Marao. Samples from 74 auger holes have been dispatched at analytical laboratory for analyses, results expected mid-November 2021.
Reconnaissance auger drilling program is ongoing at Marao, with Reconnaissance auger drilling to be extended to Marruca on completion of Marao. CES Environmental and Social Advisory Services was contracted by MRG to conduct and manage all aspects and processes related to an Environmental Licences for the Marao and Marruca licence. The Company is now waiting on government review and final delivery of the Environmental licences.
Way forward
Last month, MRG announced plans to progress its Corridor Sands Project from exploration into mine development. The Company has appointed IHC Mining to carry out a work program. Approval and commissioning commenced for a Scope of Works which includes: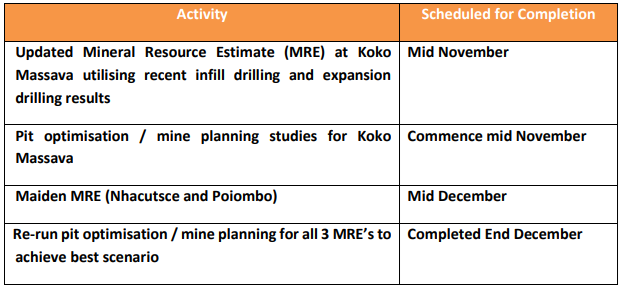 MRG's pipeline for 2021 (Source: Company announcement, October 2021)
Upon acceptable outcomes of the above work, MRG has agreed the next stages to include Preliminary Economic Assessment (PEA) comprising a Scoping Study and Financial Modelling, including PreFeasibility Stage Metallurgical Testwork.
The Company is exploring across multiple tenements whilst progressing to mine development at Corridor Central and South. All in all, the next three months are likely to move MRG Metals to scoping phase while continuing upside exploration.