Highlights

MRG Metals Limited (ASX:MRQ) has announced the assay results from the recently completed aircore drilling program at a very high-grade area (+6% THM) at the Koko Massava prospect.
The assay results confirm the presence and position of the three interpreted very high-grade Total Heavy Mineral (THM) zones, with a combined area of ~ 1.8 sq km.
Results from the drilling and additional mineralogical information will be included in MRG Metals' upcoming, updated MRE for Koko Massava.
Mid-day on 19 October 2021, shares of junior ASX explorer MRG Metals Limited (ASX:MRQ) traded up by over 11% at AUD 0.010 with a trading volume of over 1 million shares. The positive sentiment was built after the Heavy Mineral Sands exploration company disclosed encouraging analytical assay results from a 34 aircore infill drilling program within its Koko Massava Mineral Resource Estimation (MRE) area.
The stock trajectory continued on 20 October 2021 as MRQ settled the day's trade up by a whopping 33% at AUD 0.012.
Notably, MRG Metals has high calibre projects in the world prolific HMS province of Mozambique at the Corridor Central and South Portfolio. Currently, it is targeting early mine life feed across multiple targets with MRE's upcoming within Koko Massava (MRG's first target), Nhacutse, and Poiombo.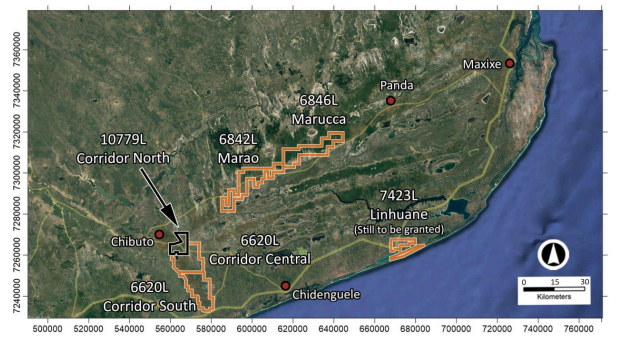 MRG Projects in Mozambique, Image source: Company announcement, Oct 2021
Assay results from Koko Massava aircore drilling program
The aircore drilling program was conducted at a very high grade area (+6% THM) at the Koko Massava prospect within MRG Metals' Corridor Central licence. The 34 aircore hole infill drilling program, totaling 2,085m of drilling and 1,448 samples, took place between the towns of Malahice and Koko Massava within an Inferred Resource area of the maiden MRE.
Within the Koko Massava global MRE is an Inferred Mineral Resource of 1,133 Mt @ 5.3% THM and 16% Slimes, containing 60 Mt of THM with a valuable mineral assemblage of 42% ilmenite, 7% Ti ilmenite/titanomagnetite, 2% zircon, 1% rutile, 1% leucoxene and 0.2% monazite.
ALSO READ: MRG Metals displays flurry of developments in June 2021 quarter
MRE resource areas & drilled infill aircore holes, incl. twinned holes, Image source: Company announcement, Oct 2021
The assay results confirm the presence and position of the three interpreted very high grade THM zones.
These zones have a combined area of approximately 1.8 sq km that remains open towards the east.
High THM grades were found from the assay results for individual samples and thick intersections within holes.
Individual 1.5m intervals contained % THM grades as high as 18.32% THM.
7 of the 31 resource holes (excluding the twin holes) have assay grades of >6.0% THM over significant intervals from surface or close to the surface.
6 additional holes show assay grades of between 5.5% and 6.0% THM over significant intervals from surface or close to the surface.
Additionally, several holes show extremely high-grade intersections within the mineralised zone.
Significant intersections from the program
Multiple very high-grade individual 1.5m intervals assayed up to 18.32% THM, with zones of consecutive samples assaying as high as 16.5m at 10.75% THM. The below represents the significant intersections from the program-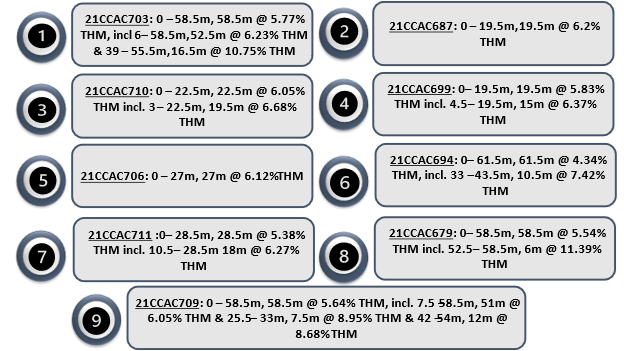 Copyright © 2021 Kalkine Media
Ongoing at MRG Metals
Samples from the Koko Massava infill drilling program from 2 holes (>5% of the total sample amount) have been dispatched for a 3-way interlaboratory check analysis exercise involving MAK Analytical, Western Geolabs, and Diamantina Laboratories (WA).
Besides, an additional mineral assemblage study is now underway. This involves 21 composite samples representing all of the interpreted lithological units within the infill drilled zone of the Koko Massava MRE.
RELATED READ: Decoding upcoming developments at MRG Metals
Additionally, an updated MRE for Koko Massava, including the new infill drilling data and additional mineralogical information, has been commissioned at IHC Mining. The expected outcome of the updated MRE is an Indicated Resource (tonnage and grade) for two of the very high-grade zones and at least Inferred Resource for the third (southernmost) zone.
Interestingly, Koko Massava MRE aim to classify >150 MT of near-surface high grade zones into Indicated Resource.
Way forward
The results of the comparative 3-way analysis will be reported once the Company receives it.
Meanwhile, MRG Metals is taking the same route on additional mineralogical studies and maiden MREs for the Nhacutse and Poiombo deposits. A scoping study is also in pipeline. Besides, MRG Metals has ongoing exploration plans at Corridor Sands and other properties yet to be explored.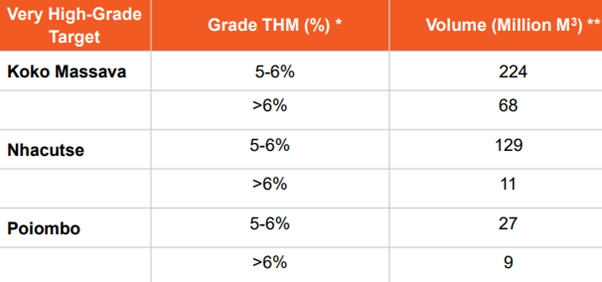 Mine Start Up Opportunities - Leapfrog Modelling (Source: Investor Presentation)
An updated MRE at Koko Massava utilising recent infill drilling and expansion drilling results is likely in mid-November. In mid-December, Pit optimisation / mine planning studies for Koko Massava and Maiden MRE for Nhacutsce are Poiombo are planned. Re-run pit optimisation / mine planning for all 3 MRE's to achieve best scenario can be expected late in December.
In Mid-January, MRG Metals aims to conduct a Preliminary Economic Assessment (PEA) comprising a Scoping Study and Financial Modelling, including Prefeasibility Stage Metallurgical Testwork.
Notably, the HMS outlook is improving, and the market has bottomed, is on the rise. Titanium Oxide and Titanium metal demand is increasing. MRG Metals is continuing to build the exploration portfolio, with aspirations in HMS and other strategic commodities.