Summary

MRG Metals Limited has announced the assay results of a recently completed infill aircore drilling program at Nhacutse High to Very High-Grade mineralised areas.
The results, combined with the visually estimated (VIS EST) THM findings from a follow-up aircore drilling program and initial results from 3D Leapfrog modelling have highlighted a mineralised area seems to be a good opportunity and return ~140 Mm³ of >5% Total Heavy Mineral (THM) assay and VIS EST mineralised sand.
MRG Metals will now begin the tendering process to complete MRE's across the Corridor Projects.
Shares of heavy mineral sands (HMS) explorer MRG Metals Limited (ASX:MRQ) were trading up by over 18% at AU$0.009, towards end of the trading session on 16 July 2021. The significant uptick was likely propelled by an upbeat market update that revealed assay results from 17-hole aircore infill and extension drilling program at Nhacutse.
Nhacutse is one of the 13 High to Very High-Grade mineralised's targets within MRG Metals' Corridor South exploration license which is located in world-class Mozambique.
The 17-hole aircore program (along 3 more twin holes) was conducted on and between two high to very high-grade zones, where very high THM assay grades were returned from previous hand auger and aircore drilling programs. Excellent statistical correlation results for the internal laboratory repeat samples, the inserted standards, and the site duplicate samples, were found.
MUST READ: MRG Metals shines on ASX after positive visually estimated findings from Nhacutse drilling
"Nhacutse could deliver an MRE as good, if not better than our maiden MRE at Koko Massava,", says Chairman Mr Andrew Van Der Zwan.
What did aircore assays at Nhacutse confirm?
The assay results confirmed a 3.5 sq km mineralised footprint of very high-grade HMS, open at depth. They also confirmed the recently announced Leapfrog modelling of assay and VIS EST aircore data that had established the potential at Nhacutse for approximately 140 million cubic metres (Mm³) at >5% THM, with higher internal-grade potential.
ALSO READ: Leapfrog modelling results indicate further Mineral Resource Estimates for MRG Metals
Interestingly, a new, very high-grade target with surface footprint of approximately 0.3 sq km lies north of the main very high-grade Nhacutse mineralisation and remains open to the west, east and north.
Significant assay THM aircore highlights
The assay results from the current drilling program, along with the VIS EST THM findings from a follow-up aircore drilling program, and initial results from 3D Leapfrog modelling, have highlighted a mineralised area that signifies a brilliant opportunity to return around 140 Mm³ of >5% THM assay and VIS EST mineralised sand.
This represents an excellent opportunity for the Company to supply a +100 Mt of very high-grade resource to the Corridor inventory at THM grades higher than its existing JORC-compliant Koko Massava Resource, thus with higher grade than from the Koko Massava MRE of 1.423 Mt @ 5.2% THM.
Besides, very high THM grades were seen in individual 1.5m intervals, with 13 individual intersections >10% THM over 1.5m, as high as 14.50% THM over 1.5m in 21CSAC672 from 39.0 to 40.5m and 13.74% THM over 1.5m in 21CSAC676 from 37.5 to 39.0m.
All holes are mineralised from surface and were dry with no water table intersected downhole. High-grade mineralisation in some holes remains open at the bottom of hole, particularly to the east, as shown on the section.
GOOD READ: Did MRG Metals' (ASX:MRQ) "excellent findings" from Nhacutse drilling set the stock soaring?
Very high-grade broader intersections were seen in some of the holes, for instance 11.38% THM over 6.0m in 21CSAC677 from 28.5 to 34.5m and 9.06% THM over 15.0m in 21CSAC670 from 27.0 to 42.0m.
Besides, three additional twin aircore holes were drilled for Quality Assurance and Quality Control (QA/QC) purposes, with good correlation reported in the analytical data.
ALSO READ: MRG Metals' (ASX:MRQ) HMS Potential highlighted at Mines and Money Connect Conference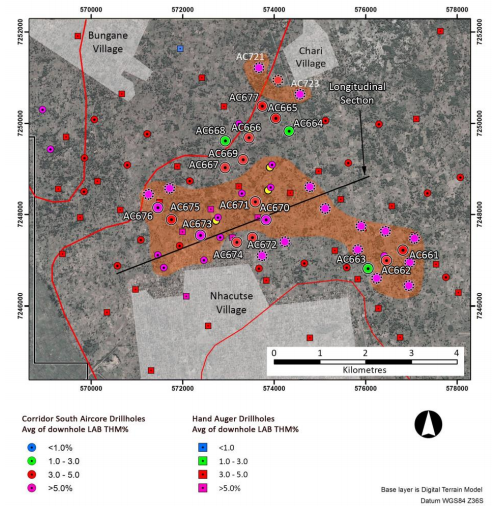 Nhacutse map depicting Assay THM results, 3 twin QAQC drillholes, the expected/targeted outline of the very high-grade mineralisation, historic results from previous auger and aircore drilling, Source: Company's announcement, July 2021
Way forward
MRG Metals is confident that Nhacutse has the potential to deliver a substantially larger, very high-grade resource than the original target. "Given the depth of the resource that the drilling is detailing, we could be looking at a 200Mt high-grade resource at Nhacutse,' says Mr Zwan.
RELATED READ: MRG Metals Limited (ASX:MRQ): Nhacutse High Grade Zone Has Potential To Deliver Exploration Goal Of 100 Mt
Notably, the Company can achieve significant tonnage at greater than 6% very early in the process, via mine optimisation, with the Nhacutse mineralisation commencing at surface and the higher-grade average being reported.
The results from heavy Mineral Concentrate (HMC) samples from 4 Aircore holes spread throughout the Nhacutse VHG zones were recently completed. Additional mineralogical studies are underway.
MRG Metals will now start the tendering process to complete MRE's across the Corridor Projects.
INTERESTING READ: Will infill Aircore drilling at Nhacutse give MRG Metals (ASX:MRQ) its second MRE?