Summary

MRG Metals is heading in the right direction to succeed in its stated Exploration Strategy of discovering potential mine startup heavy mineral sands (HMS) deposits at Koko Massava, Nhacutse and Poiombo.
Leapfrog 3D modelling of aircore and auger drillhole data from Koko Massava, Nhacutse and Poiombo deposits outlined volumes of very high grade mineralisation from surface and to depths greater than 60 metres.
Mineralogical studies of Koko Massava, Nhacutse and Poiombo continue and will be incorporated into the 3D modelling and upcoming Mineral Resource Estimates (MRE's).
Recent hand auger drilling identified three high grade targets- Magonde, Mandende and Maduacua at the Marao Project.
HMS explorer MRG Metals Limited (ASX:MRQ) has announced the June 2021 Quarter report, which shows significant progress made at its HMS projects in southern Mozambique. The quarter saw MRG Metals conduct infill aircore drilling programs and auger drilling programs, report preliminary findings of 3D Leapfrog models, and identify high grade targets.
GOOD READ: MRG Metals' (ASX:MRQ) HMS Potential highlighted at Mines and Money Connect Conference
Location of MRG tenements (Source: Company announcement, July 2021)
Progress at Koko Massava: infill aircore drilling program
A 34 hole infill aircore drilling program was conducted at the Koko Massava prospect where two very high grade zones were identified that sit within an Inferred Resource portion of the larger maiden Koko Massava MRE.
Notably, the Inferred Resource (1,133 Mt @ 5.3% THM and 16% Slimes) contains ~60 Mt of THM with a Valuable Heavy Mineral (VHM) assemblage of 42% ilmenite, 7% Ti ilmenite/titanomagnetite, 2% zircon, 1% rutile, 1% leucoxene and 0.2% monazite.
The targeted drilling program confirmed that within the massive Koko Massava footprint, there is a significant high grade mineralisation from surface, including valuable pockets of very high grade. The Company aims to identify in excess of 100MT of potential early mine life, high grade feed.
RELATED READ: MRG Metals uncovers high-grade mineralisation at Koko Massava
Drill holes in both zones consistently show VIS EST grades in excess of 6% Total Heavy Mineral (THM), with a combined surface footprint of the zones of approximately 1.8 sq km. Grade exceeding 10% THM (VIS EST) exists in individual or multiple 1.5m intervals in 21 of the holes, with further potential to expand these very high grade zones laterally and at depth.
Progress at Poiombo: aircore program
During the June 2021 quarter, an aircore program comprising 6 infill holes was completed at Poiombo. A very high grade zone with VIS EST grades of >6% THM over a surface footprint approaching 1 sq km was identified.
Interestingly, the drilling program has consolidated and improved earlier high grade drilling results at Poiombo. A high grade mineralised area of ~ 0.84 sq km has been confirmed.
GOOD READ: MRG Metals' Infill Aircore Drilling At Poiombo Delivers Excellent Results
An MRE can be undertaken next quarter, which could lead to further potential mine development initiatives.
Progress at Nhacutse: infill/extension aircore program
A 16 hole infill/extension Aircore program was carried out at Nhacutse. The program expanded the surface footprint of the Nhacutse very high grade mineralisation to a zone of 4 sq km.
ALSO READ: MRG Metals shines on ASX after positive visually estimated findings from Nhacutse drilling
It appears that Nhacutse is a high potential mine start-up opportunity, through the potential delivery of an MRE exceeding the target of 100 Mt, at THM grades higher than the foundation Koko Massava JORC Resource.
RELATED READ: MRG Metals' shares soar after Nhacutse assay results confirm very high-grade zones

MRG Metals tenements (Source: Company announcement, July 2021)
Preliminary findings of Leapfrog 3D Modelling
3D Leapfrog models were conducted for Koko Massava, Nhacutse and Poiombo. The findings from the Leapfrog modelling show that the Company is on track to defining 3 high to very high grade MRE's across all three targets that have the potential to deliver higher grades than the original MRE at Koko Massava.
MUST READ: Leapfrog modelling results indicate further Mineral Resource Estimates for MRG Metals
The results oblige MREs to be undertaken for Koko Massava, Nhacutse and Poiombo with the goal to establish 100Mt of Resource with grades higher than that of the maiden Koko Massava MRE (1,423 Mt @ 5.2% THM).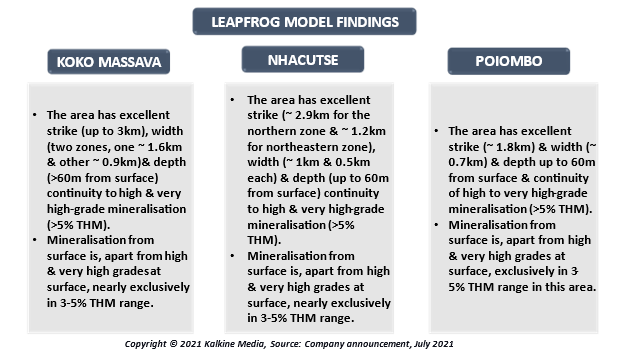 Progress at Marao
At MRG Metals' Marao (6842L) HMS licence, the hand auger drilling program has identified three high grade targets to date: - Magonde (reported in Q1 2021) Mandende and Maduacua. The Company has completed 138 of the planned 391 reconnaissance auger holes.
The Mandende Target-
Holes 21MUHA092, '093 and '094 demonstrated VIS EST grades of 3.2% THM, 3.7% THM and 3.6% THM respectively, increasing the area from >9 sq km to >11 sq km, +3% THM, from 19 auger holes to 13.5m.
Further smaller targets that will be followed up with additional drilling have been generated, hole 21MUAC0121 for instance returned VIS EST 6.3% THM from surface to 13.5m and is still open at depth.
GOOD READ: MRG Metals' stock jumps ~15% on new target discovery at Marao
The Maduacua Target-
This displays the best VIS EST THM grades discovered at Marao to date.
12 auger holes have demonstrated VIS EST THM grades of >3% THM per hole, showing the excellent potential of this target to be the next very high grade deposit.
Auger drilling at Marao is continuing on the reconnaissance grid. Mineralogical studies are ongoing from composite HMC samples from the auger drilling.
READ MORE: MRG Metals achieves new milestone at Marao with discovery of Maduacua Target
The Magonde Target-
The Magonde target was drilled to depths of between 13.0 and 13.5m, with the mineralisation identified from the surface. The target area covers a total area of +5 sq km.
Within the target area, the two highest VIS EST THM holes, 21MUHA014 with VIS EST 4.3% THM to 13.5m and 21MUHA015 with VIS EST 5.1% THM to 13.5m, show the significant potential for higher grade mineralisation to be identified.
At the end of the quarter, cash and cash equivalents amounted to AUD 1,611 K. MRG traded at AUD 0.010, on 10 August 2021.
ALSO WATCH: Executive Corner- Expert Talks | Mr Andrew Van Der Zwan – Non Executive Chairman of MRG Metals