Highlights

MRG Metals Limited (ASX:MRQ) has completed an AUD 1.6 million Placement.
Funds raised will support infill, expansion drilling in Corridor Sands and aircore drilling at Marao while assisting in first-pass exploration in the Corridor North Tenement and acquisition of assets in Mozambique.
With mineral sands prices on the rise and current Ilmenite prices in excess of USD 400/Tonne, it is a favourable time to be discovering and developing HMS deposits, believes Chairman Mr Andrew Van Der Zwan.
Lifting its trading halt today, MRG Metals Limited (ASX:MRQ) announced the successful completion of an AUD 1,600,000 Placement. In addition to supporting the Heavy Mineral Sands (HMS) explorer's ongoing development work at the Corridor Central and Corridor South (collectively Corridor Sands) projects, the funds raised are likely to boost MRG's exploration activities. Notably, the Company is looking to expand its footprint in Mozambique and has identified several new opportunities.
Placement details
The Company completed the AUD 1.6 million Placement via the issue of 200 million fully paid ordinary shares at AUD 0.008 per share, together with 100 million attaching options, exercisable at AUD 0.025 (expiring 30 June 2023). The Placement received strong support from sophisticated and professional investors.
It was undertaken using MRG's existing 15% placement capacity under ASX Listing Rule 7.1 (52 million shares and 119 million MRQOC options) and through its additional 10% placement capacity as per ASX Listing Rule 7.1A (154 million shares).
Melbourne-based Pinnacle Equities Pty Ltd and Peak Asset Management acted Joint Managers.
The trading halt has now been lifted and settlement of funds is expected on 18 January 2022. The allotment and trading of new shares and options issued under Placement will ensue on 20 January 2022.
ALSO READ- MRG Metals unveils progressive September quarterly activity report
Proposed use of funds
MRG's Placement has been a strategic move, especially with the Corridor Sands Projects moving in the development phase. Besides, mineral sands price are on the rise. Current Ilmenite prices remain in excess of USD 400/Tonne, suggesting that this is the favourable time to be discovering and developing HMS deposits- an activity that MRG is keen on.
GOOD READ- Decoding upcoming developments at MRG Metals
"The current commodity prices represent more than double the prices achievable when we commenced HMS exploration", says Chairman Mr Andrew Van Der Zwan.
Given the lucrative scenario, the funds raised from the Placement will help in the following activities-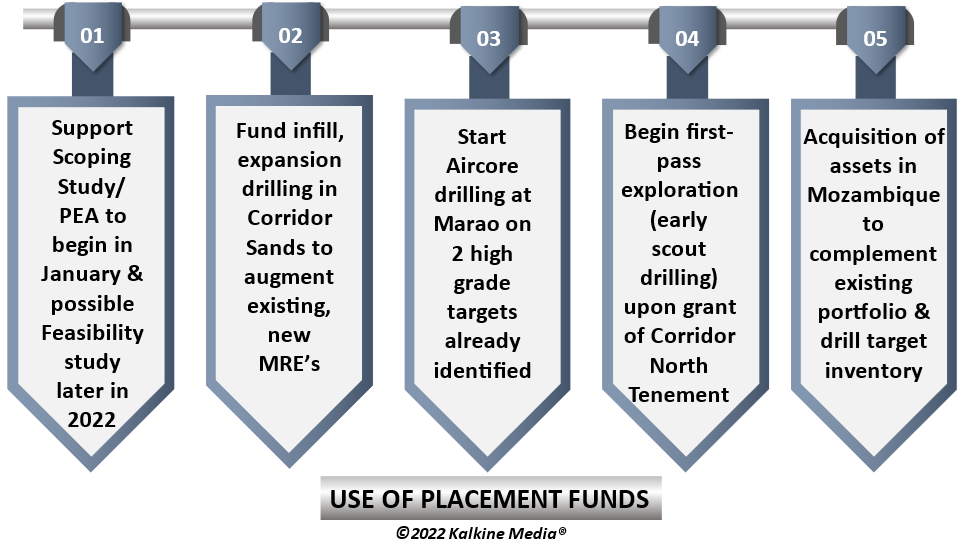 While the funds assist in the key activities depicted above, it should be noted that-
All in all, the Placement gives MRG the financial flexibility to aggressively extend exploration activities across its entire HMS project suite in Mozambique, while assisting in ongoing and planned developmental work.
On 17 January 2022, MRQ was trading at AUD 0.01 at noon.