Summary

MRG Metals is building one of the largest and highest-grade Heavy Mineral Sands (HMS) projects in Mozambique.
The Company controls a vast expanse of tenement package with high potential of titanium compounds and zircon.
The demand for titanium products is on the rise, highlighting significant potential for MRQ.
The Company is progressing with a dual strategy of mineral resource estimation (MRE) followed by scoping study towards development at Corridor projects and continuing exploration across its other projects' tenure.
Mozambique-focused heavy mineral sands (HMS) explorer MRG Metals Limited (ASX:MRQ) has showcased its quality assets and exploration and development strategy at the Mines and Money Online Connect Conference.
MRQ Chairman Andrew Van Der Zwan highlighted the significant aspects of the Company's Mozambique operations and future prospects of the minerals that can be extracted from its HMS.
Speaking at the conference, Mr Zwan caught the audience unawares when he said that the Company was working towards a 100-year mine development plan.
MRQ has four wholly owned high-calibre projects spread across an area of over 746km2. Another asset (Linhuane) is awaiting to join the Company's enriched HMS-portfolio suite, with its application under processing.
In addition to the potential 100-year JORC Resource already announced to the market, one of 13 high priority targets generated at Corridor Central and South projects, MRG is about to undertake MRE study for very high-grade potential mine start up candidates on 3 of them. The current JORC Resource base stands at 1.4Bt @ 5.2% total heavy mineral (THM) with 4% cut-off grade at the Koko Massava target.
How Does MRQ's Current JORC Resource at Koko Massava stack up against the competition ?
SIGNIFICANT ILMENITE DEPOSITS
Source: MRQ update, 22 June 2021
Fact check: What is HMS?
Copyright © 2021 Kalkine Media, Data source: MRQ update, 22 June 2021
The demand for titanium compounds is increasing, owing to its industrial applications, such as pigment for paints, welding electrode fluxes and alloying agents. Titanium alloys are light weight and have high strength and hence find applications in the aircraft manufacturing industry.
Similarly, zircon is extensively used in industrial and chemical applications.
Good read: MRG Metals' Infill Aircore Drilling At Poiombo Delivers Excellent Results
MRQ eyeing resource upgrade
The mineral resource of 1.4Bt @ 5.2% of THM is from the high-priority Koko Massava target on the Corridor Central Project. Recent infill drilling at the target has resulted in defining a higher grade area of up to 6% from surface.
Koko Massava is a potential candidate for early mine life and work is underway for the upcoming mineral resource estimation (MRE) on the highgrade area on this priority target. Nhacutse and Poiombo have also had recent infill drilling on high-grade areas within each target and are being considered for MRE.

Endowed with a huge mineral resource, the Koko Massava prospect has the potential to become a mine start-up opportunity for MRQ.
To know more, read more: MRG Metals uncovers high-grade mineralisation at Koko Massava
What is working in favour of MRQ?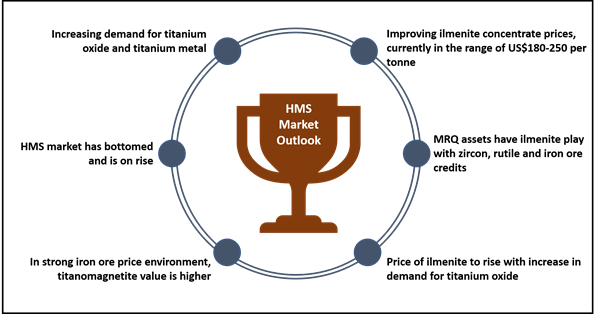 Copyright © 2021 Kalkine Media, Data source: MRQ update, 22 June 2021
Near-term work programs
MRQ is planning a scoping study during late-2021. The targets that have the potential to deliver 100-200Mt MRE will be included in the scoping study. A feasibility study could commence by the next year.
Koko Massava
Assay results from the recent infill drilling campaign are awaited.
MRQ will update the MRE on the high-grade area of the target.
Nhacutse and Poiombo
Assay results from the recent infill drilling campaign are awaited.
Work on maiden MRE's is in progress.
Marao
Continuation of the auger drilling program across the project.
Assay results from the initial auger drilling campaign are yet to be received.
The explorer plans to conduct aircore drilling on the high-grade targets identified from the auger program.
Read here: MRG Metals' March 2021 quarter paints a bright picture for HMS prospects
Key highlights – MRQ
The Company boasts over 2Bt of JORC compliant mineral resources and is working towards a long mine life of nearly 100 years.
Possibly one of the largest HMS discoveries of the last decade.
Multi-billion-dollar worth of minerals contained in the resource on the tenement package.
Koko Massava presents an early start-up opportunity for MRQ.
Huge investments are flowing in for infrastructure development in the region, which could add substantial value to the project economics.
The Opportunity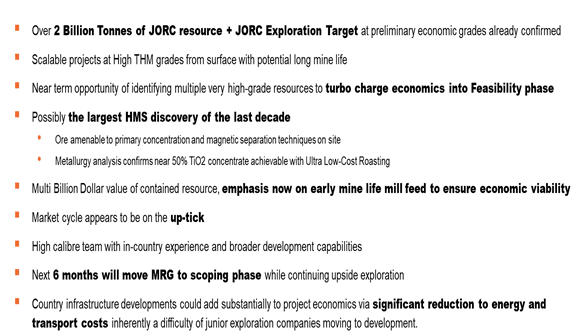 Source: MRQ update, 22 June 2021