Summary

Mount Burgess Mining NL (ASX:MTB) has compiled mineralisation data to quantify the extent of additional silver-associated mineralisation in the NE silver domain of the Kihabe polymetallic deposit.
Kihabe deposit consists of Ag, Zn, Pb, Cu and V2O5 mineralisation reported previously by the Company.
Mount Burgess is also designing a proposed drilling programme for the Nxuu Deposit.
Mount Burgess Mining NL (ASX: MTB) enjoys the exposure to diverse mineralisation at the Nxuu and the Kihabe polymetallic deposits in Botswana. At Kihabe, the Company appears to up the ante to unveil its strong potential.
In line with its current focus to develop the Nxuu and Kihabe deposits, Mount Burgess has compiled previously outlined mineralisation data pertaining to silver from the Kihabe deposit. This was done to demonstrate additional silver-associated mineralisation in the north-east silver domain.
Previously this month, Mount Burgess had outlined additional mineralisation associated with silver in the SW silver domain of Kihabe. Subsequently, it received enquiries about other mineralisation, which was associated with two silver domains at the Kihabe deposit.
ALSO READ: Why mineral development in Botswana is the ideal choice for Mount Burgess
Notably, Zinc, Lead, Silver, Vanadium, Vanadium Pentoxide, and copper mineralisation is associated with the two silver domains.
The announcement for the north-east (NE) domain comes after the data compilation concerning associated mineralisation within the south-west (SW) silver domain.
READ MORE: Mount Burgess Mining updates on associated mineralisation at Kihabe Deposit Silver Domains
Average grades of mineralisation at NE silver domain
Mount Burgess compiled a table, charting the metres and grades of Ag/Zn/Pb/Cu/V2O5 mineralisation for each drill section involved. The compilation, aimed to quantify the mineralisation extent, is associated with silver in the NE domain.
Source: MTB ASX Update, dated 24 June 2021
The total average grade for various mineralisation includes 2.0 oz/t silver, 2.4% zinc, 2.1% lead, 0.2% copper and 779 ppm V2O5.
ALSO READ: Promising Vanadium update at Kihabe sends Mount Burgess stock soaring
Overview of silver domains at Kihabe
The 2.4-kilometre-long mineralised strike of the Kihabe Deposit consists of an SW silver domain and a NE silver domain.
The SW domain stretches from grid coordinates 9,850E to 10,400E and covers 550-metre strike length. Meanwhile, the NE domain extends from the local grid coordinates 11,100E to 12,000E to cover over 900 metres of strike length.
ALSO READ: Skim through Mount Burgess' Copper & Silver zones at Kihabe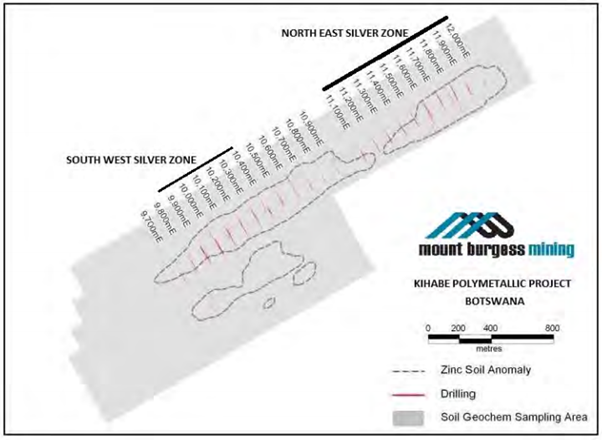 Source: MTB ASX Update, dated 24 June 2021
Proposed drilling at Nxuu deposit
Mount Burgess is currently designing a proposed drilling programme for the Nxuu Deposit, situated seven kilometres east of the Kihabe Deposit. Nxuu Deposit's mineralisation occurs in a flat-lying basin-shaped structure, and is totally oxidised. Metallurgical testwork conducted on the Nxuu deposit has shown the recovery of significant minerals like zinc and lead.
ALSO READ: Mount Burgess (ASX: MTB) reports robust Germanium results, 800-metre copper zone at Kihabe-Nxuu
The Company is planning a HQ diamond core drilling on 60 vertical drill holes for a total advance of 2,600 metres. The drilling plan is dependent upon an average depth to the base of mineralisation of 43 metres per hole in the Nxuu Deposit.
Results from the drilling programme may help Mount Burgess in quoting a 2012 JORC Code-compliant Indicated/Measured Resource. Along with additional confirmatory metallurgical test work, the assay results would facilitate Mount Burgess to advance to a Pre-feasibility study.
On 23 June 2021, MTB quoted AU$0.008 on the ASX.