Highlights

MDI operates exploration and development gold projects in Western Australia and Northern Territory.
The explorer recently concluded the feasibility study for recommissioning of the Sandstone Project in WA with positive cash flow.
MDI is assessing a spin-out plan for its 100% subsidiary Barkly Operations Pty Ltd, which is engaged in operating the Barkly Gold Project in Northern Territory.
The demerger of Barkly Operations Pty Ltd will provide investors exposure to a company with a diversified commodity portfolio.
Aspiring gold explorer and developer Middle Island Resources Limited (ASX:MDI) is engaged in exploring gold resources in WA and Northern Territory. MDI operates the Sandstone Gold Project in Western Australia and the Barkly Copper Gold Project in Northern Territory.
Related read: With FS study and two new exploration licences under its belt, Middle Island (ASX:MDI) reports sound June quarter
The Sandstone Gold Project comprises two granted Mining Leases and a 600,000 tpa CIL processing plant together with all associated infrastructure. MDI acquired the project from Guyana-focused Troy Resources Limited (ASX:TRY) back in 2016. The deal involved a legacy 2% royalty payment on gold production from the project.
During the last quarter, MDI successfully re-negotiated the deal to cancel the payment of legacy royalty for a one-time payment of AU$250,000 to TRY. This resulted in a substantial reduction in the project cost, increasing the net return by AU$4.1 million.
With 70% of Sandstone holding under soil cover with over 10km of strike length to assess, MDI has formulated a series of operational plans to increase its landholdings at Sandstone to identify additional mill feed via the following:
Copyright © 2021 Kalkine Media, Data source: Company update, 30 July 2021
Related read: Middle Island saves US$4.1M with termination of royalty, kickstarts auger drilling at Sandstone
MDI to demerge Barkly Copper Gold Project
The Barkly Copper Gold Project comprises 13 tenements and applications covering a total area of 5,220km2. During the March 2021 quarter, MDI announced to demerge Barkly Operations Pty Ltd (BOPL) and get it listed on the ASX through an IPO. As of now, BOPL is a wholly owned subsidiary of Middle Island and operates the Barkly Project.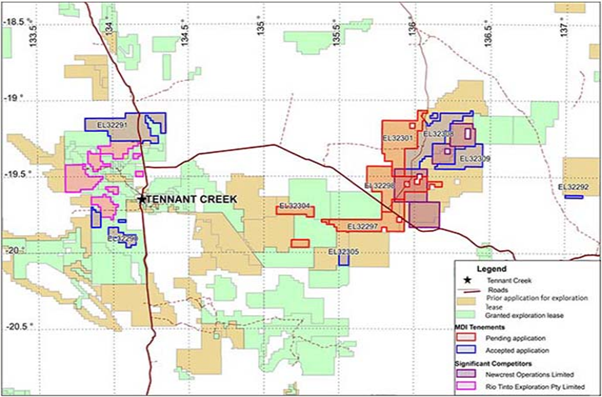 Barkly super project map (Image source: Company website)
The Barkly Project has iron oxide-copper-gold (IOCG) potential extended along the interpreted, fault-bounded East Tennant Ridge.
Related read: Middle Island Resources unveils the plan for Sandstone gold project, shares tick up
Why is the demerger being proposed?
The management feels MDI's market capitalisation does not reflect the true value of Barkly.
MDI can maintain a complete focus on the Sandstone Project.
From shareholders' perspective, it will be a fair move for those who have invested in MDI for sole or exclusive exposure to gold.
BOPL will provide diversified investment opportunities to investors who want to have exposure to copper as well as gold.
MDI expects that once BOPL is demerged, it will gain keen interest from the investors because of its potential quality and scale of the deposit.
MDI shareholders are anticipated to receive BOPL shares in the ratio of their existing shares in MDI, without any charge.
Bottom line
The Feasibility Study (FS) on the Sandstone Project resulted in marginal but positive cash flow, assuming gold price at AU$2,500/0z. For Sandstone, MDI will continue to follow the strategy of recommissioning the mill by growing the resource organically and/or acquisitively.
The Barkly Project has a huge upside potential, and MDI is working on exploration plans to increase the value of the project. The demerger of BOPL is expected to provide a boost in the development endeavours of the project.
Related read: Middle Island Resources Broadens Footprint in Barkly Area, Reports Promising Drill Results
Share price: MDI shares were trading at AU$0.094 with a market cap of AU$11.50 million as of 24 September 2021.