Summary

VR8 operates one of the world's largest and highest-grade vanadium deposits located in South Africa.
The Company has finished the scoping study on the Steelpoortdrift Vanadium Project, and the results are encouraging, indicating an IRR in the range of 26-28% (Post tax 100% equity basis). IRR increases to 41-45% post tax on a projected 50:50 debt:equity gearing.
Vanadium is an important ingredient for making high-strength steel and alloys used in the aircraft manufacturing and construction industry. Vanadium is also key in the production of VRFB's (Vanadium Redox Flow Batteries), primarily used for large scale battery storage.
The company's management team includes stalwarts from the South African mining industry who were initially vendors of the project.
The Company is expected to release results on it's PFS this month.
Vanadium Resources Limited (ASX:VR8) is engaged in the exploration and development of one of the world's largest and highest-grade vanadium projects, based in South Africa. The Steelpoortdrift Vanadium Project is located in a premium mining jurisdiction of the Limpopo Province and lies in the prolific Bushveld Geological Complex.
Latest update: Eye on maiden Ore Reserve, Vanadium Resource kicks off early DFS preparations
The Steelpoortdrift Project holds a Mineral Resource of 662 Mt @ 0.77% V2O5. The scoping study indicates that the project has 81% V2O5 recovery and is estimated to produce 2.4 Mt of saleable vanadium flake. The study also provided encouraging data for project economics with a NPV in the range of US$359-401 million post-tax and IRR in the range of 28.8-30.7% (100% equity basis – which increases to 41-45% on a 50:50 debt:equity basis) at an average market price of US$6.95/lb.
The project is advancing on a fast-track path of growth and development under the guidance of its highly experienced management team. Let us get acquainted with Vanadium Resources' highly skilled management team, propelling the project to new heights.
Read more: Vanadium Resources (ASX:VR8) is in the spotlight as demand of metal is on the rise
Source: VR8 Corporate Presentation March 2021
Mr Eugene Nel has a vast experience of more than 25 years as a metallurgical and process engineer. In his extensive career, he has made significant contributions to all aspects of mining operations across a wide range of geographies, including Africa, South America, Europe and the Middle East. He has been associated with several mining operations and projects and has led teams throughout the project lifecycle.
Mr Nel is a registered Pr. Tech. Eng. with the Engineering Council of South Africa. He is also a member of the South African Institute of Mining and Metallurgy and Mine Metallurgical Managers Association of South Africa. Additionally, he is qualified as a competent person under JORC.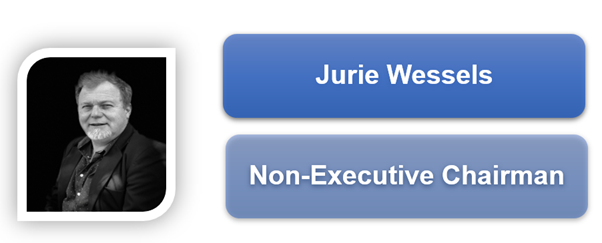 Source: VR8 Corporate Presentation March 2021
Mr Jurie Wessels has an extensive entrepreneurial experience of more than 24 years in the mining industry. In his vast career, Mr Wessels has undertaken mineral exploration expeditions in numerous geographies in Africa, South America and Europe.
A mineral lawyer by profession, Mr Wessels is a co-founder of Vanadium Resources Ltd and several others, including Bauba Resources ltd, Goldstone Resources Ltd, Arcadia Minerals Ltd, Consortium Minerals Ltd and Tungstene du Narbonnaise SAS.
Mr Wessels has gained expertise in mineral exploration and has been instrumental in governance, funding and management of mining and resource companies.

Source: VR8 Corporate Presentation March 2021
Mr Nico Van Der Hoven is a founding member of Vanadium Resources Ltd. With a strong exploration and mining experience of nearly three decades, Mr Hoven has exposure to beneficiation and export markets.
Mr Hoven also serves as a Chairman of Bauba Resource Ltd, which he co-founded with Mr Jurie Wessels. Bauba Resources is a mining operation that deals with chrome mining and platinum exploration.
Mr Hoven is a seasoned businessman and entrepreneur. In academics, he holds Bachelor of Commerce (BCom) and LLB degrees.
Good read: Vanadium Resources Ltd to acquire a proprietary ESG technology which compliments its World Class Vanadium Project

Source: VR8 Corporate Presentation March 2021
Mr Michael Davy holds the position of a director in several ASX-listed companies and is the owner of multiple successful businesses. Mr Davy has exposure to a wide range of industries in his career spanning over more than 16 years. He held a key position in a Norwegian Oil and Gas drilling company – Songo offshore – and contributed in establishing of the multi hundred million operation in Australia.
Finance and Accountancy is his area of expertise. Mr Davy holds key positions in ASX-listed resource companies, serving as a Non-Executive Chairman for Raiden Resources (ASX:RDN) and Non-Executive Director for Arcadia Minerals Ltd (ASX:AM7).
Source: VR8 Corporate Presentation March 2021
Mr John Ciganek is a mining stalwart with more than three decades of experience. In his vast and long career, Mr Ciganek has made contributions in operations as wells as corporate roles, including project finance, M&A and equity capital markets.
Mr Ciganek had served as Executive Director for BurnVoir Corporate Finance and headed the company's Perth business. He played a key role in debt arrangement and equity financings for capital intensive projects, along with providing financing and structuring advice.
In academics, Mr Ciganek is a mining engineer and holds an MBA degree.
Also read: Why the stocks of Vanadium Resources (ASX:VR8) are flying high?
The Company's Steelpoortdrift Project is gifted with all key infrastructures in close vicinity of the project. The results from the ongoing PFS are nearing completion and will be announced soon. The Company and the project are expected to scale to new heights under the robust management team of VR8.
The shares of VR8 were trading at AU$0.053 on 15 June 2021 (12:16 PM AEST), with a market cap of AU$21.34 million.