Summary

Chimeric Therapeutics is advancing well with its unique and innovative CLTX-CAR T cell therapy, backed by a strong and highly experienced leadership team.
The biotechnology company bolstered its leadership team with three key appointments during the first quarter of CY2021.
With a strong management team, Chimeric anticipates expanding CLTX CAR T for additional tumours.
ASX-listed Chimeric Therapeutics Limited (ASX:CHM) is involved in developing pioneering CLTX CAR T cell therapies for solid tumours. The Company's CLTX-CAR T technology uses chlorotoxin (CLTX), a peptide discovered in scorpion venom.
The innovative therapy is currently undergoing Phase 1 clinical trial at City of Hope to treat glioblastoma (GBM) patients. The revolutionary development is backed by an experienced leadership team with extensive expertise in the sector.
ALSO READ: Chimeric Therapeutics' (ASX:CHM) clinical trial hits a key milestone, progresses to next level
Let us glance through the strong leadership team of Chimeric Therapeutics-
Chimeric Therapeutics' strong management team
Chimeric Therapeutics boasts of a strong management team, which holds extensive experience in the CAR T space.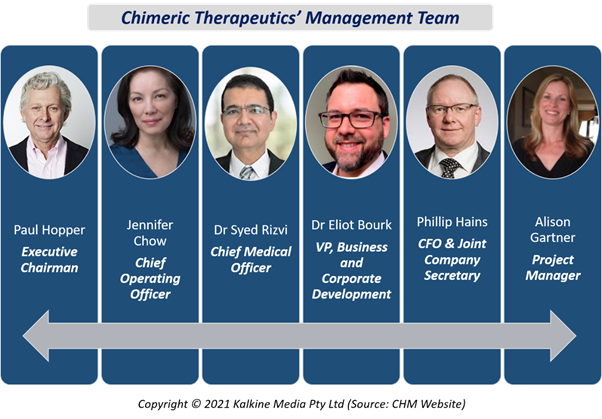 MUST READ: Chimeric Therapeutics' March Quarter marked by strong financial position, crucial hirings
Paul Hopper, Executive Chairman
Paul Hopper is the Founder as well as the Executive Chairman of CHM. Mr Hopper is armed with over 25 years of experience in the healthcare, biotech, and life sciences industries. He has either been a CEO, a Chairman, or a Non-Executive Director of over 14 companies across Australia, Asia, and the US.
Mr Hopper has rich experience in providing corporate advice and guidance, financial analysis, as well the management of several firms.
Mr Hopper has been a Board member of several companies, including Prescient Therapeutics, Viralytics, Suda Medical, Imugene Ltd, and Polynoma.
Jennifer Chow, Chief Operating Officer
Jennifer Chow joined the Chimeric Therapeutics management team in November 2020. Previously, she was the Head of Global Marketing, Analytics and Commercial Operations at a leading global CAR T company, Kite Pharmaceuticals. Ms Chow has 20+ years of commercial strategy as well as marketing experience focusing on cellular therapy, oncology, and hematology.
Formerly, Ms Chow worked with US-based Celgene Corporation as a Global Cell Therapy Commercial Lead and was in charge of designing and developing the global CAR T commercial strategy and operating model.
Dr Syed Rizvi, Chief Medical Officer
CHM onboarded Dr Syed Rizvi in November 2020. Before joining Chimeric, Dr Rizvi was one of the founding executive team members at a global CAR T player, Legend Biotech.
Dr Rizvi is a CAR T expert and holds 20+ years of experience in oncology drug development, including regulatory approval process and commercial launches.
Dr Eliot Bourk, Vice President, Business and Corporate Development
Dr Eliot Bourk joined CHM in the March quarter and was previously associated with Kite Pharmaceuticals. At Kite, he headed early commercial strategy and was responsible for portfolio optimisation of early-stage cell therapy assets and managing business development strategies and transactions.
Before joining Kite, Dr Bourk was a founding member of Celgene's cell therapy commercial team. Dr Bourk also was engaged in the development of the global CAR T commercial strategy at Celgene.
ALSO READ: Chimeric Therapeutics (ASX:CHM) onboards new VP to boost oncology pipeline
Phillip Hains, Chief Financial Officer (CFO) and Joint Company Secretary
Mr Hains holds over 30 years of accounting, general management, and corporate secretarial experience, through his firm, the CFO Solution. Currently, he is the Company Secretary of several ASX-listed companies.
Alison Gartner, Project Manager
Alison Gartner has worked as a biotech analyst and life science investor for over 20 years across ASX-listed and private firms. She has rich experience in portfolio management of assets from private start-ups to Food and Drug Administration (FDA) approvals. Currently, Ms Gartner is the Director of the National Foundation of Medical Research and Innovation.
MUST READ: Chimeric Therapeutics makes headway with its CLTX CAR T therapy; what next?
CHM's Board of Directors
Chimeric Therapeutics' board of directors includes Paul Hopper, Dr Lesley Russell, Ms Leslie Chong, and Ms Cindy Elkins. All of them come with extensive drug development and cell therapy experience.
Dr Lesley Russell, Non-Executive Director
Dr Lesley Russell is equipped with over 25 years of experience across companies, including Eli Lilly, Teva, Amgen and Cephalon. She has extensive knowledge and experience with new drug development and CAR-T therapies. Currently, Dr Russell serves as a Non-Executive Director at Enanta Pharmaceuticals and Imugene.
Ms Leslie Chong, Non-Executive Director
Ms Leslie Chong has worked in the oncology space for over 21 years with thorough clinical development experience in global Phase 1-3 clinical studies from beginning to registration. Ms Chong has led the clinical development of brain cancer treatments. Currently, she is working as the CEO and Managing Director of Imugene and is a Non-Executive Director of Cure Brain Cancer Foundation.
Ms Cindy Elkins, Non-Executive Director
Before joining Chimeric, Cindy Elkins was an Executive VP and the Chief Information Officer at Juno Therapeutics. Before Juno, she was the Vice President of Pharma Informatics at Genentech/Roche.
Scientific Advisory Board of Chimeric Therapeutics
CHM's CLTX technology development is led by well-qualified and highly experienced Scientific Advisory Board (SAB) members. The board members include:
Professor Christine Brown is the co-developer of CLTX CAR-T and is the Chair of the SAB. She is also associated as a faculty member in Hematology and Hematopoietic Cell Transplantation and Immuno-Oncology departments.
Dr Nader Sanai is working as a Professor of Neurological Surgery. He also owns the Francis & Dionne Najafi Chair in Neurosurgical Oncology.
Dr Larry Couture has over 30 years of experience in cellular and genetic therapies. He has been a key participant in numerous first-in-man clinical studies and many other cell and gene therapy milestones.
Dr Behnam Badie is an expert in the field of surgical neuro-oncology. He is working as the Director of the Brain Tumor Program at City of Hope.
Dr Yvonne Chen is working as an Associate Professor of Microbiology, Immunology, and Molecular Genetics at the University of California.
Chimeric Therapeutics' management team holds significant experience in the biotechnology and pharmaceutical industry, particularly in CAR T cell therapy development. The Company's sound and efficient leadership team has played a pivotal role and continues to make substantial contributions in CHM's rapid development of the CLTX-CAR T technology.
On 10 May 2021, Shares of CHM were trading 6% higher at AU$0.265 (at AEST 2:38 PM).