Highlights

Radiopharm Theranostics is led by a robust management team with a strong track record of success in the pharmaceutical and biotechnology.
The Company has four distinct clinical platforms that cover peptides, small molecules as well as antibodies.
RAD has a balanced clinical pipeline with risk diversification, including five Phase 2 clinical trials and two Phase 1 clinical trials in progress.
The Company's persistent growth and steady advancement in clinical programs can be attributed to the senior management team.
Clinical-stage radiotherapeutics company Radiopharm Theranostics Limited (ASX:RAD) is developing products to address the growing need for the use of radiopharmaceuticals in oncology.
The newly ASX-listed firm is on a progressive path to develop its four distinct platform technologies, namely Pivalate, NanomAbs, AVB6, and PSA-mAb with its global team of professionals and experts having world-class experience.
Must Read: Flick through Radiopharm Theranostics' strong asset pipeline for oncology treatment
A significant share of credit for Radiopharm Theranostics' persistent growth and steady advancement in clinical programs can be attributed to the individuals performing their part at the highest level of management. Here's a glimpse of their rich experience and details about their field of expertise.
Paul Hopper - Founder & Executive Chairman
Paul Hopper has a vision of making Radiopharm a global leader in the radiopharmaceuticals space by developing products for both diagnostic and therapeutic uses in areas of high unmet medical needs.
He has a broad and deep experience of more than 25 years in the fields of biotech, healthcare, and life sciences. In addition, he holds immense experience in corporate governance, risk, and strategy, corporate advice and guidance, financial analysis, and management of companies of differing sizes and financial circumstances.
For over 15 years in Australia, Asia, and the US, he has served as either founder, CEO, chairman or non-executive director. His has been at the boards of companies including Imugene, Chimeric Therapeutics, Prescient Therapeutics, Polynoma, Viralytics, and Arovellla Therapeutics.
Riccardo Canevari - Managing Director and CEO
Riccardo Canevari has a rich experience in a variety of fields, ranging from specialty pharmaceuticals, oncology to radiopharmaceuticals.
He has previously served at Novartis' company Advanced Accelerator Applications as Chief Commercial Officer (CCO), managing global commercial strategy and country organisations in approximately 20 countries across North America, Europe, and Asia.
He has also worked as Senior Vice President and Global Head, Breast Cancer Franchise for Novartis Oncology, where he led the launch of several breast cancer products, such as PIQRAY and KISQALI.
He has also held various management roles with Novartis Pharma and Ethicon / Johnson & Johnson.
Professor David Mozley - CMO & Scientific Advisory Board Chair
During his 30+ years of experience in the nuclear medicine field, Professor David Mozley has been a part of more than 60 clinical trials at Eli Lily and over 100 trials at Merck in novel radiopharmaceutical development.
Of late, he was serving as Chief of Nuclear Medicine at Cornell University and as a single-site Principal Investigator for first-in-human pharmaceutical industry contracts from three firms using novel radiopharmaceuticals as major endpoints. He has also been the Physician Sponsor of 10 investigational new drug applications.
A renowned Board Certified physician, Mozley was PI awarded over $8 million in NIH RO1 grants relating to radiopharmaceutical development at University Pennsylvania. He has co-authored over 100 peer-reviewed publications mostly focused on radiopharmaceutical development.
Related Read: Radiopharm (ASX:RAD) makes three crucial appointments to management team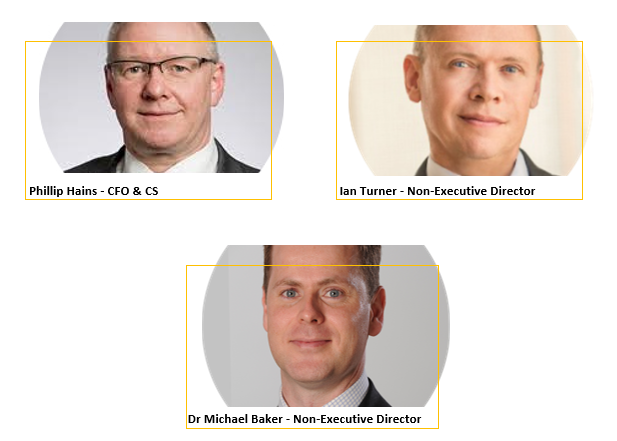 Phillip Hains - Chief Financial Officer & Company Secretary
Hains holds more than 25 years of experience in providing accounting administration, compliance, and general management services to businesses. A Chartered Accountant by profession, Hains runs a specialist public practice named 'The CFO Solution', which assists listed public companies with back-office support, financial reporting, and compliance systems.
Ian Turner - Non-Executive Director
A highly experienced radiopharmaceutical and nuclear medicine supply and manufacturing expert, Ian Turner has worked at highest positions at some renowned corporations in the industry. He served as CEO and President of Siemens PETNET Solutions during 2010-2012, where he was recruited to turnaround Siemens' underperforming global radiopharmacy lines.
In former years, he contributed to the growth of ANSTO Radiopharmaceuticals in Sydney as General Manager. He has even played the part of an Executive Director of PETNET Australia Pty. Ltd.
Dr Michael Baker - Non-Executive Director
Presently serving as CEO and managing director of ASX-listed Arovella Therapeutics, Dr Michael Baker completed his PhD in Biochemistry and an MBA from Melbourne Business School. He won the Nancy Millis Award for having presented the most outstanding thesis for the Faculty of Science, Technology and Engineering in 2010.
RAD's constant progress in the development of its tech features is being led by its management team as they aim to achieve success for better diagnose and treatment of a range of cancers.
Must Read: Radiopharm Theranostics unlocking untapped potential in radiopharmaceuticals space
In essence, the high-calibre and richly experienced leadership team at Radiopharm possesses robust commercial and technical skills. The team's strong background and immense experience is bound to catalyse the Company's development in the coming years.
Stock information: RAD shares were trading at AU$0.385 on the Australian Securities Exchange (ASX) midday on 18 January 2022. The Company has a market capitalisation of AU$100.06 million.
Also read: Radiopharm Theranostics debuts on the ASX, raises AU$50M via IPO