Highlights

Invion is rapidly progressing towards the development of the next-generation PDT (Photodynamic Therapy) treatment for major diseases.
The company is backed by a strong leadership team with incredibly strong knowledge and expertise, which can take its technology to the next level.
Life sciences company Invion Limited (ASX:IVX) is galloping ahead with the clinical development of a unique next-gen Photodynamic Therapy (PDT).
PDT uses non-toxic photosensitisers and visible light to destroy cancer cells and stimulate the immune system. Photosensitising agents or drugs are activated by the light of a specific wavelength. When the light of a particular wavelength is shone on a cancerous cell, it triggers a reaction in the tumour. This, in turn, produces a form of oxygen that destroys cancer cells without harming the healthy tissues in the periphery.
The company is targeting the treatment of several diseases, including a range of cancers, on the back of its global research & development of PhotosoftTM technology.
Related read about Invion's (ASX:IVX) world-leading partners in its mission to treat cancers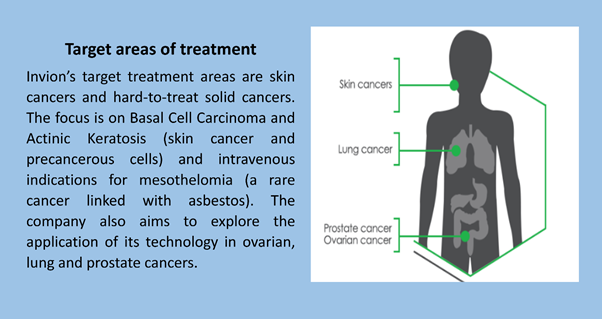 Data source: IVX website
Invion is progressing research work in collaboration with leading global medical research institutes – the Hudson Institute of Medical Research and the Peter MacCallum Cancer Centre. Its latest Active Pharmaceutical Ingredient (API) has shown early promising evidence of complete regression of Triple Negative Breast Cancer (TNBC) tumours as well as triggering protective immunity.
Learn more: Here is why Invion's (ASX:IVX) clinical journey to cancer treatment deserves attention
Invion's impressive leadership team
A company's leadership team plays a crucial role in the growth and development of its business. Much of the progress made by Invion in the oncology space can be attributed to its robust leadership team whose experience and expertise have driven the business to great heights.
Below is a quick snapshot of the who's who of the Company's leadership team:
Thian Chew - Executive Chair and CEO
Mr Chew is a Managing Partner at Polar Ventures. He is an Adjunct Professor at Hong Kong University of Science & Technology, Schools of Business and Life Sciences.
Previous roles: In the past, Mr Chew has served as an Executive Director at Goldman Sachs (Hong Kong and New York), where he used to oversee the firm's proprietary investments, including growth capital, private equity, and special situations. Moreover, he has worked with Morgan Stanley as Consultant Project Manager. He has also served various roles including Director at KPMG Consulting.
Alan Yamashita - Non-Executive Director
A highly experienced corporate consultant and investment professional, Mr Yamashita has more than 40 years of experience, including a 16-year stint at Goldman Sachs. He has a vast experience in the fields of investment banking, investment management, and alternative investment across the APAC region.
Other current engagements: Mr Yamashita is currently Managing Partner at Polar Ventures. He is also an advisor to many companies.
Previous roles: He has worked with Goldman Sachs in various roles. He has worked with Search Investment Group as CEO and President, and with Search Alternative Investment as CEO and CIO. His professional stint includes the position of Managing Director and Head of Asia Capital Markets for Merrill Lynch.
Alistair Bennallack - Non-Executive Director
Mr Alistair Bennallack has more than 30 years of experience in business management and finance, strategic development, risk and compliance, international business, leadership, and relationship management.
Other current engagements: He is currently CEO of Village Roadshow Theme Parks Asia and Head of Risk at Village Roadshow Ltd. His primary responsibility is to conceptualise, execute, and deliver Village Roadshow's expansion into China and Asia.
Previous roles: His previous roles include CFO of Village Roadshow Ltd and General Manager of Business Affairs of Village Roadshow Corporation Pty Ltd. He was also a former President and Board Member of The Gawler Foundation.
Rob Merriel - Non-Executive Director
A Certified Practicing Accountant (CPA), Mr Merriel holds more than 35 years of experience. With his work in medical research (Hudson Institute of Medical Research and Baker Institute), large public healthcare services (Melbourne Health and Southern Health) and commercial organisations (Pacific Dunlop and Deloitte Consulting), he has gained vast experience and solid commercial expertise in the healthcare sector.
Other current engagements: He is currently on the Boards of two biotechnology start-up companies.
Previous roles: He has served as Chief Financial Officer, Chief Commercialisation Officer and Company Secretary at the Hudson Institute of Medical Research. Mr Merriel has been Hudson Institute's lead official in drawing three separate multi-million-dollar investments backing the translation of discovery science into potential new therapies for patients.
Melanie Leydin - Chief Financial Officer
She has more than 25 years of experience in the accounting profession. Additionally, she has vast knowledge concerning public company responsibilities, including ASX and ASIC compliance, corporate governance control and implementation, statutory financial reporting, reorganisation of companies, and shareholder relations.
Other current engagements: Ms Leydinn has been the principal of chartered accounting firm Leydin Freyer since February 2000. She also serves as director and company secretary for several entities listed on the Australian Securities Exchange.
Claire Newstead-Sinclair - Company Secretary
Ms Newstead-Sinclair is a seasoned finance executive with over 15 years of experience in senior financial roles in public and private organisations. She has worked in the biotechnology, insurance, and public practice sectors, and has nine years of experience as an ASX-listed company secretary.
Other current engagements: She is a member of the Institute of Chartered Accountants of Australia and New Zealand and a certified member of the Governance Institute of Australia.
Previous roles: Claire has worked for both small and large companies. Before her employment in Leydin Freyer, she worked at Cogstate Limited as Director of Finance, Legal & HR and Company Secretary.
In essence, the leadership team's solid background and extensive experience are crucial for the development of Invion's unique technology.
IVX shares traded at AU$0.015 on 13 April 2022.