Summary

Skin Elements has released its quarterly activity report, highlighting the Company's continued focus on the Invisi Shield® launch program.
The Company announced that the TGA is now considering the registration of Invisi Shield® Organics as a hospital-grade disinfectant.
Skin Elements has also commenced initial manufacturing of Invisi-Shield Organics with a plan to scale up the production after a successful TGA registration.
Natural skincare company Skin Elements Limited (ASX:SKN) has updated its quarterly activity report for the March Quarter, highlighting that its focus remained on finalising the Invisi Shield® launch program.
The Company also highlighted that marketing and sales activities were on track while both retail and wholesale products were under development.
Source: Copyright © 2021 Kalkine Media Pty Ltd
Development for Invisi Shield® launch as Hospital-Grade Disinfectant
The program has advanced in the last couple of months with the completion of development work on Invisi Shield® formulations with submissions to the Therapeutic Goods Administration (TGA).
The Company notified that marketing and sales activities were moving ahead with Prudential Associates. These activities are being carried out to prepare for Invisi Shield® product sales following a successful TGA registration.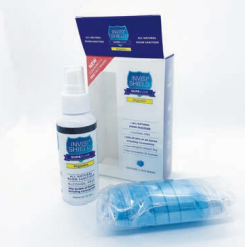 Source: SKN Presentation, 29 January 2021
ALSO READ: Skin Elements (ASX:SKN) gears up for launch of 'game-changing' sanitiser, Invisi Shield®
TGA Registration being considered
Currently, the TGA is considering Invisi Shield® Organics registration as a hospital-grade disinfectant. TGA Microbiology is evaluating Invisi Shield® formulation's microbiological efficacy.
After a successful TGA registration, the Company can make a detailed and specific product as well as label claims concerning Invisi Shield®. Skin Elements is confident this will open up substantial new commercial-scale sales as well as distribution avenues for Invisi Shield®.
New recruitment to undertake product launch
Skin Elements is also undertaking a recruitment program, as it recently hired a new head of operations to make sure it had adequate resources to undertake the launch of Invisi Shield®.
Further recruitments are in progress to cover distributor sales and online sales channels to enable SKN advertise and sell the products online.
AU$20M funding to advance Invisi Shield® production and sale
SKN and LDA Capital have entered into a Put Option agreement, under which LDA Capital will offer SKN ~AU$20 million in committed equity capital over the next three years.
Terms of agreement:
The agreement enables SKN to issue shares to LDA Capital for the next 36 months and obtain funds for the issue of those shares.
Skin Elements can now access committed equity capital on a flexible basis by supervising each capital drawdown's timing and size.
The agreement also ensures that SKN has ready access to additional equity capital as required to support its growth into new markets and the existing sales channels.
The deal will also support the expected commercial-scale sales as well as distribution prospects for Invisi Shield® and other products.
READ MORE: Skin Elements (ASX:SKN) raises A$20M to fast-track Invisi Shield® sales & manufacturing
Options Underwriting completion
SKN has obtained an additional AU$1,232,857 cash with 12,328,571 options converted into shares as part of the options underwriting shortfall.
In March 2021, the Underwriter notified the Company that it was no longer capable of fulfilling its obligations for the balance of the funds due under the Underwriting Agreement because of several factors, including parties which had earlier commitments to offer funds are incapable of performing in a timely manner.
In the capital raising update provided on 6 April 2021, both SKN and the Underwriter released each other from any further obligations pursuant to the Underwriting Agreement without any fees payable to the Underwriter.
Entitlement Issue to raise ~AU$2 million
Further to the request from shareholders, SKN will be undertaking a non-underwritten non-renounceable pro-rata entitlement issue at a per-share price of AU$0.08 based on one new share for every 15 ordinary shares held.
Shareholders who subscribe the entitlement issue will also get one attaching listed option for every two new shares issued, exercisable at AU$0.10 and expiring three years after the issue date.
Under the issue, approximately 25.298 million shares with ~12.649 million attached options would be issued for rising ~AU$2.023 (before costs). The process will be completed in June 2021.
Appointment of a new Company Secretary
During the quarter, Skin Elements disclosed the appointment of Mr Phil Giglia as a Company Secretary. Mr Giglia is a Chartered Accountant with 25+ years of experience in senior roles, with expertise in the SME (small and medium enterprises) space.
ALSO READ: Meet the SKN stalwarts at the helm of Invisi Shield® development
Manufacturing Update
SKN continued to build its product range, focusing on Australia-made-and-owned ingredient suppliers and manufacturers, including:
SKN placed orders for additional 20K units of Soleo Organics sunscreen ranges with Baxter Laboratories.
Orders for PapayaActivs therapeutic range were placed with Tripak (3.6K units) and from Australian manufacturers (26K units).
The Company revealed that initial manufacturing of Invisi-Shield Organics had started with key ingredients and packaging for more than 100K units had been secured.
The Company is planning to scale up the production of Invisi-Shield Organics after TGA registration.
ALSO READ: Packing a papaya punch: An overview of Skin Elements' all-natural PapayaActivs cream
Mr Peter Malone, Skin Elements' Executive Chairman commented: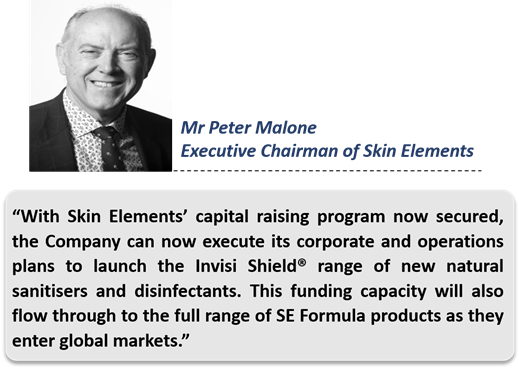 DO WATCH: Expert Talks with Mr Peter Malone- Executive Chairman of Skin Elements Limited
On 28 April 2021, SKN shares last traded at AU$0.100.