Summary

SUDA Pharmaceuticals Limited (ASX:SUD) has secured an exclusive Licence for a new iNKT cell therapy platform from Imperial College London.
The novel iNKT cell therapy platform has been developed by Professor Anastasios Karadimitris at Imperial College London.
iNKT cells can be administered 'off-the-shelf' and have been shown to be protective against acute graft-versus host disease.
Achieving a significant milestone, SUDA Pharmaceuticals Limited (ASX:SUD) has signed an exclusive, global Licence Agreement with Imperial College London for a novel iNKT (invariant Natural Killer T) cell therapy platform for cancer treatment. The iNKT cell therapy platform can be used in combination with chimeric antigen receptors (CARs) to treat different blood cancers.
Licensing the iNKT cell therapy platform has placed SUDA at the forefront of immuno-oncology drug development while expanding the Company's development pipeline and potential.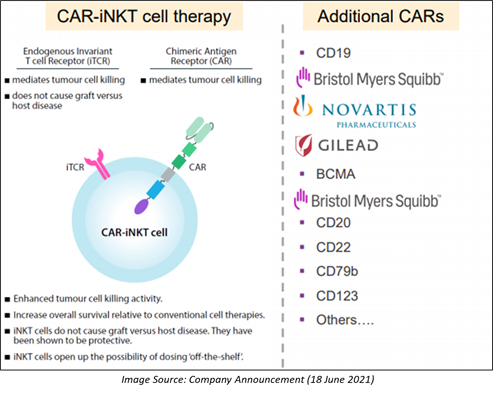 SUDA's new iNKT cell therapy platform has been under development for several years. It has been developed by Professor Anastasios Karadimitris at Imperial College London and is currently in is in the pre-clinical stages. Professor Karadimitris is a clinical academic at Imperial College London.
To support the initial development of the iNKT cell therapy, SUDA anticipates raising a minimum of AU$3 million through an institutional placement to be conducted through Baker Young. The Company intends to use the funds towards hiring key personnel and commencing the manufacturing of critical components to produce the product.
Must Read: SUDA Pharmaceuticals in fine fettle with a slew of developments across Q321
Terms of licensing agreement
For SUDA shareholders, the terms of the licensing agreement are non-dilutive, with no immediate material financial impact on the Company due to the signing of the agreement.
The licensing payments comprise annual maintenance fees and an upfront fee. Additionally, the Licence includes industry-standard, non-dilutionary development milestones for the first oncology product developed for commencing Phase 1, Phase 2, and Phase 3 clinical studies and for receipt of regulatory approval of the product in major territories. The Licence further comprises commercial milestones based on attaining sales targets and a single-digit royalty on future sales, along with sublicensing fees.
SUDA informed that the Licence Agreement will expire ten years from commercial launch or upon the last to expire patent (or any other relevant patent extension term), whichever is longer. The iNKT cell therapy platform has long patent life, likely to expire in 2038 and has entered the national phase in Canada, Australia, Europe, China, and the US.
Along with the Licence Agreement, the Company soon expects to sign a Collaborative Research Agreement with Imperial College London. This will facilitate further research to develop additional intellectual property and expand the platform.
Significance of iNKT cell therapy
iNKT cells have been shown to be protective against acute graft-versus host disease (GVHD). At Imperial, Professor Karadimitris' research group was the first to demonstrate this ability of iNKT cells. This provides a critical advantage that the iNKT cell platform can be possibly used 'off-the-shelf'. It means that the cells can be isolated from a healthy donor, modified to improve their activity against cancer and stored frozen, being ready to be administered to cancer patients as required.
'Off-the-shelf' dosing will enable the drug to reach more patients faster as the product will be produced from a healthy donor and stored to be used when required. This means patients will not need to wait and face the risk of their condition worsening during the therapy production phase.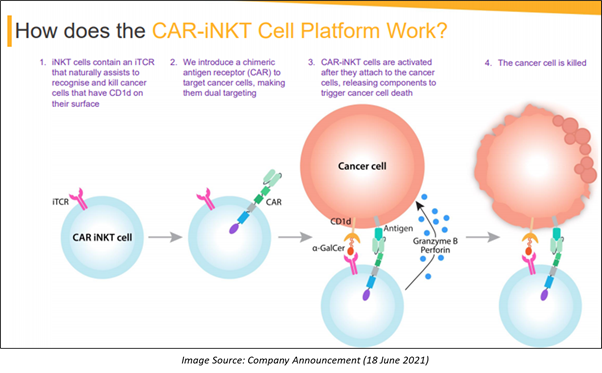 The natural properties of iNKT cells are anticipated to lower the complexity of delivering the cell therapy to cancer patients. In addition, these properties are likely to help in reducing the costs of such an important treatment modality. iNKT cell platform holds the potential to solve one of the significant challenges of the industry: manufacturing the therapeutic from each person's own cells.
Notably, CAR-iNKT cells have been shown to outperform conventional CART cell therapies in pre-clinical studies. Pre-clinical studies have demonstrated the following:
CAR-iNKT cells work more efficiently than traditional cell therapies.
CAR-iNKT cells outperform CAR-T cells, rapidly clearing the cancer cells and improving the number of surviving animals by 1.5 times when the CD1d protein is on the surface of cancer cells.
Additional CARs could be added to the iNKT cells, potentially improving their activity.
CAR-iNKT cells can lead to a remission without additional treatment.

Watch Now: In an exclusive conversation with Mr. Michael Baker, CEO & MD, SUDA Pharmaceuticals | Expert Talks
Opportunities in cell therapy sector
In the latest investor presentation, SUDA highlighted that the CAR-T cell therapy market is expected to reach about US$13.6 billion by 2026, growing at a CAGR of 56.2 per cent from 2018 to 2026. The potential growth in the cell therapy market is unfurling a promising opportunity for SUDA.
While the cellular therapies to date have had success in blood cancers, a limitation for currently approved products is that the therapy must be manufactured from a patient's own cells. This makes the process cumbersome as well as costly. Thus, a primary unmet goal remains to develop a product that is capable of being dosed off-the-shelf, which can possibly be resolved by the iNKT cell platform.
Having a product prepared from a healthy donor and stored prior to use will significantly improve the logistics and increase affordability. Meanwhile, a platform that provides dual targeting and 'off-the-shelf' dosing is anticipated to generate commercial interest from large pharma.
SUDA shares last traded at AU$0.036 on 17 June 2021.
Do Not Miss: SUDA Pharmaceuticals (ASX:SUD) to Facilitate Development of OroMist® Assets in 2021