Highlights

Lithium Australia has joined the Global Battery Alliance, which aims to accelerate battery deployment worldwide and facilitate battery economy.
The Company seeks to take advantage of the fast-growing lithium ferro phosphate (LFP) market, with major electric vehicle players transitioning to LFP-type lithium-ion batteries.
At the quarter end, LIT had AU$12.8 million in cash and no debt.
Lithium Australia NL (ASX:LIT) has unveiled its quarterly activity report for the three-month period ended 30 September 2021, highlighting significant business activities of the Company and its subsidiaries.
During the quarter, LIT continued to make an impressive mark in the battery space, which was brimming with burgeoning opportunities for EV players. Besides leveraging the battery market prospects, the Company has remained equally committed to ensuring sustainability and resource security for future consumption. In order to better chart out its ESG roadmap, the Company has joined the Global Battery Alliance.
As of 30 September 2021, LIT had a strong working capital position with AU$12.8 million cash and no debt. The Company raised AU$3.7 million by the issue of fully paid shares.
Let us look at how the Company's lithium-focused subsidiaries advanced initiatives during the September 2021 quarter.
Batteries – lithium ferro phosphate (LFP) cathode materials
VSPC Ltd, a wholly owned subsidiary of Lithium Australia, seeks to take advantage of the fast-growing lithium ferro phosphate (LFP) market, given its superior performance over nickel-based LIB formulations.
ALSO READ: Lithium Australia (ASX:LIT) bolsters VSPC Board, aims to expand LFP market reach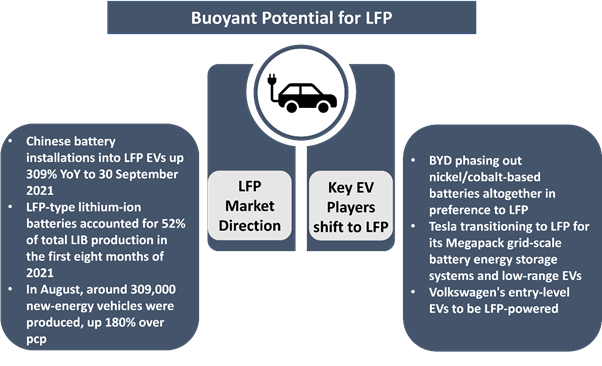 Source: Copyright © 2021 Kalkine Media, Data Source: LIT update, dated 29 October 2021
VSPC has applied for a Modern Manufacturing Initiative – Collaboration Stream grant from the federal government. If successful, it would facilitate an LFP cathode plant development by VSPC, which is focused on building a supply chain for the battery industry in Australia.
VSPC has also secured an Australian patent for producing nickel- and cobalt-free battery cathode powders- LFP and lithium manganese iron phosphate (LMFP). The patent provides VSPC with 20 years of intellectual property protection in Australia.
During the quarter, Dr Anand Bhatt was appointed to lead VSPC's research and product development program.
READ MORE: VSPC Ltd's patent application accepted for grant, Lithium Australia (ASX:LIT) shares zoom up 9%
Lithium Australia's (ASX:LIT) batteries subsidiary VSPC appoints new lead scientist
Recycling – Envirostream Australia Pty Ltd
Lithium Australia's 90%-owned subsidiary Envirostream reported that total battery recycling revenue increased by 22% to AU$0.479 million in September 2021 quarter compared to the previous quarter.
Moreover, the national battery stewardship scheme developed by Australia's Battery Stewardship Council is projected to have a positive financial impact on recycling revenue. The scheme is scheduled for rollout in January 2022.
RELATED ARTICLE: Lithium Australia's Envirostream powers ahead with exciting battery recycling updates
Envirostream progressed licensing and permitting activities with the Environmental Protection Agency Victoria and the Hume City Council, and secured the licensing and permits subsequent to the quarter.
Envirostream continued its collaboration with leading fertiliser supplier, Summit Fertilizers, which provided access to three of its 2021 trial sites to allow assessment of Envirostream's products.
The second fertiliser micronutrient field trial programme is underway, with plant tissue sampling completed.
Moreover, Envirostream has filed international patent applications for recycled battery resource recovery.
ALSO READ: Envirostream micronutrient field trial shows encouraging results: Lithium Australia
Lithium chemicals
The construction of a LieNA® pilot plant to recover lithium is now underway, with its completion scheduled for early next year. The September quarter saw progress being made in pre-pilot plant bench-scale test work, using samples from a 650kg pilot plant concentrate parcel, which will also be used as feed material for the pilot-plant programme.
ALSO READ: LieNA® lithium extraction technology proceeding towards commercialisation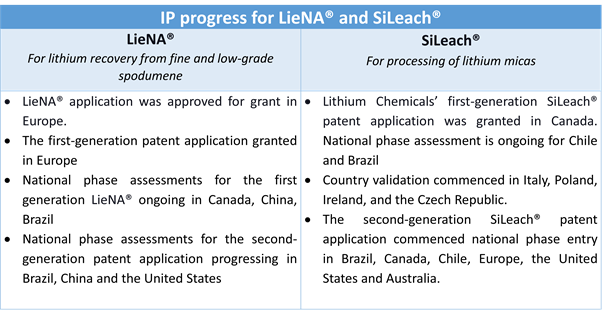 Source: Copyright © 2021 Kalkine Media, Data Source: LIT update, dated 29 October 2021
Raw materials
Charger Metals NL (ASX: CHR) was successfully listed on the ASX during the quarter, and Lithium Australia's shareholders were offered a priority allocation in the IPO.
Pursuant to the sale and joint venture agreement, LIT retains a 30% free carry in the Coates, Lake Johnston and Bynoe projects, and a 19.6% interest in Charger.
The transfer formalities of 100% of Lepidolite Hill tenements to the Company was also completed.
ALSO READ: Lithium Australia (ASX:LIT) riding high on JV progress with Charger Metals
Bottom Line
Driven by sustainability commitment, the September quarter saw the vertically integrated lithium player advance several initiatives that add up to create a circular battery economy, ensuring an ethical supply of energy metals for the battery industry.
LIT shares were trading at AU$0.130 in the early hours of 2 November 2021.