Summary

Lithium Australia is focused on creating a circular economy, including the plan to recycle old lithium-ion batteries into new ones.
The Battery Stewardship Council (BSC) has obtained the federal government and industry funding for battery collection and recycling.
Envirostream Australia, a subsidiary of LIT, has received Dangerous Goods approvals for its storage and transportation boxes.
Lithium Australia NL (ASX:LIT) and its 90%-owned subsidiary Envirostream Australia Pty Ltd have welcomed the latest development on the Battery Stewardship Council (BSC), which has received the federal government as well as industry funding. The funds are bound to open newer growth avenues for battery recycling, which is one of the key areas Lithium Australia is trying to excel.
Significantly, LIT is committed to creating a circular battery economy, with the recycling of old lithium-ion batteries into new ones being intrinsic to the company's plan.
The BSC has released a factsheet which covers numerous aspects of battery recycling along with details of funding and the scheme itself. The scheme is focused on establishing an accredited process for battery collection and recycling.
Following the significant update, LIT shares edged up 2%, trading at A$0.122 on 6 May 2021 (AEST 3:05 PM).
GOOD WATCH: Do You Know Exciting lithium projects geared up to fuel Australia's EV revolution?
The Scheme is to encourage battery recycling and ensure its safety. In this direction, it will establish a national network of drop-off sites, which would make the return of spent batteries for recycling simple and convenient for consumers. The scheme is scheduled for rollout in January 2022.
ALSO READ: Lithium Australia (ASX:LIT) Makes Two Crucial Appointments To Rev Up Projects
Recycling Market in Australia Poised for Growth
In the current Australian scenario, most of the spent batteries are relegated to landfill, potentially threatening the environment, including waterways. The nation has a low battery recycling rate, making Australia lag behind other countries in the given context.
Under the Scheme, approved entities will be paid for collecting hazardous and toxic spent batteries and further recycling them.
ALSO READ: Lithium Australia's (ASX:LIT) next-gen lithium extraction process nearing commercialisation
At the same time, the Minerals for Climate Action (2020) report from the World Bank predicts the battery minerals' demand to skyrocket 500% by 2050. In the wake of pent-up demand, the recycling of spent batteries is positioned to be a significant and sustainable source of battery critical materials.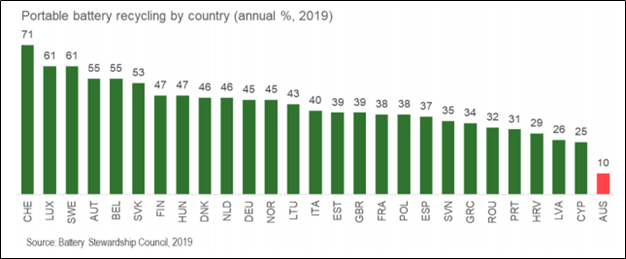 Source: LIT ASX Update, dated 6 May 2021
ALSO READ: Here's the Latest Update on Lithium Australia's JV with Charger Metals
Envirostream Receives Approvals for Envirostream Collection Boxes
In anticipation of the Scheme launch, Envirostream has received Dangerous Goods approvals for its 6kg and 12kg storage and transportation boxes. The boxes are in accordance with the Dangerous Goods (Transport by Road or Rail) Regulations 2018 (Testing Facility Certificate Numbers 8908A and 8910A). They are designed to hold both lithium-ion and alkaline batteries.
Source: LIT ASX Update, dated 6 May 2021
Envirostream complied with all the conditions listed in the approvals process, resulting in the receipt of the approvals, a first in Australia.
ALSO READ: Lithium Australia Welcomes CEC Nod for Soluna's 10K Pack HV Battery System
The batteries must be packed according to ADG7.7 packing instructions P909, which Envirostream would include with each container.
Commenting on the significant funding progress by the BSC, Envirostream Managing Director Andrew Mackenzie stated that the Scheme is critical to improving the battery recycling rates in Australia. Currently, it is at a very low figure of 10% relative to other countries. He added that at Envirostream, mixed-battery collection systems are being developed, aimed at convenience, and approved for safety while mitigating environmental risk.