Source: Jason Benz Bennee, Shutterstock
Summary

Lithium Australia's subsidiary VSPC has completed a PFS, demonstrating superior performance of its LFP product.
The study has identified southern India as a base-case location for the project, with an NPV of US$253 million and IRR of 33% for 13 years of LFP production.
The company remains committed to completing a definitive feasibility study.
The stock price of Lithium Australia NL (ASX:LIT) soared 18.181% to settle the day's trade at AUD 0.130 on 14 April 2021.
The price surge was triggered by a crucial company update on a pre-feasibility study (PFS) for the proposed production of lithium ferro phosphate (LFP) cathode powder.
In the past year, global demand for LFP has gone up by over 25%. Nearly 98% of the global LFP cathode powder comes from China, hence amid the growing demand, Chinese annual production of LFP cathode powder has increased to more than 100,000 tonnes.
As the LFP market continues to heat up, VSPC, a wholly owned subsidiary of Lithium Australia NL, is focusing on developing LFP-based cathode powders and derivatives, as well as lithium manganese iron phosphate (LMFP) cathode powders.
Both Lithium Australia and VSPC aim to provide supply chain security for original equipment manufacturers, striving to secure alternative supply chains for LFP outside of China.

Image source: LIT announcement dated 14 April 2021
Must read: VSPC Ltd's patent application accepted for grant, Lithium Australia (ASX:LIT) shares zoom up 9%
Positive PFS Shores Up VSPC Confidence
In line with this goal, VSPC has made a breakthrough, completing a pre-feasibility study (PFS), which highlights the value of developing an alternative cathode powder supply chain using its proprietary technology.
The study has confirmed strong project economics for VSPC's LFP cathode powder production with capacity to increase to 10,000 tonnes annually over the next three-year period, leading to nameplate capacity in 2026.
The PFS comprises a base case for a plant location in southern India with a discount rate of 8%. The case for the Indian plant seems to be the most promising one in terms of financial outcome with an internal rate of return of 33% and USD 253 million of net present value.
Other key indicators of the base case include annual LFP sales revenue of USD 140 million, a payback period of five years, a free cash flow of USD 56 million per annum, EBITDA of USD 66 million per annum, and a two-staged plant investment of USD 113 million over three years.
The study projects the completion of a definitive feasibility study (DFS) in March 2022 and commencement of construction in July 2022.
LIT Assessing Partnership Opportunities
The study is based on VSPC's proprietary process technology, which offers competitive performance as compared to the processes used by other companies for manufacturing advanced LFP materials, especially against the more expensive sol-gel processes used in Vietnam and China.
The PFS has delivered a thorough assessment of the three possible jurisdictions, namely, India, Vietnam and Australia.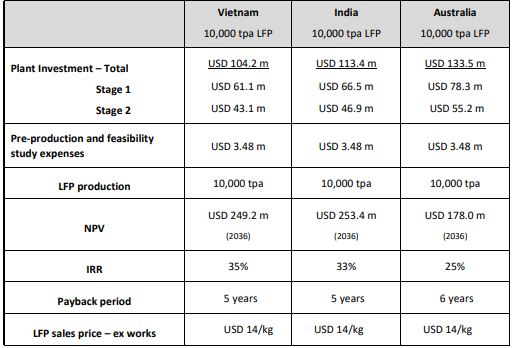 Financial outcomes for Vietnam, India, Australia (Source: LIT Update, 14 April 2021)
It also evaluated other factors that may offer benefits for VSPC cathode powders' commercialisation. These factors include strategic alliances with upstream mining, refining and chemical producers.
Furthermore, downstream collaborations can deliver more financial benefits in other jurisdictions. LIT is evaluating specific opportunities in South Korea, US, Europe, and Australia. The company is also assessing downstream partnership opportunities, especially in the markets where LFP demand is likely to increase at a fast pace, such as North America and Europe.
Copyright © 2021 Kalkine Media Pty Ltd. Data Source: LIT Update, 14 April 2021
Also read: How is Lithium Australia's (ASX:LIT) Half Year Performance Card Looking?