Summary

The European Patent Office intends to award Lithium Australia a patent for the first-generation LieNA® lithium processing technology.
The technology significantly improves lithium metallurgical recovery from fine and low-grade spodumene as well as recovers lithium without roasting.
Once granted, the Company will have long-term protection for up to 20 years in nominated European countries.
The stock of Lithium Australia NL (ASX:LIT) shot up 6% higher on 30 June 2021 (AEST 2:08 PM) after the release of an upbeat update on the Company's proprietary LieNA® technology.
The European Patent Office intends to grant a patent to Lithium Australia for its first-generation LieNA® lithium processing technology. The significant development will provide up to 20 years of legal protection to the technology in nominated European countries from the date of filing (2 August 2017).
The LieNA® technology is designed for significantly improving lithium recovery from fine and low-grade spodumene, which is the most common hard-rock source of lithium. Such recoveries can lower the environmental impact of mining and enhance sustainability.
ALSO READ: Lithium Australia (ASX:LIT) bolsters VSPC Board, aims to expand LFP market reach
Second-generation LieNA® patent application
LIT's patent application (PCT/AU2019/050773) features the details of its second-generation LieNA® technology. The application was published under the Patent Cooperation Treaty by the World Intellectual Property Organisation and has a priority date of 24 July 2018.
Furthermore, a written opinion on the patentability of the application from the International Searching Authority confirms the novelty and inventiveness of the claims. Accordingly, the application has been lodged in many jurisdictions.
ALSO READ: Lithium Australia (ASX:LIT) buoyed on field progress at Greenbushes South Lithium Project
Source: Copyright © 2021 Kalkine Media, Data Source: LIT update, dated 30 June 2021
What makes LieNA® ideal for effective lithium recovery?
LieNA® comprises a caustic digestion process and subsequent acid leaching to recover the desired lithium chemical. There are significant advantages associated with the LieNA® process.
ALSO READ: Another milestone as Lithium Australia bags Australian patent for SiLeach®
No roasting
While conventional lithium chemical production depends on roasting and an acid leach, LieNA® does not involve roasting, making it a more environmentally sound spodumene processing method.
Recovery from fine and low-grade spodumene
During conventional spodumene beneficiation, the recovery rate of lithium can be as low as 50% due to the constraints of concentrate offtake specifications. On the other hand, LieNA® can recover lithium from the fine and low-grade spodumene, which otherwise ends up as waste or tailings streams during conventional spodumene beneficiation.
Can produce lithium phosphate from 'waste' spodumene
In partnership with the Australian Nuclear Science and Technology Organisation (ANSTO), Lithium Australia has performed extensive test work on LieNA®. The outcomes demonstrate the Company's ability to process materials that conventional lithium converters cannot handle.
Thus, spodumene-considered waste is utilised by LieNA® to produce lithium phosphate, which is used as direct feed in producing lithium-ferro-phosphate (LFB)-type lithium-ion batteries (LIB), with no further chemical conversion required.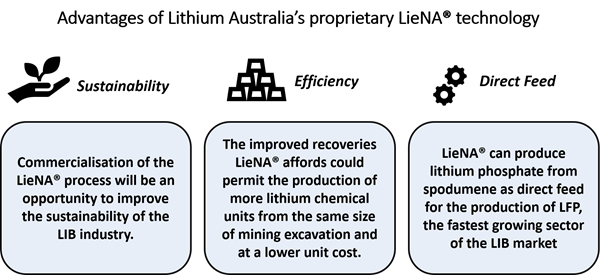 Source: Copyright © 2021 Kalkine Media, Data Source: LIT update, dated 30 June 2021
Backed by its endeavours in line with high environmental, social and governance (ESG) standards, LIT has earned government recognition. The Company has received federal co-funding through a Co-operative Research Centres Projects (CRC-P) grant for constructing and operating a LieNA® pilot plant, which is valued at AU$3.6 million.
ALSO READ: Lithium Australia (ASX:LIT) Welcomes BSC's Battery Recycling Scheme
Way forward for the Company
The construction of an autoclave, the principal component of the LieNA® pilot plant, has kicked off in Mumbai, India, with no impact of COVID-19 on the build schedule witnessed so far. The product delivery to Australia is anticipated in October 2021. Meanwhile, the plant construction at ANSTO would be completed by the year-end and would enable the first pilot run.
The pilot plant would generate lithium phosphate, which would be used by the Company's wholly owned subsidiary, VSPC Ltd, to create LFP cathode powder at its Brisbane facility. The LFP powder will then be used in the production of commercial-format LIB cells for testing.
At the same time, LIT is advancing discussions with several spodumene concentrate producers and lithium chemical manufacturers, who recognise the gap LieNA® could fill, as well as the technology's potential for commercialisation. Furthermore, the Company has executed a commercialisation agreement with Deutsche Rohstoff AG for issuing an exclusive LieNA® licence in Europe.
ALSO READ: Lithium Australia's (ASX:LIT) next-gen lithium extraction process nearing commercialisation