Source: Ksenia Ragozina, Shutterstock
Summary

Lake Resources has received positive results from initial testing by Novonix, which compared commercial product to Lake's lithium product.
The results indicate that LKE's lithium carbonate performed better than commercially available battery-grade lithium carbonate in lithium-ion battery cells.
The testing by Novonix will continue for further months at a larger scale to facilitate direct comparison in similar battery chemistries.
Clean Lithium developer Lake Resources N.L. (ASX:LKE) has been gathering investor interest on the back of commencing a DFS over its flaghsip Kachi Lithium Brine Project, which is a significant milestone.
Adding to its run of good luck, LKE has now confirmed favourable results from the initial testing by Novonix that used samples of LKE's high 99.97 per cent purity lithium carbonate lithium carbonate. LKE had transported lithium carbonate samples to Novonix Battery Technology Solutions for testing in NMC622 batteries.
Positive Results from NVX Testing
In order to undertake a direct real-life comparison of Lake's product into NMC622 batteries and its suitability for the nickel cathode sector, Novonix Limited (ASX:NVX) obtained high-purity lithium carbonate samples of LKE and commercial samples of NMC622-hydroxide precursor from Tier 1 producers.
It was found that LKE's high-quality product showed enhanced capacity preservation and improved electrochemical behaviour in coin cells versus the commercially obtainable product from Tier 1 producers.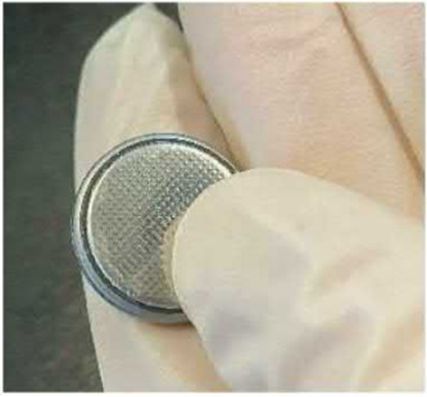 Freshly assembled lithium-ion battery coin (Source: ASX Announcement 02 March 2021)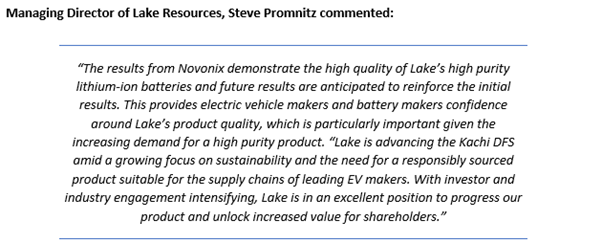 Novonix is further slated to carry out tests on a bigger scale using batch-scale synthesis, as part of its pilot-scale cell line facilities in Nova Scotia. These tests would showcase consistency, repeatability, and cell representation and confirmation in complete lithium-ion wound pouch cells.
LKE expects that this would facilitate the company and its prospective customers and partners to directly compare the performance of LKE's lithium product in similar battery chemistries. This process is expected to take a few months' time.
Low Impurities for Premium Prices
The X-ray Diffraction used for characterising the powders showed no impurities, and the usage and milling were done using the lithium carbonate as received from LKE. There was no significant disparity observed in the resultant NMC powders upon synthesis.
Lake Resources Li2Co3 (Left) and Li2Co3 (milled) (Right) (Source: ASX Announcement 02 March 2021)
The results obtained for LKE's high purity lithium carbonate have been secured by way of a simple flowsheet without any expected alterations to the operating costs formerly forecast in the Pre-Feasibility Study for Kachi.
Determining the battery quality as well as the pricing and acceptance of lithium products highly depends on the purity level of the lithium carbonate product, and hence LKE is hopeful that its high purity carbonate can fetch premium prices.
Subsequent to the announcement, LKE stock closed higher at A$0.405, up 5.194% and had a market capitalisation of A$395.48 million on 02 March 2021.