Summary

Lake Resources has witnessed significant success in advancing its Kachi Project towards production.
The refreshed Pre-Feasibility Study over the Kachi Project returned strong financial results and indicated a high-value project.
The Company is continuing with a Definitive Feasibility Study, which is anticipated to complete in the first quarter of 2022.
LKE remains suitably funded to finance its present plans through to the Investment Decision and construction finance phase.
Clean lithium developer Lake Resources N.L. (ASX:LKE) has been focussing on developing high-purity lithium from its flagship Kachi Project in conjunction with three other lithium brine projects. All the projects are situated in a prime location within the Lithium Triangle, and the Company has successfully produced high-purity lithium chloride eluate from Kachi brine samples.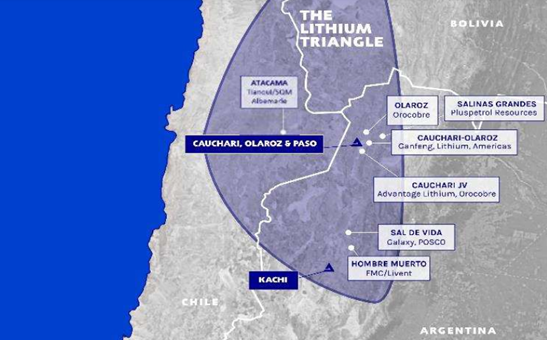 LKE project location (Source: LKE Announcement 03/05/2021)
Lately, LKE has reported significant progress in the process of developing high-purity lithium product. The Company has been working alongside its partners to bring the Kachi Lithium Brine Project towards production.
DID YOU READ: How Lake Resources plans to cash in on strong lithium demand amid EV boom
Ongoing DFS at Kachi Project
Presently, LKE is progressing with a Definitive Feasibility Study (DFS) for the Kachi Lithium Brine Project, and the same is expected to be completed in the first quarter of 2022. Hatch is the lead consultant for the DFS, which is pivotal for the development of the Kachi Project as a sustainable and commercially successful producer of high-quality lithium.
In tandem, the Company is also moving ahead with the Environmental and Social Impact Study (ESIA) along with progressing community engagement. Furthermore, LKE has plans to commission a demonstration plant, employing Lilac's direct lithium extraction (DLE) process on-site towards the end of the current year.

Pumping lithium brines into containers (left). Containers delivered to Lilac in California (right) (Source: LKE Announcement 03/05/2021)
PROJECT UPDATE: Lake Resources (ASX:LKE) Getting Boots on the Ground Across Project Portfolio
The DFS and the associated workstreams are managed by the Executive Technical Director Dr Nicholas Lindsay, who is experienced in feasibility studies across South America.
LKE is evaluating a possible extension to the production of lithium carbonate equivalent (LCE) from Kachi as part of its aspirational target to emerge into a large producer of high-purity sustainable lithium.
Further, the Company has plans to commence additional drilling to facilitate an extension case to permit for the transformation of Inferred Resources into the Measured and Indicated Mineral Resource category in the course of the DFS.
Robust results from the PFS
LKE's Pre-Feasibility Study (PFS), being refreshed over the Kachi Project, returned a solid financial outcome and was based on a revised lithium price projection, without altering other factors, for the proposed production of 25,500 tpa lithium carbonate over 25 years.
Source: LKE Announcement 03/05/2021
The review of a solar hybrid power alternative is in progress by an energy optimisation study and is anticipated to diminish the operating costs while reducing the carbon footprint.
INTERESTING READ: Is Lake Resources (ASX:LKE) in prime position to become a High-Purity Lithium supplier?
Successful Testing of High-Purity Lithium in Batteries
Novonix Limited (ASX:NVX) conducted direct comparisons of LKE's product into NMC622 batteries, using commercial samples from Tier 1 producers and samples of LKE's high-purity lithium carbonate. As a result, LKE's high-quality product generated enhanced capacity retention and improved electrochemical behaviour in battery cells versus the commercially available product from Tier 1 producers.
Freshly assembled lithium-ion battery coin half-cell with LKE's lithium product (Source: LKE Announcement 03/05/2021)
As a part of NVX's pilot-scale cell line facilities, LKE shall conduct broader scale tests to enable off-takers and customers to compare the performance of LKE's lithium product in batteries. This testing process by Novonix is expected to continue for a few months.
GOOD READ: Lake Resources (ASX:LKE) delights shareholders with a staggering ~280% YTD growth
Joint Financial Advisors Appointed for Kachi Project
LKE appointed SD Capital Advisory Limited and GKB Ventures Limited as joint financial advisors to structure and arrange project finance for the development of its Kachi Project. This is especially focused on Export Credit Agencies (ECA's).
While SD Capital focuses on obtaining project funds for corporates and junior resources companies, GKB has a history of generating access to government-supported schemes, which are scalable for the long term.
Export credit provides a reliable form of debt, financing at minimal cost, which is anticipated to boost a shareholder's value while lowering risks to the Company.
Expansion of other lithium brine projects
In response to strong market demand, LKE has been lately continuing the expansion of its lithium projects, other than the Kachi Project, based on direct lithium extraction from its Cauchari, Olaroz, and Paso Brine Projects.
Location of Cauchari results (Source: LKE Announcement 03/05/2021)
INTERESTING READ: How Lake Resources (ASX:LKE) is poised to reap benefits as EV market revs up
LKE has plans to send around 50,000 litres of lithium brine samples from its Cauchari Project for testing by companies focussing on direct lithium extraction and the transformation of concentrates to lithium hydroxide.
The Company then plans to undertake a scoping study to enhance upcoming production, with its plan to initiate a pre-feasibility study activity at Cauchari, comprising environmental impact studies and drilling for a resource statement.
At the end of the quarter, LKE held around AUD24 million in cash with no debt, which indicated that the Company was suitably funded for its present plans through to the Investment Decision and construction finance phase.
LKE's financial position is backed by a private placement, which helped in raising AUD20.6 million in January 2021.
LKE stock was noted at AUD0.235 at 1:54 PM AEST on 11 May 2021, with a market capitalisation of AUD265.68 million.