Summary

Krakatoa Resources has received encouraging results from the maiden regional auger soil geochemical survey over the Rand project.
KTA has defined several new, robust gold and multi-element anomalies.
KTA has planned in-fill and extensional geochemical surveys over the area after the highly encouraging first pass regional soil sampling results.
Australia-based gold explorer Krakatoa Resources Limited (ASX:KTA), which is leveraged to high-value metals in low-risk jurisdictions, has been continuing exploration work across its project portfolio, especially at the fully owned Rand Gold Project.
The project spans across an area of 580km2 of an underexplored part of the well-endowed Lachlan Fold Belt.
Rand Gold Project exploration targets (Source: KTA Announcement 08/06/2021)
PREVIOUS UPDATE: Krakatoa Resources cranks up exploration at Rand and Mt Clere in May
Rand delivers multiple and extensive gold anomalies
On 8 June 2021, the Company reported highly encouraging auger soil assay results at its Rand Gold Project. The results offer further evidence of the potential for new, blind intrusive related gold systems (IRGS) within the tenement and mature gold systems near the surface.
KTA collected a total of 797 samples from 787 sample sites on north-south oriented lines, spaced at 200-metre lines with 50-metre spacing over known gold workings and 400-metre line spacing with 100-metre spacing over the rest of the survey area.
The samples were collected nominally from the B horizon and were sent to Labwest Minerals Analysis (Perth), where they were then sieved to 2µm, which further underwent ultrafine analysis (UFFTM) for gold and 48 other elements.
Analysis of the results using various upper-level percentile contours generated more than 20 discrete anomalies, several extensive gold and multiple multi-element anomalies.
RAND PROJECT UPDATE: Krakatoa Resources (ASX:KTA) announces high-grade gold results at Rand Project
Flick through survey results
Out of the six gold anomalies generated, four occur outside known gold areas, while two are related to the known gold-bearing systems within the historical Bulgandry goldfield. All the gold anomalies appear to occur along with magnetic structures and lineaments, some flanking deeper intrusive bodies.
KTA examined the distribution of the pathfinder multi-element geochemistry spatially and through exploratory data analysis.
The following multivariate anomalies suggest spatial coincidence with known mineralisation at Bulgandry. However, many targets have trends paralleling Bulgandry and occur in areas outside of the known mineralisation.
Gold soil geochemistry anomalies and prospect locations (Source: KTA Announcement 08/06/2021)
DID YOU READ: Krakatoa Resources (ASX:KTA) kicks off exploration at Mt Clere REE Project
This auger soil geochemical survey is the initial regional-scale gold dedicated exploration program executed in this area, which the company completed in the first quarter of 2021. Spanning an area of around 32km2, the survey focused on areas where magnetic lineaments are parallel to the ENE trending regional structure that transgresses the tenement.
The Company believes that this major structure is one of the significant controls on local mineralisation that collectively define the historical Bulgandry Goldfield.
The survey area is characterised by flat to undulating topography typically with insignificant or no outcrop, in cropped or pasture paddocks appropriate for traditional soil sampling.
Numerous anomalous zones of gold and key pathfinder geochemistry were uncovered through gold and multi-element analysis of the samples. Furthermore, these are found to overlie substantial magnetic features identified through the 2020 airborne magnetic and radiometric survey undertaken by the Company.
Many of these new anomalies occur well outside the areas of known gold mineralisation, suggestive of new potential areas of IRGS mineralisation.
GOOD READ: Krakatoa Resources (ASX:KTA) wraps up maiden drill program at Rand
Gold and multi-element anomalies
Out of the two gold anomalies extending over the historic gold workings, one encapsulates the Goodwood, Lone Hand and Coonerty & Murphy's mines, while the other encompasses the Show Day, Junkyard and Welcome Find mines. While the second anomaly remains open to the south, both gold anomalies occur in areas of high topography.
Multi-element and gold soil geochemistry anomalies (Source: KTA Announcement 08/06/2021)
KTA delineated four new gold anomalies outside the main area of workings all along the southern margin of the survey. Many of these anomalies correspond with the pathfinder and multi-element anomalism and are close to the margins of identified magnetic intrusives.
Out of the four, two anomalies span across 1.2kms, while the other two are around 400m.
Besides the gold anomalies, KTA has identified many multi-element IRGS pathfinder anomalies, where immediate standouts include BASA1, 2, 3, 6, 11, 12, 18, 19 and 21.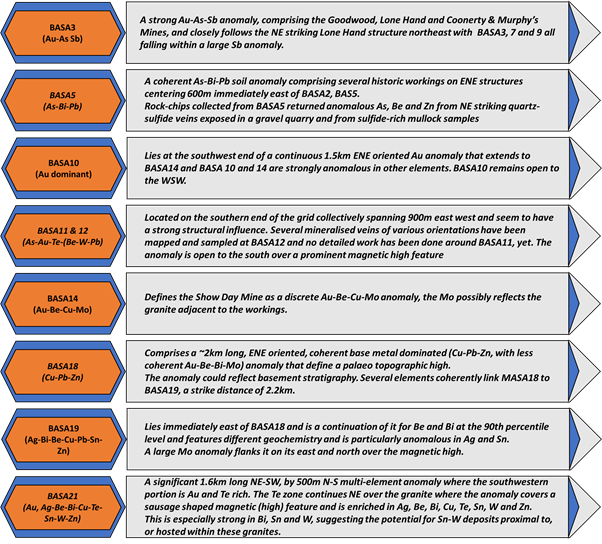 Source: KTA Announcement 08/06/2021
INTERESTING: Strong gold results validate Krakatoa Resources' (ASX:KTA) stance at the Rand Project
Overall, KTA believes that the scale of the anomalous targets, extensive area, favourable geological characteristics masked by a thin cover, and the tenor of the geochemical results being generated in this early phase of exploration indicate the strong potential of substantial, large-scale IRG systems that are yet to be revealed.
The stock of KTA traded at AU$0.057 at 12:16 PM AEST.