Summary

Krakatoa Resources owns a prolific set of projects.
KTA has undertaken various exploration work across projects and identified prospects for exploration and unlocking value.
KTA remains confident about the potential of its projects and looks to explore them aggressively and systematically.
Aggressive explorer Krakatoa Resources Limited (ASX:KTA) has a diverse portfolio of multi-commodity projects, including six projects in two states (Western Australia and New South Wales) that are prolific for Au, REE, Ni-PGE, and Cu. KTA has secured various highly prospective projects covering a range of deposit styles and scales.
KTA's prolific projects are very important for the Company as it continues exploration for the next world-class discovery with an attractive value proposition.
LATEST UPDATE: Positive rock chip results encourage Krakatoa to speed up exploration at Mt Clere
BELGRAVIA PROJECT
KTA's fully owned Belgravia Project sits in the Molong Volcanic Belt, which is a world-class porphyry province and a host to numerous large gold-rich porphyry discoveries.
The Belgravia project is a host to gold-copper porphyry deposits, which offer significant potential for further discoveries.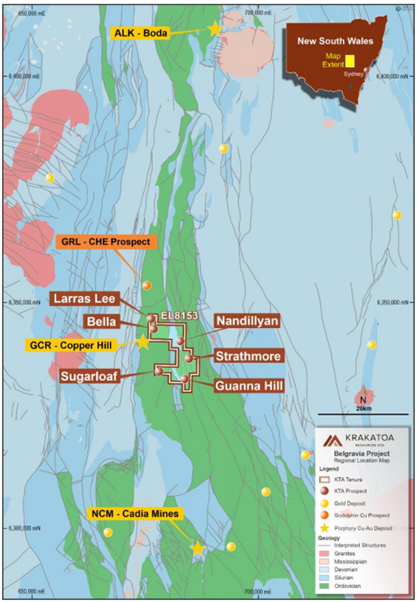 Source: KTA Presentation 20/07/2021
Other major explorers like Sandfire, Newmont, Newcrest Mining, FMG, Evolution Mining, Alkane, and Godolphin are all active in the East Lachlan area.
The Company has identified six prospects, out of which Sugarloaf is the priority, with a deep diamond drilling program being scheduled in the coming months.
DID YOU READ: Krakatoa Resources Limited (ASX:KTA) winds up field exploration program at Sugarloaf
The Company had undertaken magnetic inversion modelling (3D) with Deep Ground Penetrating Radar (DGPR), which has helped in geological interpretation and targeting deeper systems. The results for more recently drill-tested basement with aircore drilling are still pending.
KTA is looking forward to securing extensional soil and Air Core (AC) drilling results while preparing to drill 1,500 -2,500m to test the deep porphyry core and extensions.
MT CLERE PROJECTS
The 100%-owned Mt Clere Project indicates potential for three Rare Earth Elements (REE) deposit styles:
Monazite sands in vast alluvial terraces.
Chinese-type ion adsorption clays in extensive laterite areas.
Alkaline granite with carbonatite dyke swarms.
The initial tenure was granted to KTA in early 2021, and the Company currently controls an area of 2,425km2.
KTA commenced a maiden reconnaissance exploration program in April with excellent initial results necessitating follow-up exploration. KTA's exploration activities at the project comprise mapping, stream sediment, and rock chip geochemical sampling.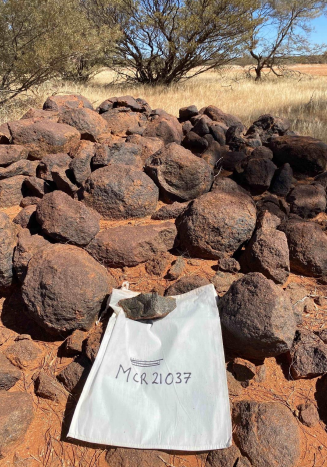 Source: KTA Presentation 20/07/2021
LATEST NEWS: Latest results reinforce Krakatoa Resources' (ASX:KTA) Rand Project potential
The Mt Clere multi-element tenement package is prospective for Rare Earth Elements; Heavy Mineral Sands-hosted Zircon -Ilmenite -Rutile – Leucoxene, Intrusion-hosted Ni -Cu -(Co) -(PGEs) and associated Gold and Iron ore (BIF).
Around 30 years ago, BHP had identified abundant monazite, and 10 years later, Astro Mining NL confirmed substantial monazite in heavy-mineral concentrates from drainages.
KTA stream sediment geochemical survey has identified abundant rare earth elements within certain catchments, of which few were unidentified earlier. KTA collected rock chips from a reconnaissance work recently that helped in identifying several outcrops yielding high Ni and elevated Cr, Pt, and Pd; +/ - Cu and Co.
KTA plans to undertake follow-up soil and rock sampling in areas of interest, and an airborne EM survey is planned for late October over the area identified for Ni-PGE's. This will be followed by drill testing of targets.
DID YOU READ: Krakatoa Resources (ASX:KTA) kicks off AC drilling at Sugarloaf
RAND PROJECT
Under the fully owned Rand project, KTA controls 645km2 area prospective for shear-hosted and intrusion-related gold and suggests a new frontier for large-scale prospective Intrusive Related Gold Systems (IRGS).
The Bulgandry Goldfield includes many shallow mines which historically produced grades up to 265g/t gold, while recent drilling has confirmed gold below the Goodwood Reef mine area.
Moreover, strongly anomalous IRGS pathfinder elements with anomalous gold have been returned through geochemical exploration across all targets tested to date.
The maiden regional auger soil geochemical survey defined several large coherent and robust gold anomalies. More than 20 extensive, high-tenor, and coherent pathfinder multi-element IRGS anomalies have been identified, many of which coincide with gold anomalies.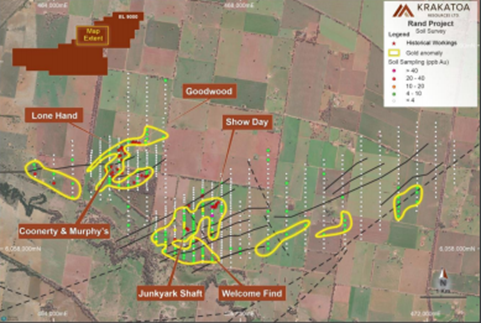 Source: KTA Presentation 20/07/2021
At several historic mines and prospects, gold mineralisation was confirmed through broad-spaced, first-pass drilling. Also, several sub-parallel gold zones were intersected through drilling at Goodwood Reef Mine. These remain open downdip and along strike.
KTA believes that there is a significant exploration upside present within the 6km zone of magnetic lineaments, which is indicated through the gold mineralisation discovery. Currently, mapping and regional exploration is underway at the project.
The Company looks forward to undertaking an infill soil geochemical program, followed by an extensive drilling program towards the end of 2021 or the beginning of 2022.
IMPORTANT UPDATE: Krakatoa Resources cranks up exploration at Rand and Mt Clere in May
DALGARANGA PROJECT
As a Brownfields special metals project, the fully owned Dalgaranga project is located in the Murchison region of Western Australia, and the area is prospective for Tantalum, Lithium, Niobium, Tin, and Rubidium.
In 2017, KTA had undertaken drilling at the project that discovered wide zones of Rubidium enrichment, and the area is characterised by associated Berylium, Cesium, Niobium, Lithium, Tin and Tantalum while supporting the occurrence of a Lithium-Cesium-Tantalum (LCT) Pegmatite.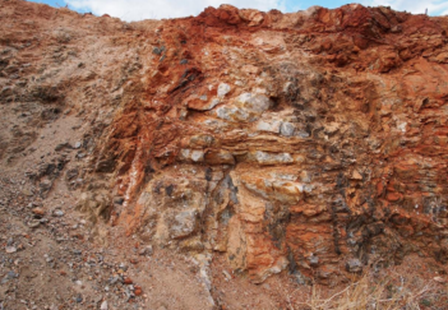 Source: KTA Presentation 20/07/2021
A significant number of rubidium values exceeding 800ppm with the highest value exceeding 5000ppm Rb were returned from the rock chips taken by KTA near the historical open pit.
This bodes very well for KTA since Rubidium is a high-value metal used for solar panels, night vision devices, motion sensor and medical imaging devices.
READ HERE: Krakatoa Resources (ASX:KTA) kicks off AC drilling at Sugarloaf
TURON PROJECT
The 100%-owned Turon Project covers an area of 120km2 and is loaded with shallow, high-grade gold targets located in central NSW.
The project has two dominant and historically mined north-trending line of workings, Quartz Ridge and Box Ridge, including several historic showings developed with shafts, adits, and drifts that strike over 1.6km and 2.4km, respectively.
Approximately 10,000oz gold had been produced by the Britannia Mine before 1904 over a small area prior to encountering water which ceased mining at a depth of 30m.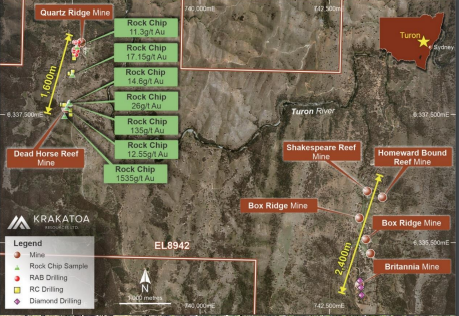 Source: KTA Presentation 20/07/2021
High-grade mineralisation with grades up to 60g/t gold is indicated by the samples along adit walls. Moreover, bonanza gold grades of 1,530g/t and 135g/t gold were returned from the rock grab specimens across the Dead Horse Reef Mine.
RELATED: Krakatoa Resources discovers extensive gold anomalies at Rand
Overall, the project has witnessed limited drilling and regional exploration to date, and KTA plans to advance further activities at the project.
MAC WELL PROJECT
KTA's Mac Well project comprises a 7.5km strike along the prospective Warda Warra greenstone belt, which remains majorly untested. The fully owned project also suggests advantageous structural conditions for gold mineralisation, especially along the western granite-greenstone contact which hosts the Western Queen Mine.
This mine has produced 220,000 tonnes @3.6 g/t Au for 25,500 ounces of gold, while key areas of interest were generated through KTA's geochemical sampling program.
DID YOU READ: Strong gold results validate Krakatoa Resources' (ASX:KTA) stance at the Rand Project
Besides this, the potential for lateritic nickel-cobalt mineralisation is also confirmed through the review of historical drilling at the project.
The legacy VTEM data shows five untested conductors that may have significance for nickel sulphide mineralisation.
A timeline of the Company's upcoming and planned exploration activities across the project portfolio is given below:
Copyright © Kalkine Media| Data Source: KTA Presentation 20/07/2021
KTA continues systematic and aggressive exploration across its projects to deliver value for its shareholders. KTA believes that it has a strong pipeline of work programs and share price catalysts in the coming six months as activity focuses on the systematic exploration of Mt Clere, Rand, and Belgravia projects.
The KTA stock was noted at AU$0.053 at 1:37 PM AEST.